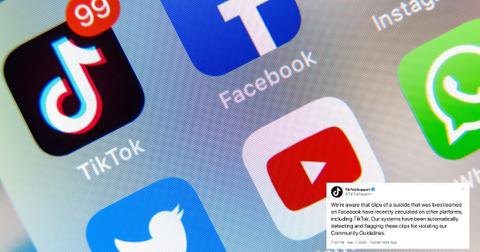 TikTok Banning Users Who Spread the "Man With a Beard" Video That Depicts Suicide
By Shannon Raphael

Updated
While users often flock to TikTok to spend countless hours scrolling through mindless dance tutorials or life hack videos, a warning has been circulating on the app that must be taken seriously. Users have been issuing trigger warnings to others about the "man with a beard" videos, which have been popping up unexpectedly in the middle of other posts.
The graphic video is from a Facebook livestream clip during which a man named Ronnie McNutt completed suicide. The clip, which depicts the self-harm, has made its way onto other platforms, including TikTok, and it has been triggering people on the app.
Continue reading to find out how TikTok is attempting to ban the "Man with a Beard at the Desk" content, and to learn more about the spread of the tragic video online. TW: suicide and self-harm.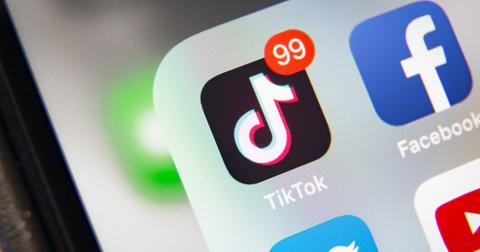 What is the Ronnie McNutt video?
One recent trend on TikTok is that users are sharing the "man with a beard" video without warning others. Many are attempting to hide the nature of the video, and they're spreading it on the app via the comments section or by embedding a clip from it in other, unrelated posts. The goal of the trend is to shock others, but it is leading to much more significant consequences.
The clip utilized in the gruesome trend is from a Facebook livestream. On Aug. 31, Mississippi resident Ronnie McNutt died by suicide via a gunshot wound while filming a livestream at his desk. The Army veteran was 33 years old.
Though the original video was removed from Facebook on the day it was posted, snippets from it have made their way onto other platforms.
People have taken to Twitter and TikTok to spread awareness about what the "man with a beard at the desk" videos entail so that they will know to stay away from viewing them.
"Please be careful," one person wrote on Twitter. "A video has been floating around all social media platforms. if you see a thumbnail of a man with a long beard, glasses, and is on the phone, click away from the video immediately. The video is extremely triggering and for your own sake do not watch."
"TW// suicide. There is a video going around mostly on TikTok but other social media platforms as well of a man shooting himself in the head," another wrote. a few of my friends have come across it and say it's terrifying. if you see a man with a long beard sitting at a desk with a phone. Scroll immediately. people are also trying to cover it up with innocent things such as cute puppies."
"If you see that, either check the comments first or even better just scroll. on TikTok, stick to your following page or stay off the app completely," the user continued. "It's sick that people are doing this. Please stay safe."
TikTok is attempting to ban the "Man with a Beard at the Desk" videos.
Because the trend showcases the clip without warning other users, TikTok has released a statement about banning account holders who share the video.
The @TikTokSupport Twitter account described the trend, and how the videos will be taken down.
"We're aware that clips of a suicide that was livestreamed on Facebook have recently circulated on other platforms, including TikTok. Our systems have been automatically detecting and flagging these clips for violating our Community Guidelines," the first tweet about the issue read.
"We're removing content & banning accounts that repeatedly try to upload clips, and we appreciate our community members who've reported content & warned others against watching, engaging, or sharing such videos on any platform out of respect for the individual & their loved ones," the thread continued.