Manny MUA Calls out Makeup Revolution for Ripping off His Product
In a video, beauty YouTuber Manny MUA claims that Makeup Revolution copied the design of one of his products in their new Shattered Glass collection.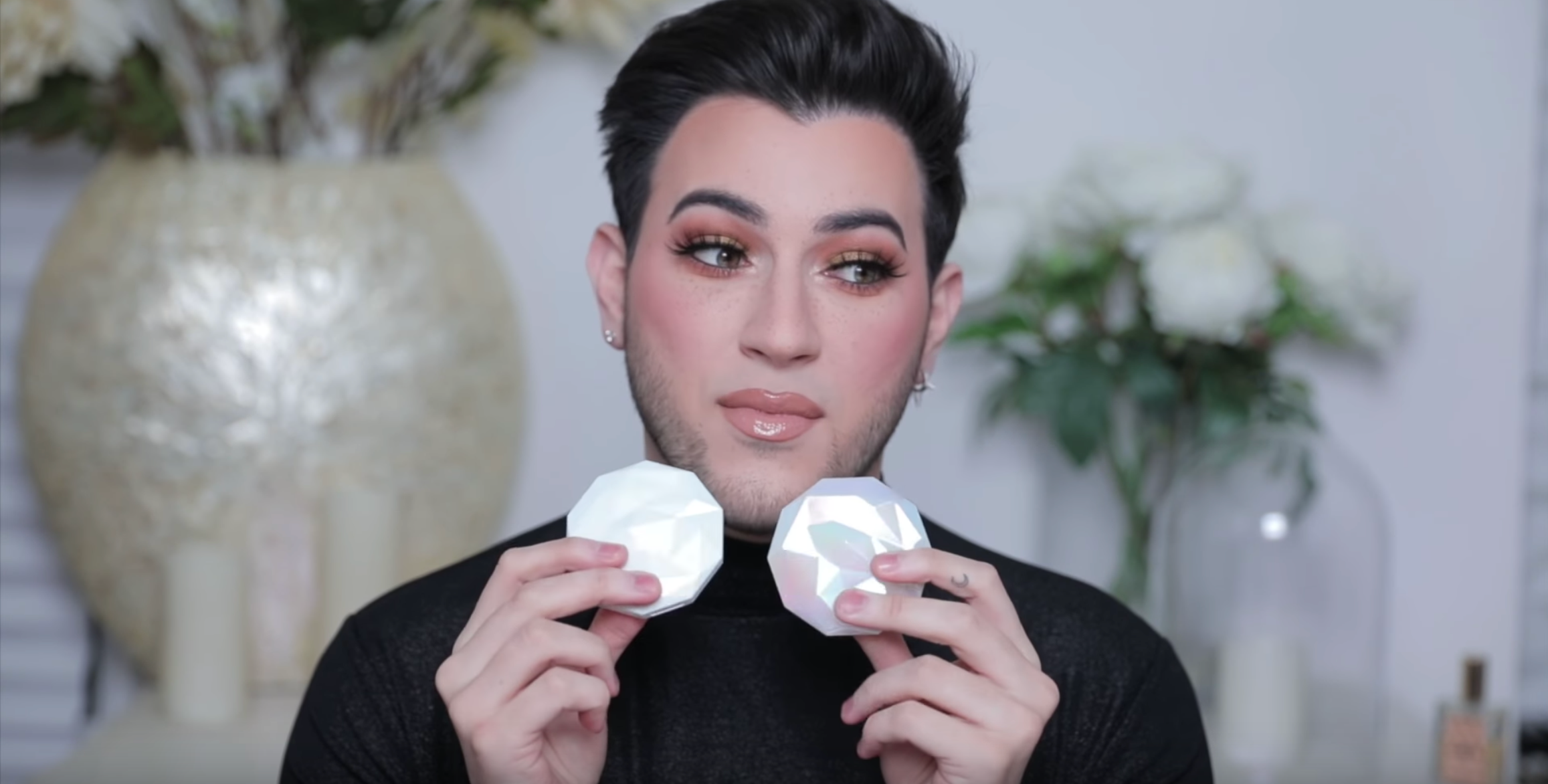 Popular beauty YouTuber Manny MUA has spent years developing his brand Lunar Beauty. His highlighter collection of Moon Prism Powders is frequently sold out on the site, and Manny is constantly working to develop new products for the brand.
Recently, the drugstore dupe brand Makeup Revolution recently released a series of products in their own prism-inspired line. Since its release, Manny has called out the brand for the products' uncanny similarities.
Article continues below advertisement
Manny MUA pointed out Makeup Revolution's similarities in a new video.
In a video posted to his YouTube channel on March 15, Manny discusses his response to Makeup Revolution's new highlighters, pointing out that his biggest problem isn't with the formula, but with the packaging.
When he holds the two compacts next to each other, they are almost exactly the same in terms of design. While we don't get a clear close up in the video, Manny points out that the compacts appear to be designed exactly the same, with the same facets and grooves.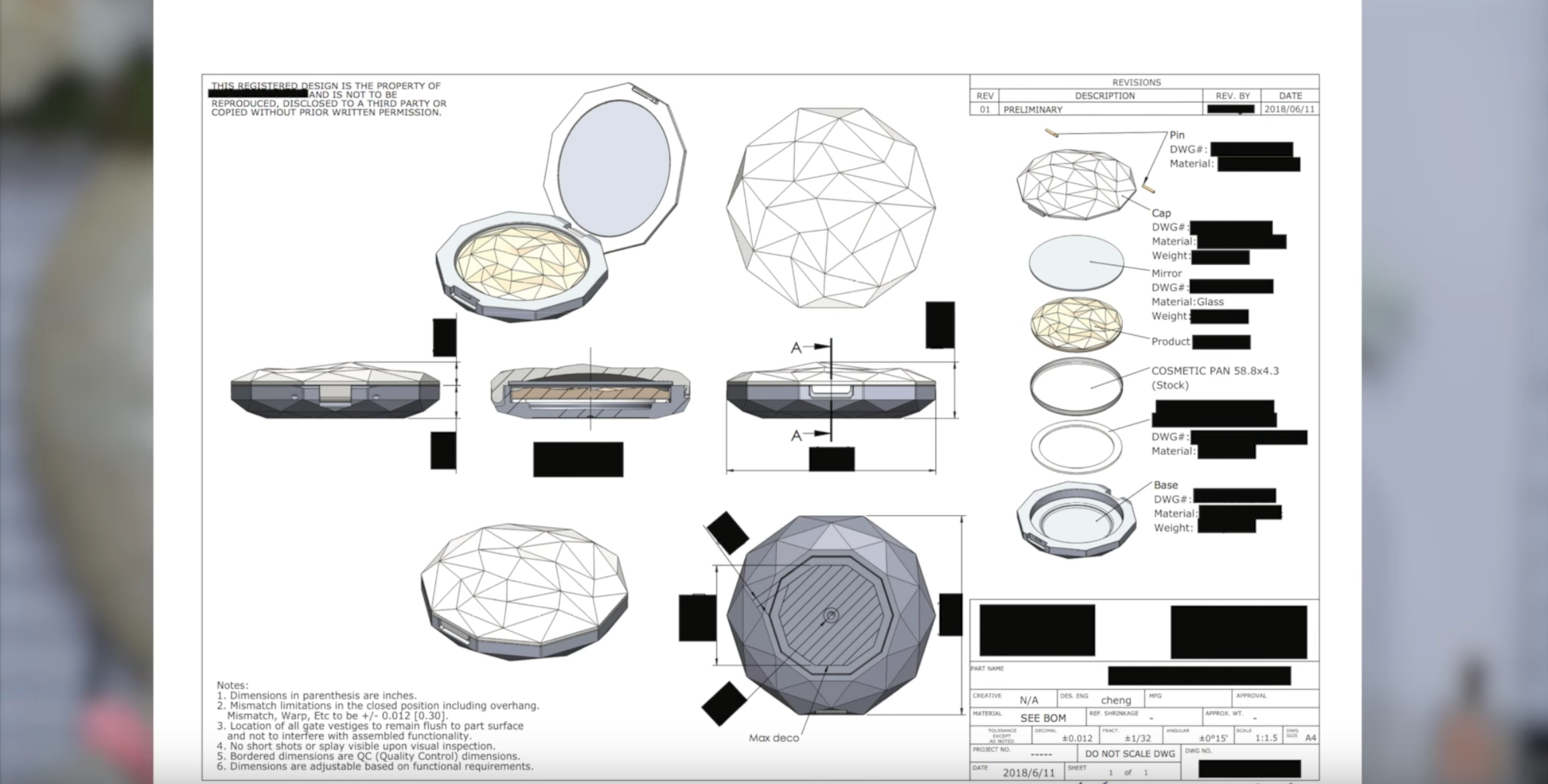 Article continues below advertisement
Manny claims that he had the packaging custom-designed for his brand, meaning only Lunar Beauty could use that exact compact.
"I created this compact. I created it," he said. "This is something that me and my design team created, it is custom tooled. The factory that I have that created it, we custom tooled with them this component — this exact component with the exact facets and everything."
He admitted that while he definitely pulled inspiration from other brands with prismatic packaging and design, he made it a point to make his original for Lunar Beauty.
"I am not the first person to come out with a prismatic compact like absolutely not. I'm not the first b---h to do it," he said. "But I wanted to create something that was prismatic and cool and unique in its own way but with my own eyes and create it and custom mold it and pay thousands of dollars to get this created by this factory."
Article continues below advertisement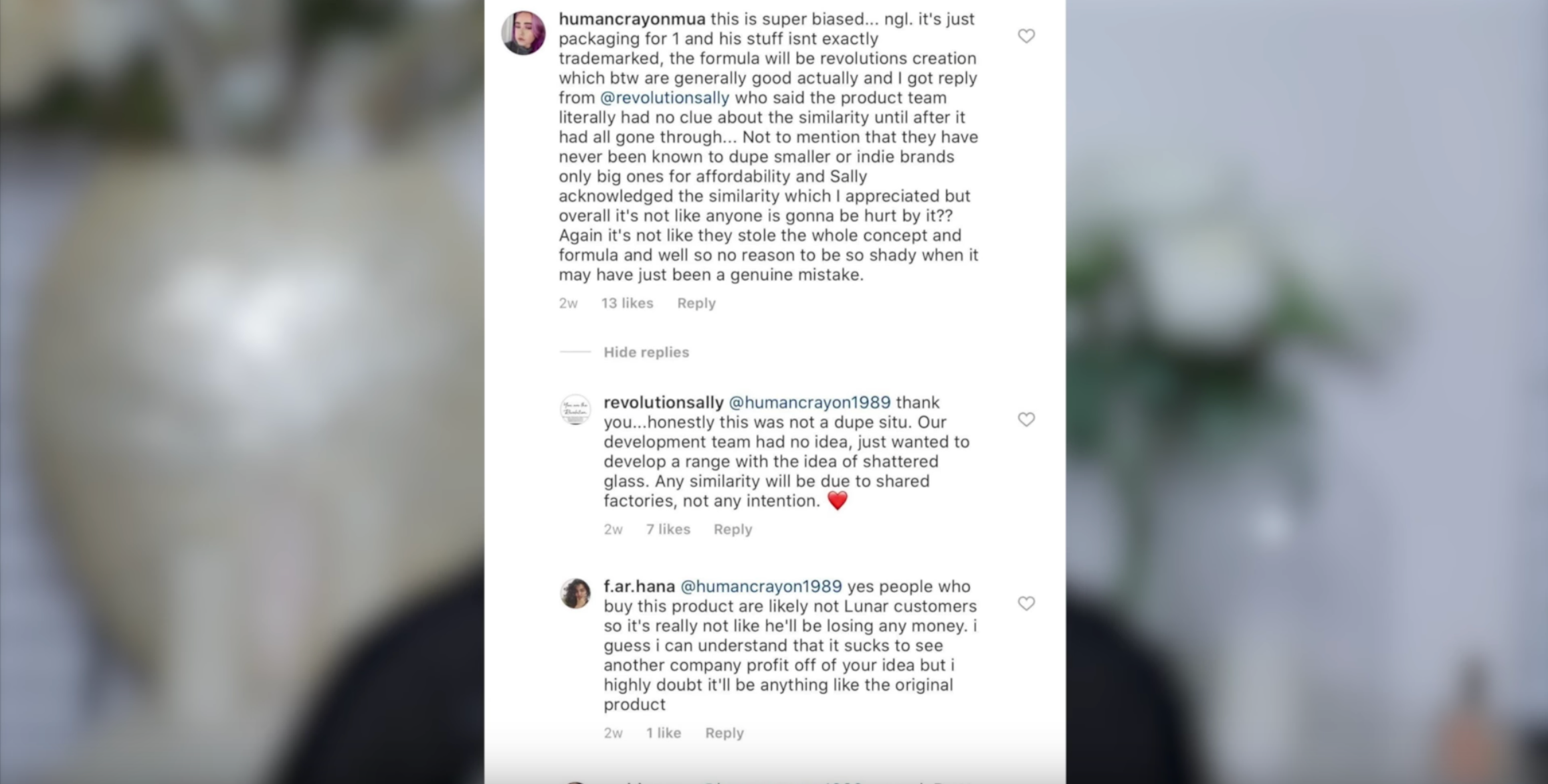 On Instagram, someone with the username @revolutionsally claims to work at Makeup Revolution and commented trying to clear the air.
"Honestly this was not a dupe [situation]," she wrote. "Our development team had no idea, just wanted to develop a range with the idea of shattered glass. Any similarity will be due to shared factories, not any intention."
Article continues below advertisement
But Manny claims that he checked with the factory he worked with to produce the compact. The company claimed they did not work with Makeup Revolution on their new products, so the overlap due to shared factories is not possible.
"In my opinion, the only way this could have happened, if my factory didn't make it would be to take my component and put it in a 3D printer and print this exact thing and create it identically," Manny said.
Article continues below advertisement
Manny MUA said he no longer supports Makeup Revolution over this.
Manny confessed he has no problems with dupe products, it's just how blatantly similar the two are that frustrates him.
"I understand dupes 100%, and I think that dupes are great for people that cannot afford a higher end thing for sure," he said. "But this to me, this is not a dupe. To me this is a blatant copy and it is very, very sad to see."
Manny claims that all of the profit he makes from Lunar Beauty he puts right back into the brand to continue to make it unique and high-quality, which is what makes this especially upsetting for him.
Article continues below advertisement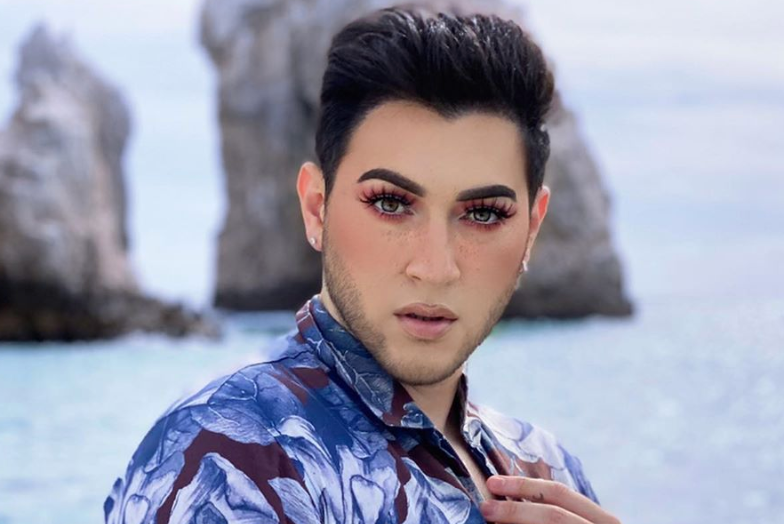 "I'm a small brand. I'm an indie brand. I do not have these resources. All I have is my voice and my name and who I am behind my brand and so I want to voice my opinion," he said. "[It's] so frustrating, especially when it's a big brand. A big brand who has big budgets who have deep pockets who can literally just do whatever they want. And it's so frustrating because Makeup Revolution is known for duping other brands' products, and they'll come out with other products that are similar to other brands, but they're never the same— and this is the same."
Article continues below advertisement
"I can no longer support the brand because I am really really saddened by this," he said. "I'm just hurt by this."
Makeup Revolution responded to Manny's comments in an Instagram post, clarifying they did not intentionally rip off Lunar Beauty, but would remove the product from their line.
Article continues below advertisement
"Revolution were presented this component by several third parties at a publicly attended trade fair in March 2019 and were led to believe that it was a freely available design," the statement reads. "On launch of our product, Lunar Beauty's legal team contacted us, but, despite our requests, failed to supply any evidence of his alleged copyright or trade dress right in his design, or even to identify or provide images or illustrations of the product that he claimed were at issue."
All of the highlighters with the packaging similar to Manny's will be removed from the line and from the company's distributors.
"Our intention is not to crush the spirit of entrepreneurialism. Our intention is to make beauty trends affordable for all," the brand said. "We do our best not to make mistakes like this, but if we do, we take steps to make things right. And for that reason, we have acted quickly and passionately. We have reached out to Manny to discuss this privately."