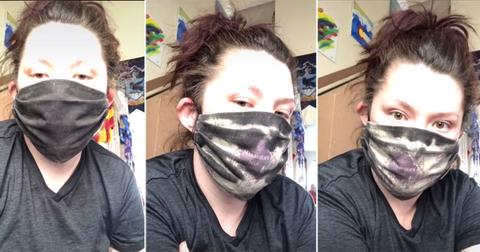 'Harry Potter' Fan Creates Face Mask That Shows the Marauder's Map as You Breathe
By Mark Pygas

Updated
A number of states now require that people wear face masks while out in public, and it's probably going to be that way for a good while longer. So, people are understandably starting to get a little creative when it comes to face coverings.
Take Colorado artist Stefanie Hokashou for example. She runs the Colorado Pony Express online store and recently revealed her latest project to viral fame on TikTok. The 'Harry Potter' inspired face mask starts off looking dusty and black, but as you breathe into it, the Marauder's map is slowly revealed.
In case you've forgotten, the Marauder's Map shows every classroom, every hallway, and every corner of Hogwarts Castle as well as every inch of the grounds and all the secret passageways.
Fred and George Weasley steal the map from Filch's office in their first year. Harry received it during his third year and uses it to get up to a number of antics.
As you can imagine, Harry Potter fans are obsessed with this one.
One user wrote: "TAKE MY MONEY NOW!!! Please sell these!!!"

While another added: "Omg, this is making all my dreams come true."

While one user pleaded: "Please tell me how much. I am a huge Harry Potter nerd and I need this in my life."

The map uses nontoxic heat-activated dyes to work. When the dye reaches 82 degrees, the mask color changes to reveal the map.
Unfortunately, they currently appear to be sold out but Hokashou has plenty of other creative products for sale on her website.
We know where our next stimulus payments are going.