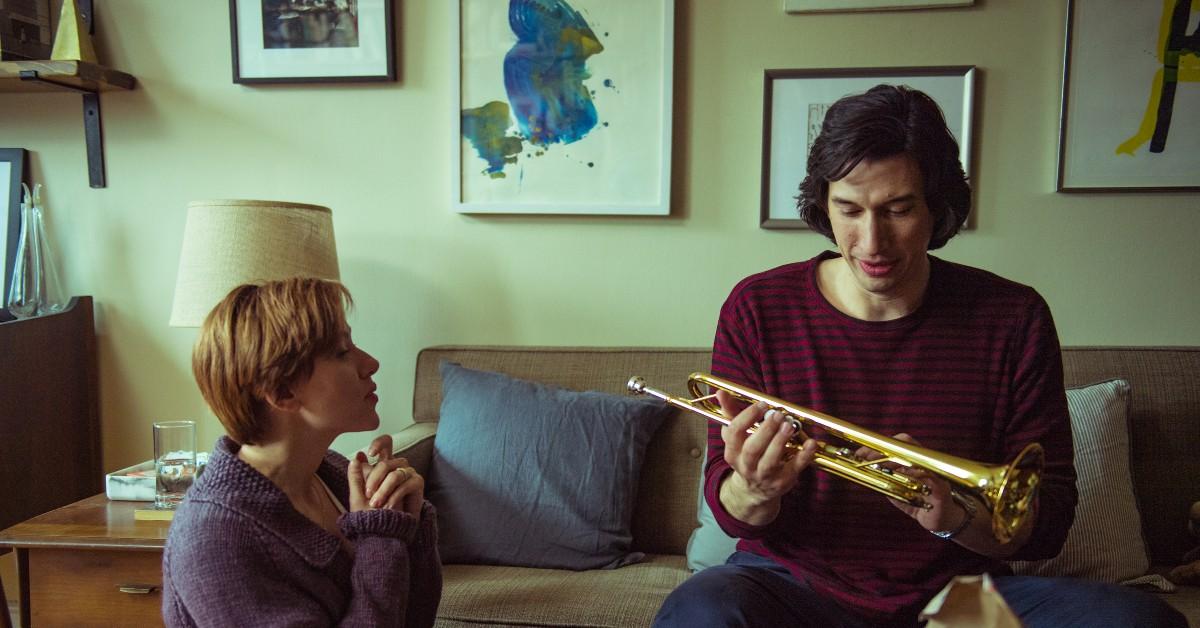 The Memes Helping You Heal From the Emotional Distress of Watching 'Marriage Story'
"You shouldn't be upset that I f--ked her, you should be upset that I had a laugh with her," yells Charlie (Adam Driver) in the worst scene of Marriage Story.
The Golden Globe Award-nominated movie came out only recently, but the internet is already awash with memes offering temporary respite for viewers desperate to recover from the emotional distress induced by the brutal fight scene.
Ready to relive the experience? Let's take a look at the most accurate Marriage Story memes.
Article continues below advertisement
1. The 'Marriage Story' fight scene is bound to make you cry.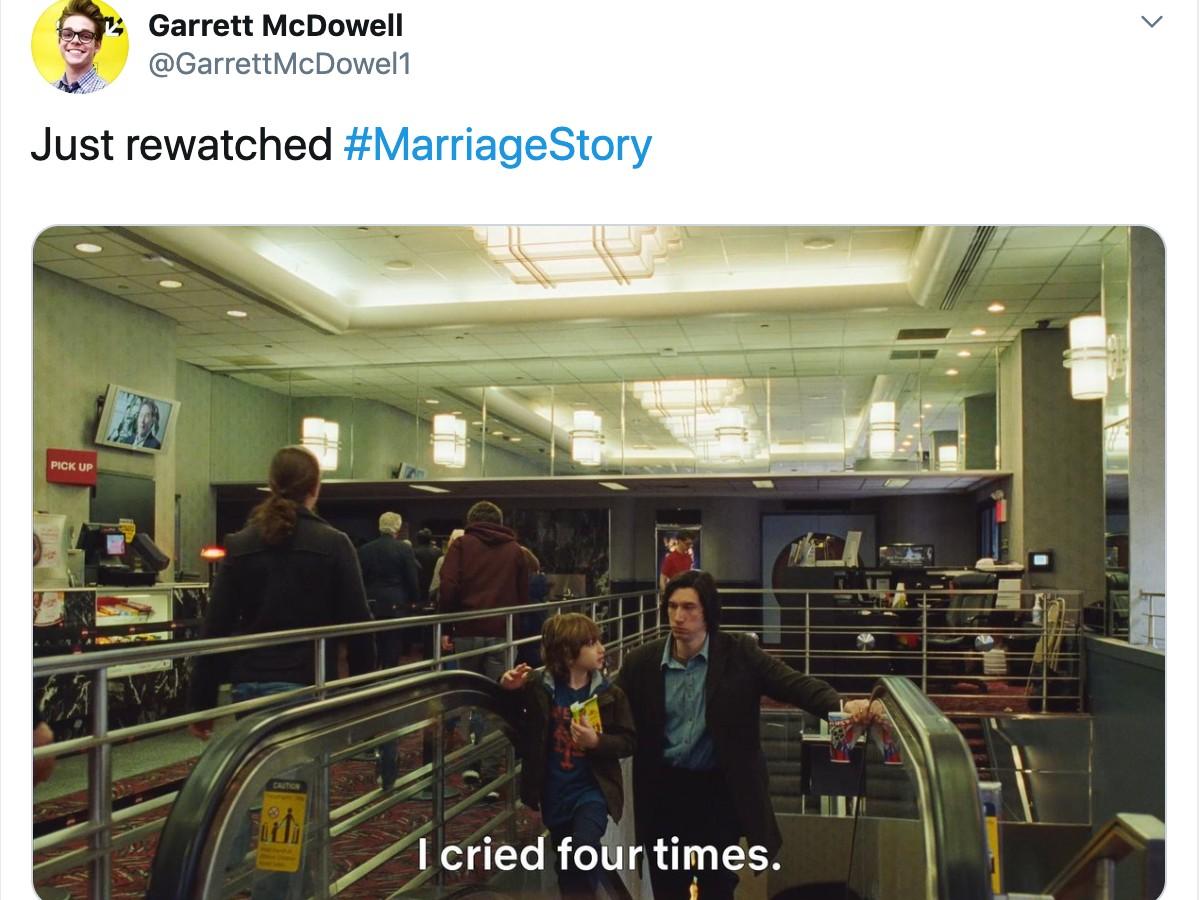 Several users took it to Twitter to share the emotional turmoil they found themselves in after watching the emblematic fight scene. The brutal heart-to-heart reaches its height as the feckless Charlie punches a hole in the wall of their shared apartment, which had viewers reaching for tissues with the speed of lightning.
2.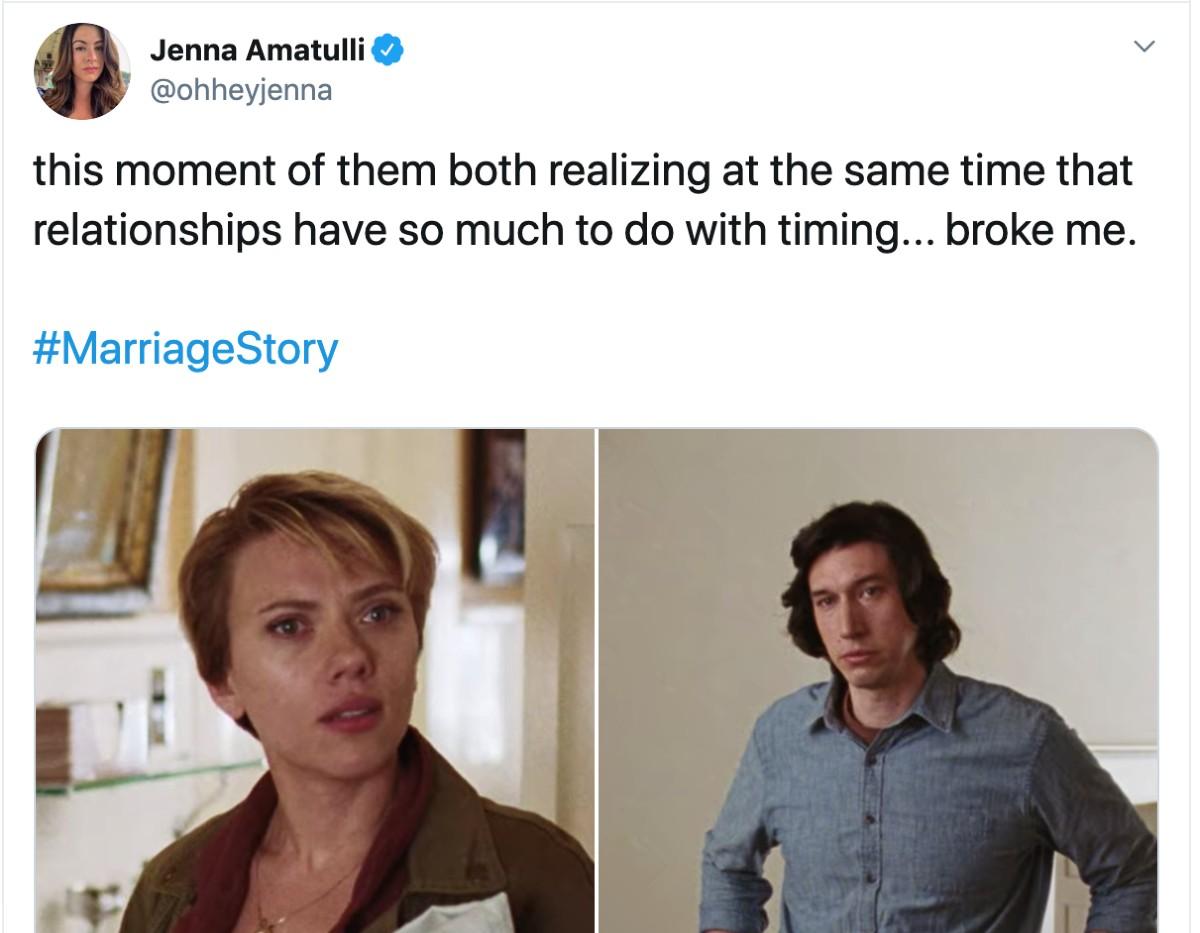 Others sought companionship after the perturbing experience, using the meme format to open up about the hard cold truths the movie confronted them with.
Article continues below advertisement
3.
Others used memes to point out that Marriage Story is emotionally and physically crippling.
In other words, the movie is set to attain the same status as the tearjerker classics like The Notebook, Love Story or Blue Valentine. So don't expect a few, tiny teardrops running down your left cheek as though this was an artistic montage. What you have ahead involves hot streams of water, violent, buffoon-like sobbing and the rapid destruction of every tissue at hand.
Article continues below advertisement
4. Some memes highlight Adam's portrayal of Kylo Ren.
With the Star Wars: The Rise of Skywalker just a few weeks away, die-hard fans took this as an opportunity to highlight the unlikely parallel between the two movies. As this meme reveals, both involve the rejection of one's parental legacy. Notably, Marriage Story doesn't involve nearly as many shirtless scenes, much to the disappointment of Adam's fans.
Article continues below advertisement
5.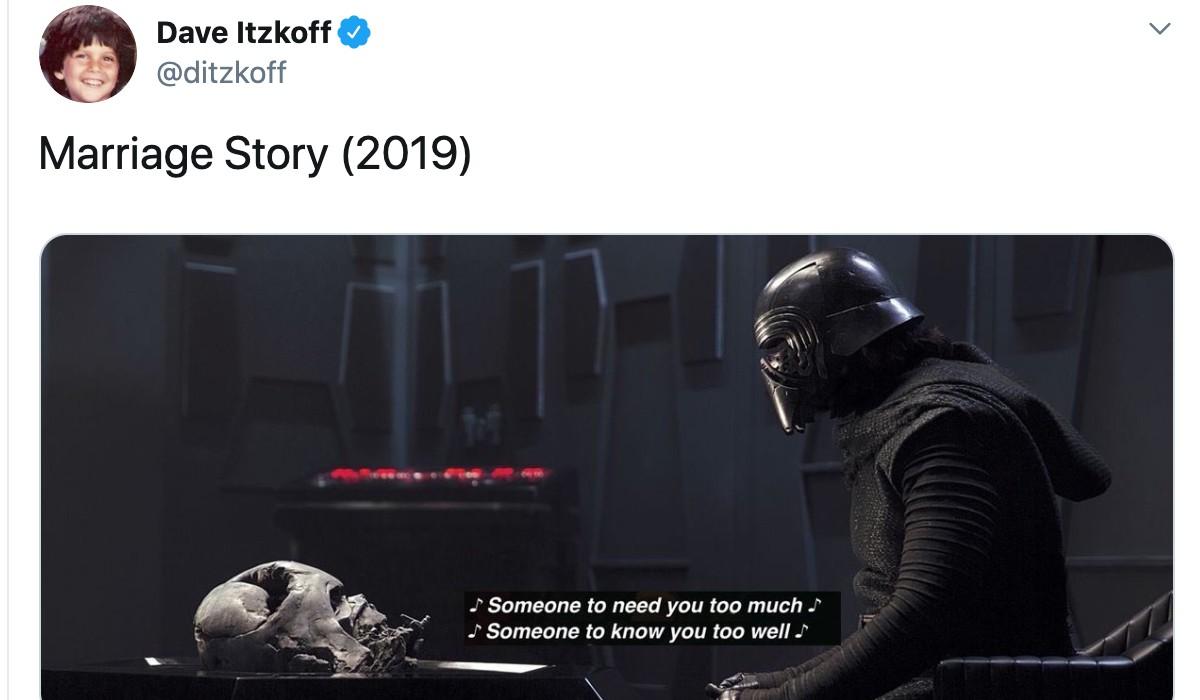 This meme unpicks even further the unlikely parallel, juxtaposing the song Charlie's character sings to his soon-to-be-ex-wife, Nicole in Marriage Story with a scene from Star Wars.
Article continues below advertisement
6.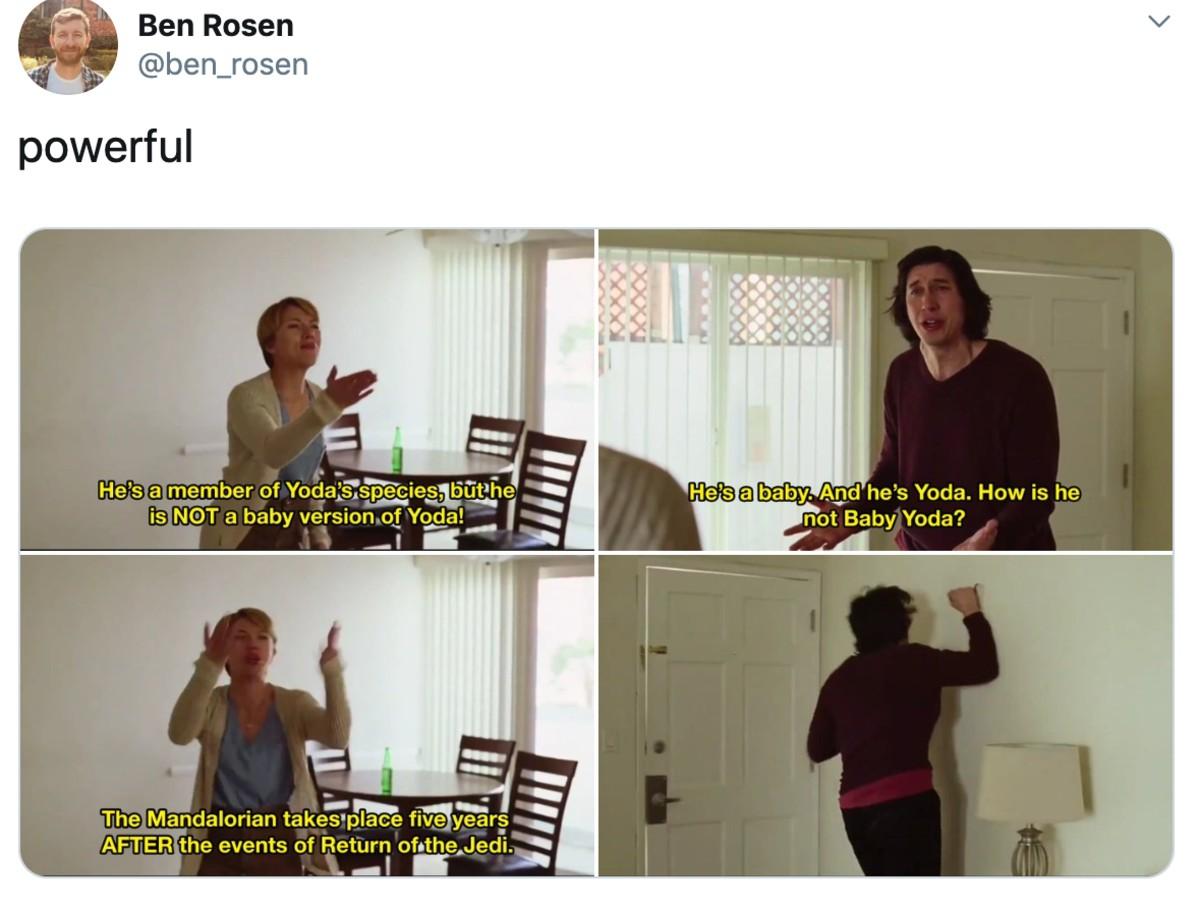 Others saw this as an opportunity to revisit another, equally important discussion: namely, whether Baby Yoda is related to Yoda or not.
Article continues below advertisement
7. Some took an intertextual approach.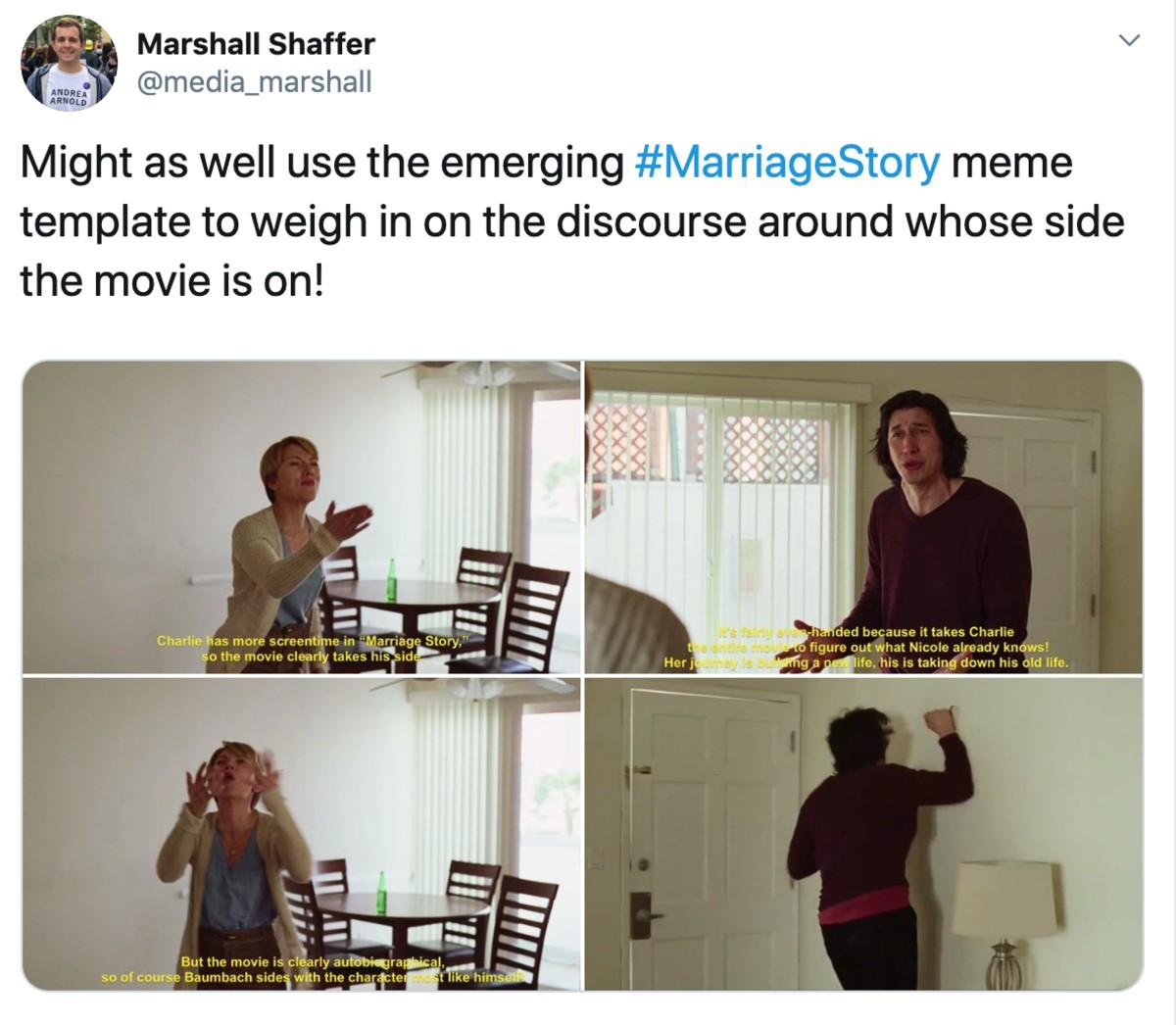 Does Marriage Story draw upon Noah Baumbach's personal experiences? Some fans would vouch that the answer is a yes, though the writer and director staunchly denied these claims.
This meme offers a new perspective on these discussions, prompting that the reason why the movie is so vexing is because it successfully illustrates both sides of the story. Although, as a Cosmopolitan article reveals, Noah's wife did leave for Los Angeles when she filed for divorce, and she took their kid as well.
Article continues below advertisement
8.
Another meme references an iconic scene from True Detective to capture the emotional hardship of re-watching the movie. Woody Harrelson would struggle a quest of this caliber as well.