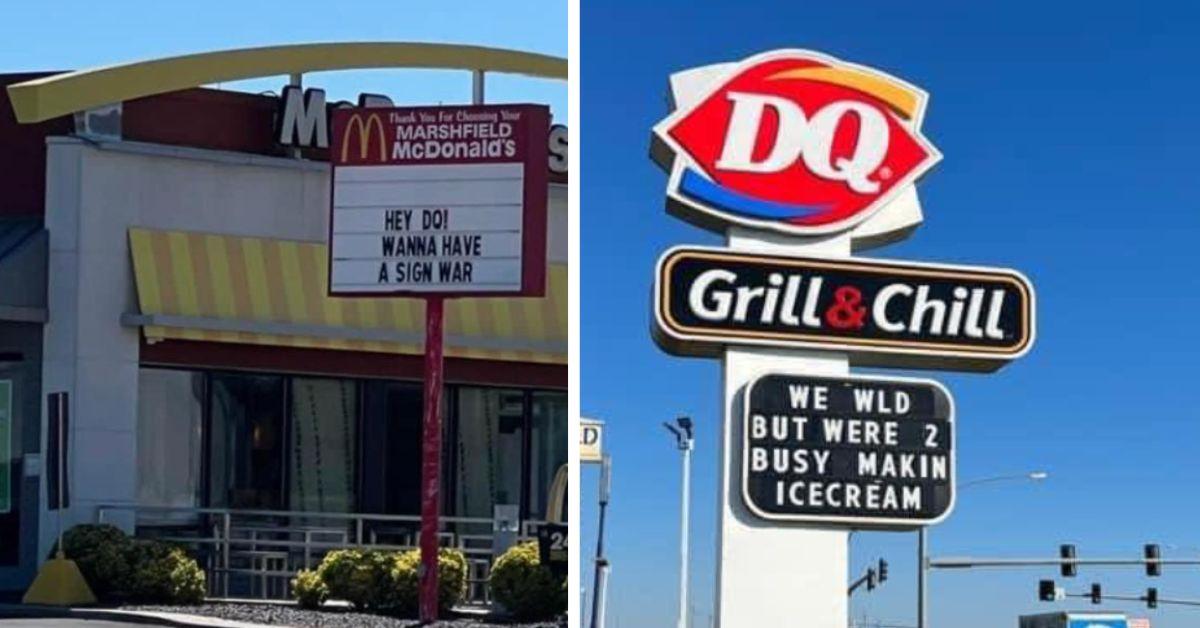 McDonald's, Dairy Queen, and Other Local Businesses in This Missouri Town Have Started a Sign War
A war has just begun in one Missouri town, but it's not among the people — it's among the businesses.
McDonald's, Dairy Queen, a local Mexican restaurant, and a bank — to name a few — are currently in combat and there's no end in sight. But there are signs. Lots of signs. Funny signs, clever signs, salty signs.
So how did this all start? And what are they even fighting about? Keep scrolling to find out.
Article continues below advertisement
The businesses in Marshfield, Mo. have started a sign war.
Earlier this month, a post from the Marshfield Area Chamber of Commerce Facebook page went viral. While the page typically posts about new restaurants and retail openings in town, this post was different. The businesses in town had gone to war... but through their signage.
Article continues below advertisement
Instead of using their letter boards and billboards to write messages to customers, they began writing messages to each other.
The page posted a bevy of photos of the businesses cleverly roasting each other through their signs and only their signs.
The first photo showed the Marshfield McDonald's, which had written to the local Dairy Queen on its sign. "Hey, DQ! Wanna have a sign war?" asked the fast-food chain.
Article continues below advertisement
The second photo showed Dairy Queen's response: "We wld but we're 2 busy making ice cream," they wrote, seemingly throwing shade at McDonald's notoriously broken ice cream machines, which the FTC actually began investigating last year.
"Wow, salty like our world famous fries," McDonald's replied, via its sign.
Then Arvest Bank entered the chat and posted a special note on their sign. "Don't be salty on our account," it wrote.
It wasn't before long before fruit and vegetable store, The Melon Man, chimed in: "Who needs ice cream? We have watermelons!"
Then came Mexican restaurant Las Cazuelas, which used its sign to advertise its fried ice cream.
Article continues below advertisement
Basically, the war went on and on, with Wendy's, Dominos, and a bunch of other local businesses joining in. And the people reading the post on Facebook loved it.
Article continues below advertisement
"This is great! Thanks for making us all smile and laugh today. Enjoying this via FB all the way in Kentucky," wrote one user in the comments.
Another wrote: "Beyond greatness!!! I literally want to drive around and look at signs."
A third chimed in: "Good for Marshfield — I love it when businesses don't take everything so seriously!"
Article continues below advertisement
And it seemed the businesses were also enjoying the sign war!
Randy Bryant, who serves as the local director of operations at McDonald's, spoke with local news outlet Ozarks First about the town's sign scuffle.
Bryant said: "Marshfield is such a close community, we're all like family here. Mario on our team had a great idea to get this all started! He said, 'It's hot, the world is throwing everyone challenges and negativity,' so we all found a way to laugh and have fun as a community. And what's better than an old fashion sign war?"
That's for sure! And if you want to stay in the loop, the Marshfield Area Chamber of Commerce Facebook page appears to be updating its post regularly with new photos of signs.