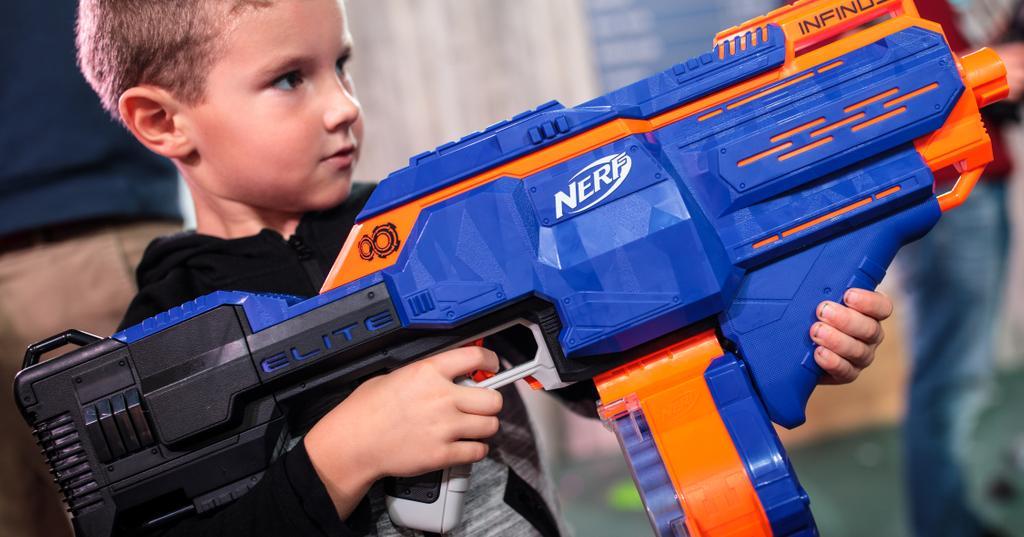 Mom Reveals She Used a Nerf Gun to Keep Her Husband Awake In the Delivery Room
For mothers, childbirth is often a long and exhausting process with little to no rest. For their partners, on the other hand, it's often a lot of waiting around in a comfortable chair. And one new mom has revealed that she went to pretty extraordinary lengths to keep her husband from falling asleep during the process.
Article continues below advertisement
Samantha Mravik-Miller recently took to Facebook to share a photo from her delivery room. But the photo wasn't of her holding her newborn, it was of her holding a Nerf gun. And it turns out that she'd packed it in her overnight bag to help ensure that her husband didn't plan on taking a nap.
"Worried about the nights in the hospital with your new born [sic] & dad sleeping?" she wrote in a Facebook post. "Well… then don't forget one of these in your hospital bag."
Unsurprisingly, the photo resonated with many parents and received over 16,000 shares and 5,800 comments.
Article continues below advertisement
"I packed it because when my 5-year-old was born my husband slept through him crying in the hospital," Mravik-Miller explained in an interview with Romper. At the time, the mom used an empty water bottle to try and wake her husband. But she decided to borrow her son's Nerf gun this time because she would have "better aim."
Article continues below advertisement
Samantha Mravik-Miller explained that she didn't need to use the Nerf gun this time, but her husband did end up finding it in her bag.
He asked: "What the heck, did you bring a Nerf gun?"
Her response? "I told him better sleep with one eye open."
The idea resonated with many couples, with one mom tagging her partner and writing: "Wish I would've had this instead of hitting you with ketchup packets."
While one friend tagged a mom-to-be and added: "Here is something to pack in the hospital bag."