Guy Obsessed With His Sandwich Recipe Won't Stop Harassing Delis to Feature It
In an AITA post that quickly went viral, this guy laments that no restaurants want to take him up on his (frankly bad) deal to buy his sandwich recipe from him.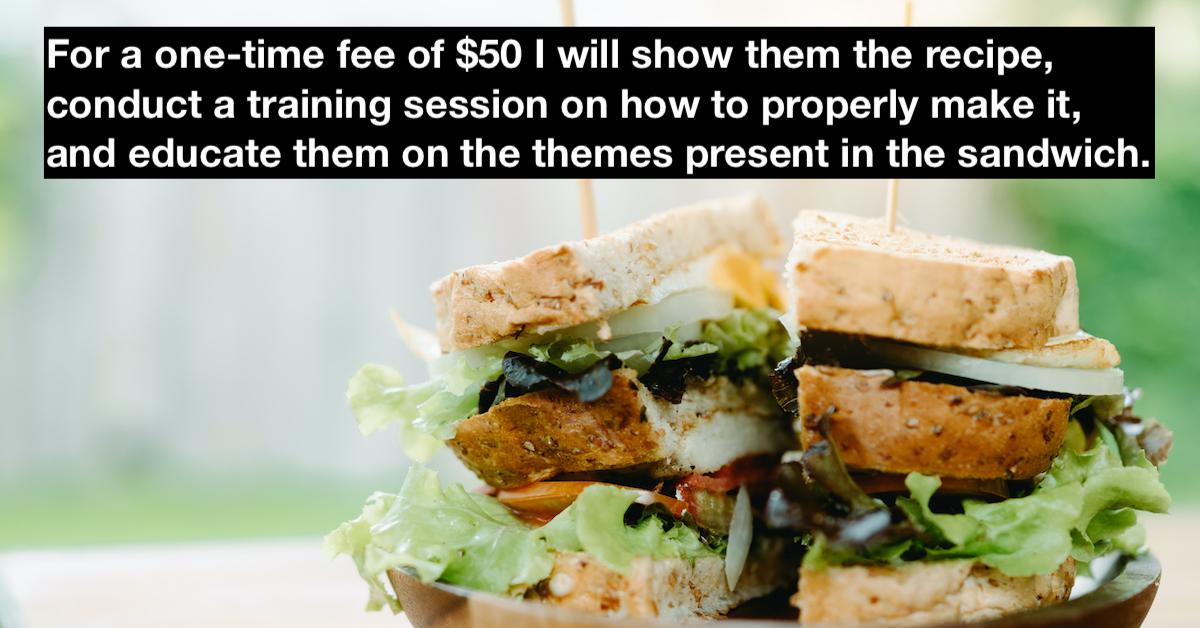 It's not every day a deleted post from Reddit's "Am I the A-hole?" is screenshot and reposted to Twitter, where it goes completely viral because it's just that crazy. Luckily, today is that day. The post, which was originally here but was posted on Twitter, is about a guy who believes he has a really good sandwich recipe on his hands and can't understand why none of the restaurants in town want to pay him for it.
Article continues below advertisement
I'm serious. This is a dude who has no idea how restaurants or recipe development or basic human interaction work, clearly. He explains every single part of his thought process... except for what the sandwich recipe actually is. This AITA post is basically a hilarious form of torture — because we need that sandwich recipe. But first: here's Sandwich Guy.
Article continues below advertisement
OK, first of all, big props to Rabbit Cohen for screenshotting and posting this on Twitter. I honestly don't know what I'd be doing with my life right now if I didn't have this story. This dude seems to think he's about to change the sandwich game with his recipe. Never mind the fact that almost every type of food has been on a sandwich by now. I don't know what combination of ingredients he has in mind that is so unique.
But that's not the point yet. As I understand it, he's literally been walking into restaurants and delis around town, asking to speak with the manager, and then hitting them with this sandwich proposal out of the blue. Already quite bold, but let's hear him out.
Article continues below advertisement
OK. So this random guy walks into a restaurant from off the street and wants them to pay him $50 for a sandwich recipe and a training session in which he, who is probably not a professional chef, teaches the cooks how to make the sandwich. Not only that, but he will "educate them on the themes present in the sandwich," of which I'm sure there are many.
Article continues below advertisement
Then, he wants to take 20 percent of the price of each sandwich the restaurant sells! No, he will not be in the back making the sandwiches. No, he will not purchase the ingredients for the restaurant. No, he will not wash the dishes off of which the customers eat the sandwiches. He wants 20 percent of each sandwich sold simply because he came up with the idea for it. lnsane. But he's not done yet!
Article continues below advertisement
He seems so surprised that none of the deli managers want to take him up on his deal. He even has the nerve to say, "They don't seem to understand the value of my sandwich!" It's like he thought he was going to waltz into an established restaurant with an established menu that several people worked super hard on to get just right and be like, "BOOM," and they would all fall over themselves because the sandwich is that good.
A: I love sandwiches, and I don't think any sandwich is that good. What he's proposing is preposterous. And B: how are we supposed to judge whether he should get the deal if he doesn't even explain what the sandwich is?!
Article continues below advertisement
When he explained to his friends what he was doing, they told him he was an "a-hole" — which, like, thank goodness the people he surrounds himself with aren't as crazy as he is. He wrote, "They think it is rude basically to ask a deli to sell my recipe and that I shouldn't fight for my dreams." His dreams, people! His dreams. He adds that he's so passionate about it, he "even cried once" while explaining his sandwich deal to a deli manager.
Look, we've all been so hungry that we've gotten emotional when taking a bite of a really good sandwich. But that doesn't mean we go trying to sell it to every restaurant in town. No one in the world is going to take that deal. He thinks he's doing these delis a favor because his sandwich is so amazing, but the margins he's proposing are absurd, and it's gotten to the point where his friends are now threatening to stop going to lunch with him because he keeps making it uncomfortable with his sandwich pitches.
Article continues below advertisement
Obviously, we need to know what this sandwich is. I need a list of the ingredients, the instructions for constructing the sandwich, and a full explanation of all the themes present in the sandwich. Rabbit's repost of the Reddit entry went totally viral, so they contacted the OP and offered $50 flat for the recipe. A hero among Twitterers.
Article continues below advertisement
He has yet to respond, but in the meantime, Rabbit and many others are having lots of fun speculating about what could be in that sandwich. What kind of sandwich brings a man to tears? What kind of sandwich would prompt an established restaurant to fork over 20 percent of the revenue for each sandwich to a man who clearly has no idea how tight restaurant profit margins are? It's got to be something spectacular.
Article continues below advertisement
"I'm sorry. You're focusing on the ingredients, but the most important element is obviously the theme of the sandwich," another Twitter user responded. "Possible themes: Star Wars, your first trip to the circus, the crushing weight of your existence, sandwich." I would absolutely love if the theme of the sandwich was "sandwich."
At this point, we have no idea if this guy will take Rabbit up on their offer to reveal the recipe for $50. We don't even really know if this is real or if it's just someone having a laugh. But it seems so sincere. This guy really seems to be all about his world-changing sandwich. Watch it be "peanut butter with raspberry jelly" or something.