Guy Refused to Tip Waitress After She Paid for His and His's Wife's Meal
This monster argued that it was the holidays and their waitress did a nice thing by paying for their meal out of her own pocket, so she shouldn't be tipped for it.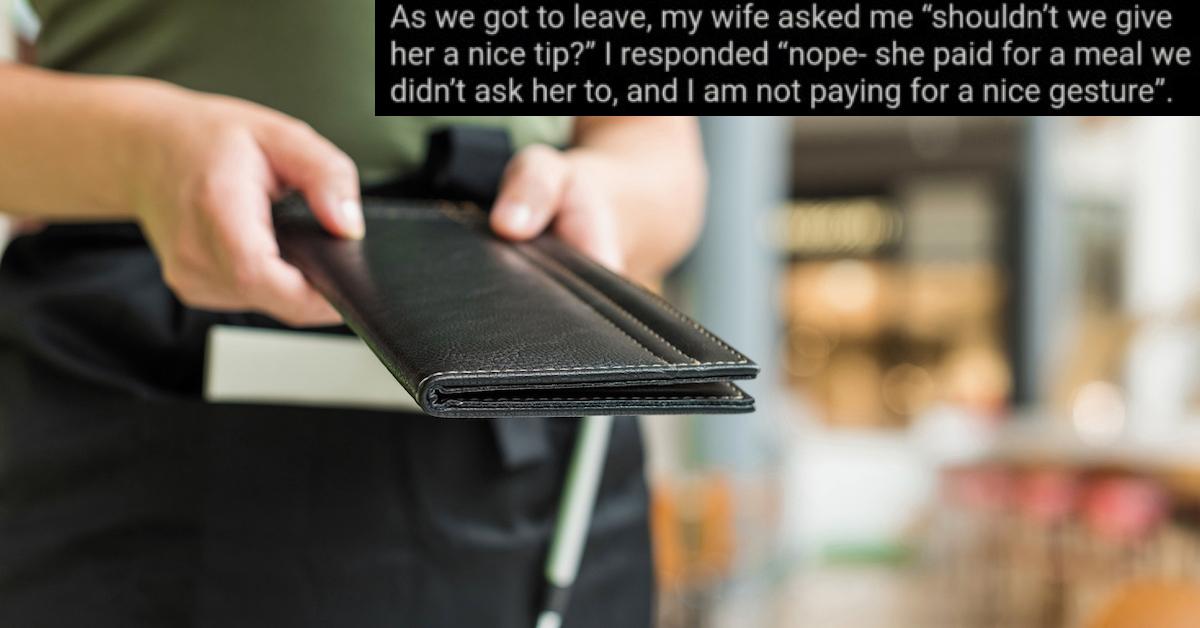 You always tip 20 percent. Unless your server threatens you or poisons your food, tip them 20 percent. No matter the restaurant or the situation, you tip 20 percent. Unless, of course, you want to tip more.
OK, now that that's out of the way, we can tackle this non-tipping monster who recently posted in Reddit's "Am I the A-hole?"
Article continues below advertisement
The man wrote that he went out to eat with his wife. "The service was slow and our order came out wrong," he wrote. "We were nice to waitress who corrected it but she took all night on refills, etc."
Sounds like a rough night at work for this woman. We've all been in those situations where we are eating out and we can tell that the wheels have just come off the bus that day. It's not the waitress' fault that things went awry, and it seems like she was doing everything she could to correct the situation.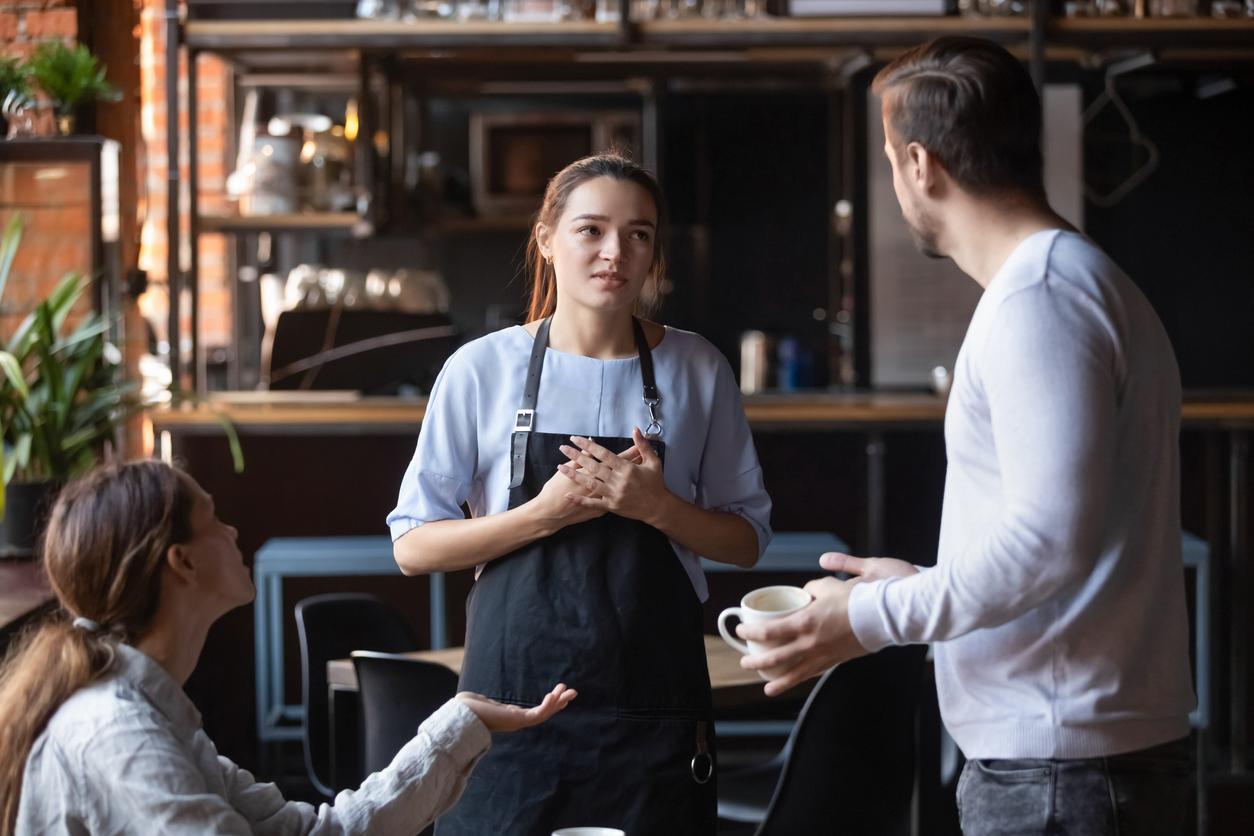 Article continues below advertisement
He says they got to talking with the waitress toward the end of their meal and had a nice conversation. When the bill came, she said she paid for their dinner out of her own pocket to make up for the inconvenience. "I insisted I pay her back," he wrote, "but she refused and told me, 'Merry Christmas!' I told her thank you. The bill was around $30."
When they went to leave, his wife asked if they should leave her a nice tip. He said no! He. Said. No. In fact, as he wrote, he said, "Nope. She paid for a meal, we didn't ask her to, and I'm not paying for a nice gesture." I'll give you a second to mop up the pieces of your mind that were just blown all over the place.
Article continues below advertisement
His wife, to her credit, kept harping on the issue even after they left. She said she felt weird about it, and he "told her that people who give should not expect return." But...that's not what this is. They went out to a restaurant. They expected to pay for a meal. The service wasn't as wonderful as expected, so the waitress, out of the kindness of her own heart, paid for their meal. He even tried to pay her back! Ostensibly, if she didn't pay for their food, they'd still have paid and tipped her. In what world do you not tip that woman a very generous tip for the incredibly kind gesture?!
Article continues below advertisement
Commenters on Reddit and Twitter were pretty unanimous that this guy is a total monster. In an edit, which people usually use to make themselves seem less like a villain, this guy dug his own grave even deeper by writing, "I feel like waitress could have been lying and that she didn't pay for the meal but the meal was comped by the restaurant and she lied to get a bigger tip." I think this Twitter commenter put it best...
Article continues below advertisement
"A-hole" is too good a term for what this guy is. His logic is horrendous. As many pointed out, the bill was around $30, which means a 20 percent tip would have been six dollars. He couldn't even leave the bare minimum — six dollars — for a woman who paid for their meal.
The kicker is something repeated in many of the comments: "YOU weren't expecting to go to dinner and get a free meal!" That's what's so absurd about this. He went to the dinner knowing they could afford the $30 dinner bill, then wouldn't even tip an overworked server when they got that meal for free.
Article continues below advertisement
Chances are, that server relies on tips to make a living wage. Even if she lied and the meal was comped by the restaurant, it's such a small amount of money to tip her for the service she provided. In another comment, the poster tried to explain his logic and again got tangled in a web: "I took the paying for my meal as a charitable holiday gesture and did not think I should have rewarded her with money, as that defeats the point of donations and charity."
Article continues below advertisement
Oy. Even if it was a "charitable holiday gesture," she only paid for the meal! She didn't also pay for the tip you would have tipped her if you paid yourself. Hence, you leave that tip. Plus, this wasn't a holiday donation. She wasn't giving food to the homeless and expecting money in return. She unnecessarily but very generously paid for a couple's restaurant check to make up for disappointing service. She deserved that tip. At the very least.
Someone questioned why his wife didn't leave a tip herself. He responded, "She began to get money out. I had to take it out of her hand and put it back in her wallet." Truly maybe the worst person who has ever posted on this subreddit.
Article continues below advertisement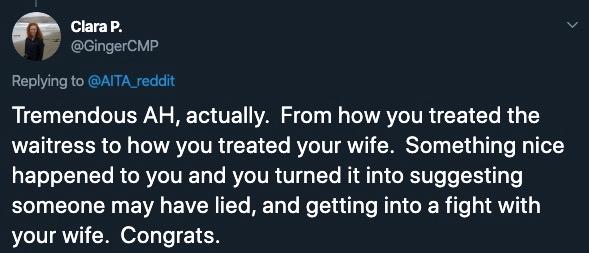 I think there is a generational divide when it comes to how people tip. The younger you are, the more likely you are to tip generously no matter the situation. But this incident can't be chalked up to a difference in philosophy and an outdated understanding of server's jobs. This is straight-up selfish lunacy.