Mom Who Couldn't Visit Baby in Intensive Care Shares Nurse's Judgmental Notes
When you're a new mom, emotions can understandably run high.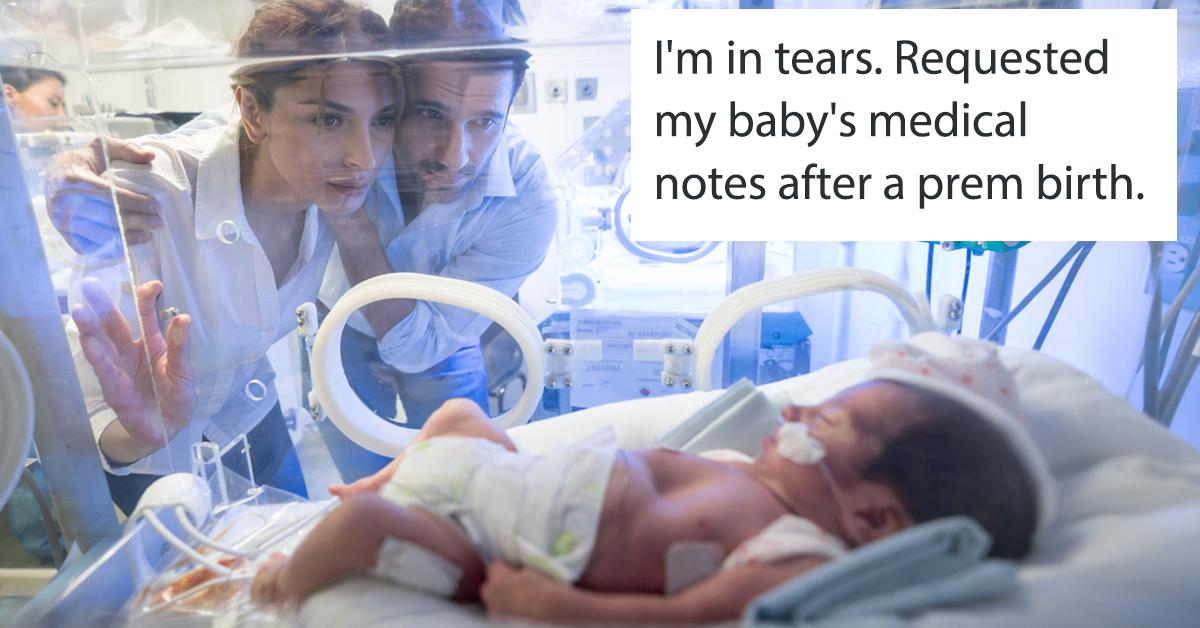 When you're a new mom, emotions can understandably run high. This fact is even more relevant when your baby is born premature and required around the clock care in an intensive care unit. This is the situation one busy mom recently found herself in.
Article continues below advertisement
The mom in question, who took to Mumsnet, a British Internet forums for moms, had an incredibly busy schedule and couldn't make time to visit her child in the hospital every single day. A fact that the nurses in the newborn intensive care unit (NICU) nurses, picked up on. She requested a copy of her child#s medical records and saw some distressing notes, which she decided to share online.
The mom described what the nursing staff wrote about her:
"I'm in tears. Requested my baby's medical notes after a prem birth. Found a part where they started a visiting log as they felt we didn't stay on the ward long enough, that I wasn't talkative enough and that my husband 'rarely visited.'"
Article continues below advertisement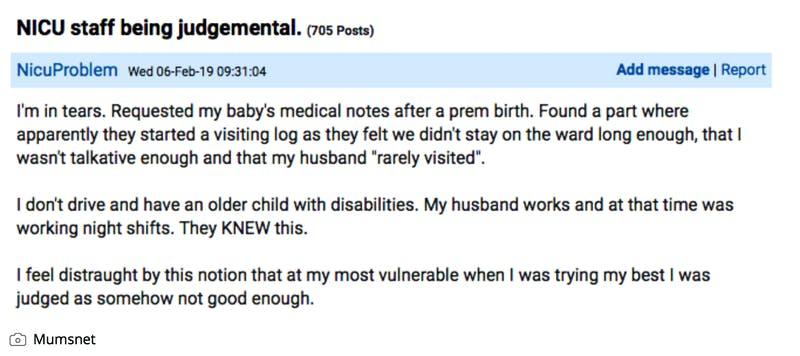 "I don't drive and have an older child with disabilities. My husband works and at that time was working night shifts. They KNEW this."
"I feel distraught by this notion that at my most vulnerable when I was trying my best I was judged as somehow not good enough."
Article continues below advertisement
Moms chimed in on whether they thought the notes were mean-spirited.
"I had an experience of very judgemental NICU stuff too," one mom wrote. "They seemed to have very rigid ideas of what normal was and no concept that some families have little extended support. My focus was on my toddler as the baby was getting looked after and she needed me more."
"Some people have no idea how tough it is and how people cope differently. My Dh was in complete shock."
"I'm sorry to hear that. My ds was born premature and spent time in NICU. Its a really stressful time and mums aren't offered a lot of support with how they are coping. I never saw in visitor log in my experience but maybe they are just observing how you are coping and making sure you are doing ok. Is there any nurse you can speak to? I hope your baby is doing ok. It's such a stressful time."
Article continues below advertisement
Another mom, who gave birth to twins in the neonatal intensive care unit, said she faced a similar situation.
"I do know what it's like. It's hard and it's c**p," she wrote. "Visiting your premature sick baby once a week would cause worry for the medical staff."
"This was the worst part of when my son was in NICU. I felt emotionally split, as I had an overwhelming instinct to stay with my baby and also I couldn't stand to be apart from my other children."
It's definitely something many new Moms go through when their has to be long-term care for a newborn. As much as everyone wants to be there 24-7, it's not always the case. We're just glad the mothers found support.
What do you make of the situation?