Mom Surprises Kids by Moving Everything From Their Apartment to a New House — See the Sweet Video
One mom pulled off the ultimate surprise by moving everything from her and her kids' apartment into a brand-new house. See their sweet reactions.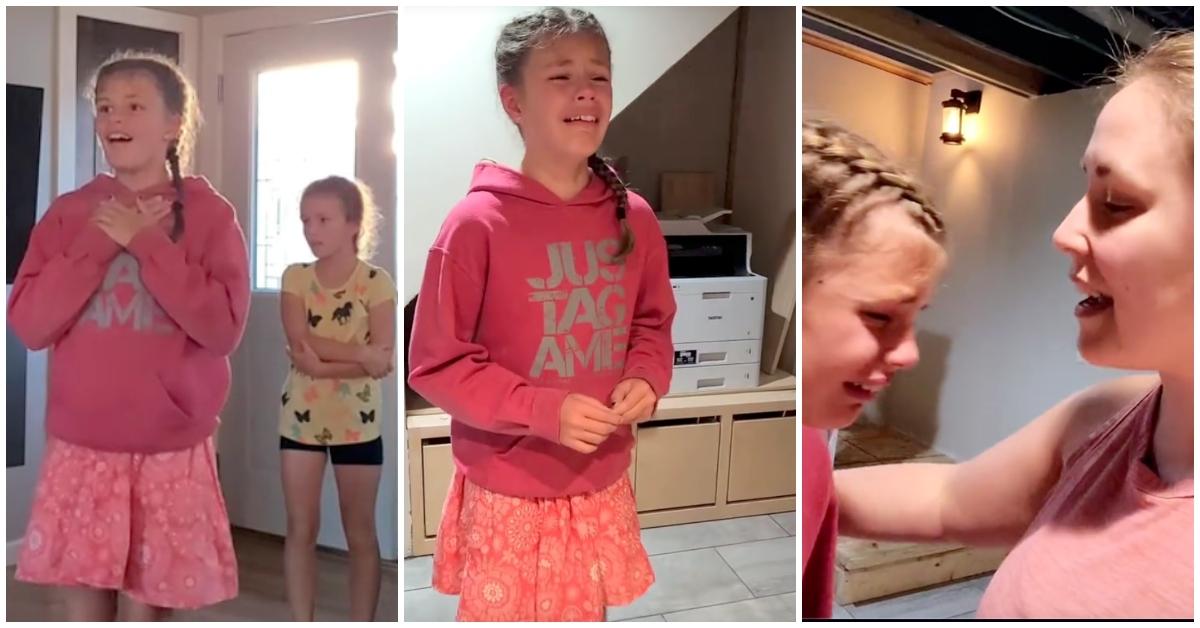 While it's no secret that buying a home is a lot of responsibility, money, and time, it can also be one of the most rewarding experiences in life. Once you move in, you realize just how major an upgrade it is in terms of space and amenities.
Article continues below advertisement
One mom just pulled off the surprise of a lifetime by surprising her kids, who had been living with her inside an apartment, with a brand-new house. Keep scrolling to see how she did it and how her kids reacted.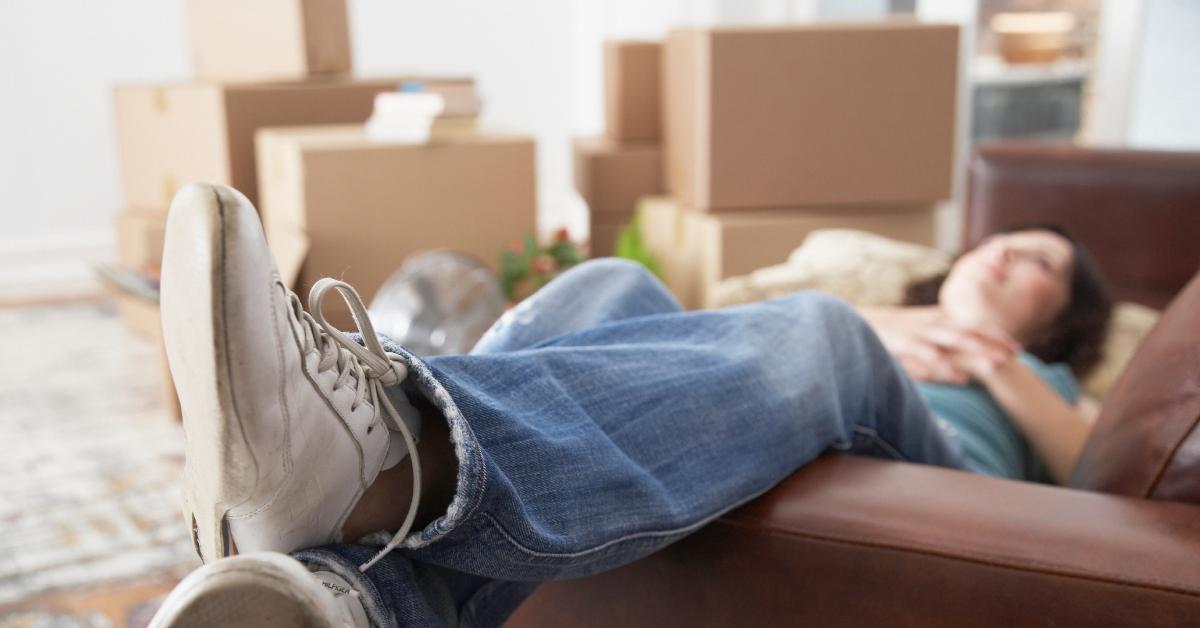 Article continues below advertisement
A mom surprises kids with a new house and their reactions are priceless.
In a TikTok video, a mom named Katie (@kt_katie_b) filmed the moment her kids got to see their new house for the first time. The best part? They had no idea this was happening. "POV: Telling your kids that we need to feed a friend's cat before going back to our apartment ... but really surprising them with something better," she wrote in the video's text.
In the clip, her three kids walk into the house and immediately realize that the furniture looks just like their furniture — and that's because it is. Her oldest daughter puts it together quickly. With a gasp she says, "This is our new house?"
The kids are ecstatic, although her younger daughter does inquire about the cats, not realizing that was just a white lie to get them there.
Article continues below advertisement
Katie's oldest daughter immediately breaks into tears as her younger siblings begin exploring their new crib.
Unlike in their old apartment, each of Katie's kids now gets their own bedroom. And as Katie's oldest added, there are three bathrooms in their new home, which is two more than they had in their old apartment. There is also a playroom for the kids to play together in.
Article continues below advertisement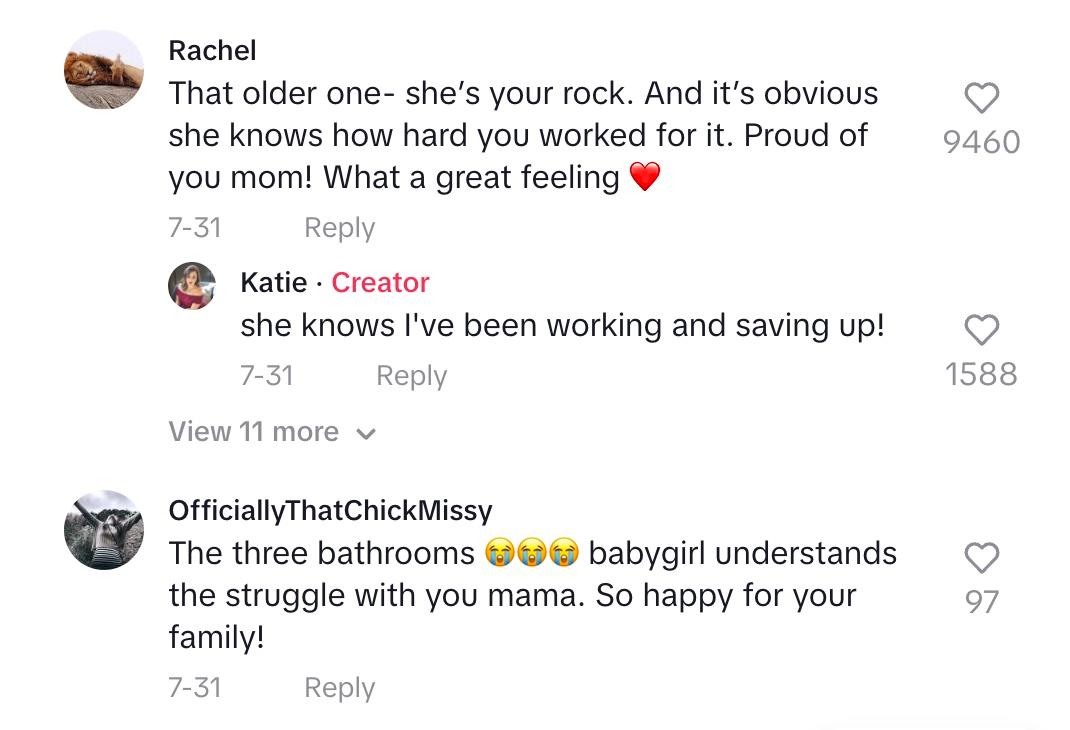 In the comment section, many viewers remarked on how emotional Katie's eldest daughter was during the reveal. "That older one — she's your rock. And it's obvious she knows how hard you worked for it. Proud of you mom! What a great feeling," wrote one person.
Another user piggybacked on to that comment writing: "It hit the oldest hard 'cause she's been with momma through everything."
Article continues below advertisement
Katie replied to the comments acknowledging that her oldest daughter was aware that she was working hard and saving up for this.
Meanwhile, other users inquired over how Katie was able to pull off such a major surprise and move in all of their stuff without tipping off her kids.
Article continues below advertisement
She answered that in a follow-up video, explaining that the kids went camping with their dad for a week which bought her some time. She had six days to move everything from their apartment to the new place, and fortunately she had a good group of friends to help her with this. In fact, her friends even helped her decorate the new home.

Article continues below advertisement
As Katie explained: "This was my entire plan ever since I had put an offer on the house. I was like, I want to make this super special for [my kids] and to surprise them just because I knew it would be a memory and we've waited a long time for this. "
Katie noted that prior to this, she and her kids had been living in a two-bedroom apartment for the past four years. In the apartment, the three kids all shared a bedroom. Their new home certainly is a well-deserved upgrade. Congrats, mama!