"Their Parents Paid for It" — Woman Questions Young People Who "Brag" About Homeownership
A TikToker says that when they went to purchase a home, the realtor asked them if their parents would assist them with a down payment.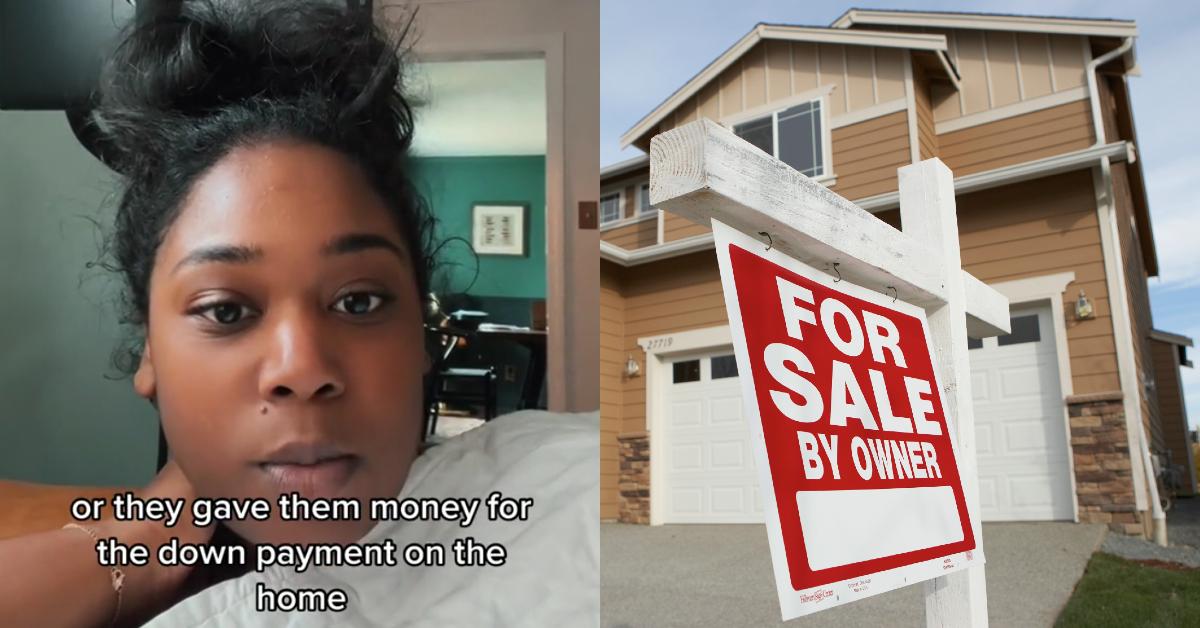 Article continues below advertisement
Of course, there are time periods in which it is more fortuitous to purchase real estate than others, but generally speaking, the earlier you get into an area, the better it is.
This is why a lot of folks, or kids of folks, who are able to lock down a piece of property and sell it for a profit to purchase or develop more, are able to reap the benefits.
Article continues below advertisement
And of course, there are people whose parents were able to save a lot of money and help them out with a down payment on their home that removes PMI and could potentially bring down their interest rate, not to mention securing them at home that they can pay off in a quicker amount of time.
Either that or, they just buy their kids' homes for them outright.
And just like those folks on Instagram who pose in front of luxury cars that don't belong to them that are parked on the street, you have folks who will gush about the fact that they purchased a home, but in reality, it was gifted to them or they acquired it with a lot of help.
TikToker Terror J (@terrorjrmusic) criticize this phenomenon in a video where he states: "White people love saying that they bought a house when their parents bought it for them."
Article continues below advertisement
Another Tiktok user @luxemamachronicle stitched a viral response to his video, stating that she's come across folks who would gush about owning their own home while at work.
Article continues below advertisement
She said that when she started working in a corporate environment she met a lot of people in their late 20s and 30s who were either in the process of purchasing a home or already had one.
The TikToker went on to say that it never really occurred to her to purchase a home, but after coming across so many people who were becoming homeowners, she felt like she was behind the curve.
Article continues below advertisement
It wasn't until she started actively looking to finance a new property and began talking with realtors about potentially purchasing a house that she realized that there were a lot of folks who received a significant boost in finances to make their down payment.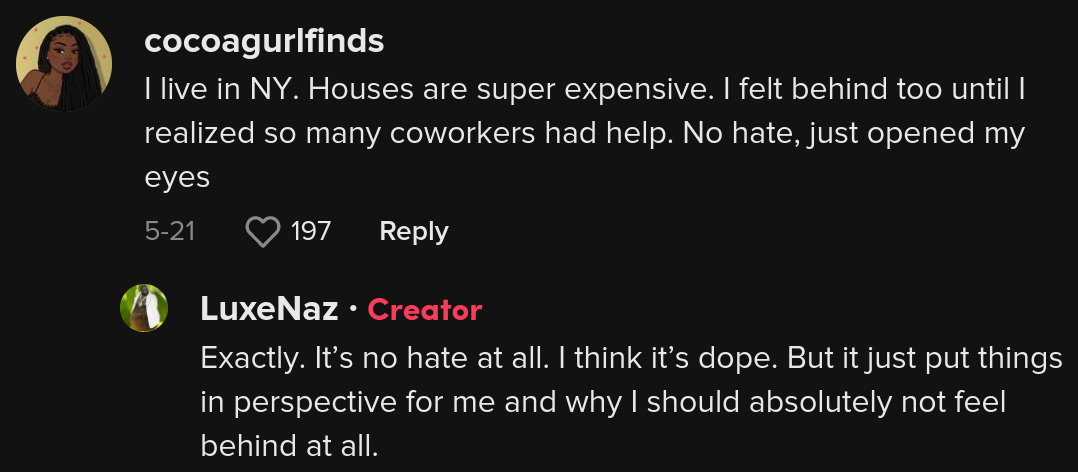 Article continues below advertisement
In fact, she says that the realtor asked her outright if she had parents or family members who were going to provide her with money for a down payment or help out with that.
The TikToker went on to say that she came to realize many folks who ended up owning their own homes either received some type of inheritance money from a parent or family member who passed away or they received a life insurance payout.
Article continues below advertisement
A 2022 YouGov poll indicated that 79% of American homeowners Between the ages of 18 and 29 who participated in the survey said that they received assistance from their parents when purchasing their house.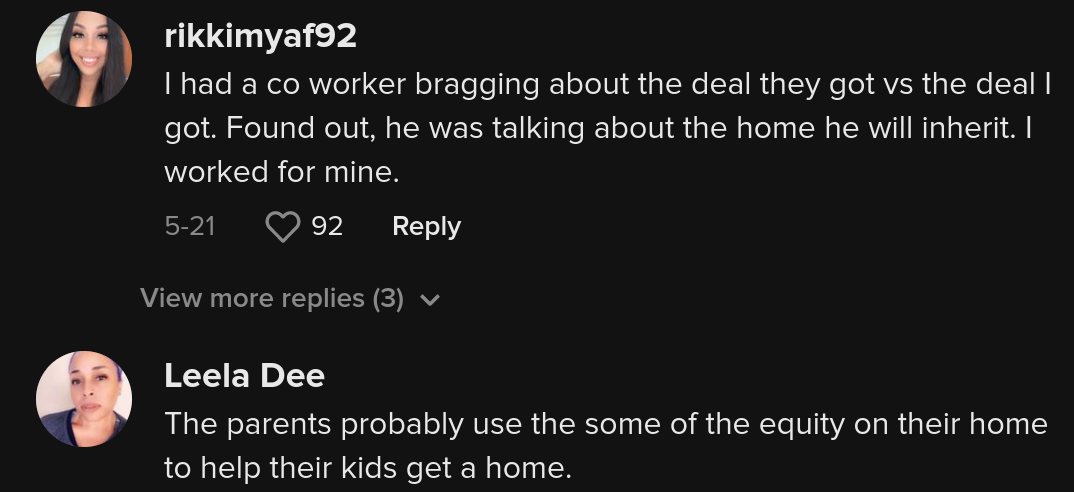 Article continues below advertisement
On average across all age groups, 1/3 of US homeowners polled in the same study all said that their folks help them purchase their houses.
TikTokers who responded to the viral clip also lamented the state of the housing market in America. One person wrote: "I work in the industry in NYC. Pretty accurate"
Article continues below advertisement
Someone else said that they were able to buy a new home at just 19 years of age in 2002 without any help from their parents: "I bought a house (new build, 4bd 3 ba) at 19 in 2002. No help from parents. Times are different now!"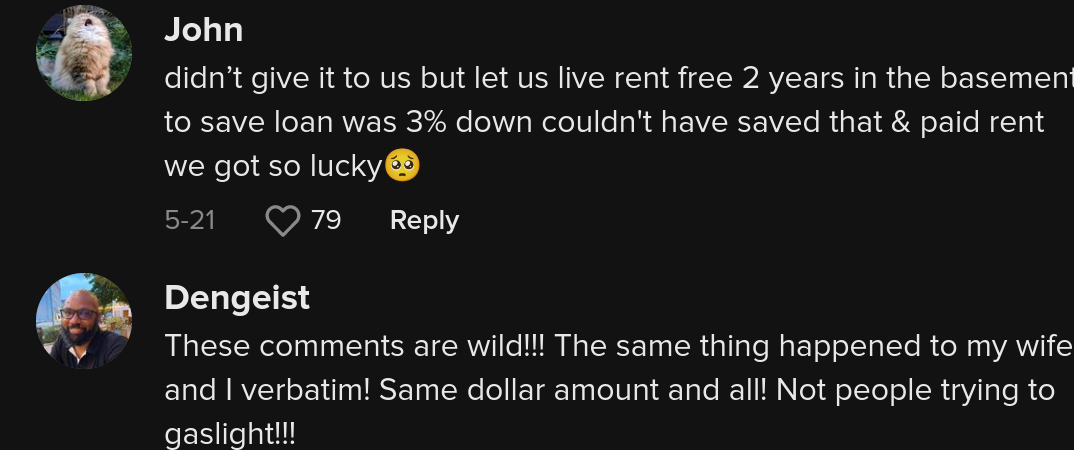 Article continues below advertisement
While another person said that they were able to capitalize on the market crash and housing in 2008 to purchase their own home without any assistance: "I bought my house when the market crashed at the age of 25 all by myself."
The TikToker also clarified that assistance for some people comes in different forms: "Or they were allowed to live at home and save for many years while not paying for food, shelter, phones and even cars."
What do you think? Were you able to own your own home without any financial assistance? Do you think it's feasible depending on the area that someone lives in? Or are the odds to stacked against folks in order to Turn the dream into a reality, or maybe people need to just stop eating so much avocado toast?