These 10 Videos Were the Top Viral TikToks in 2020 — Who Made the Cut?
These 10 videos were the most viewed and viral TikToks of 2020. Find out who is behind them, what the videos mean, and watch them yourselves.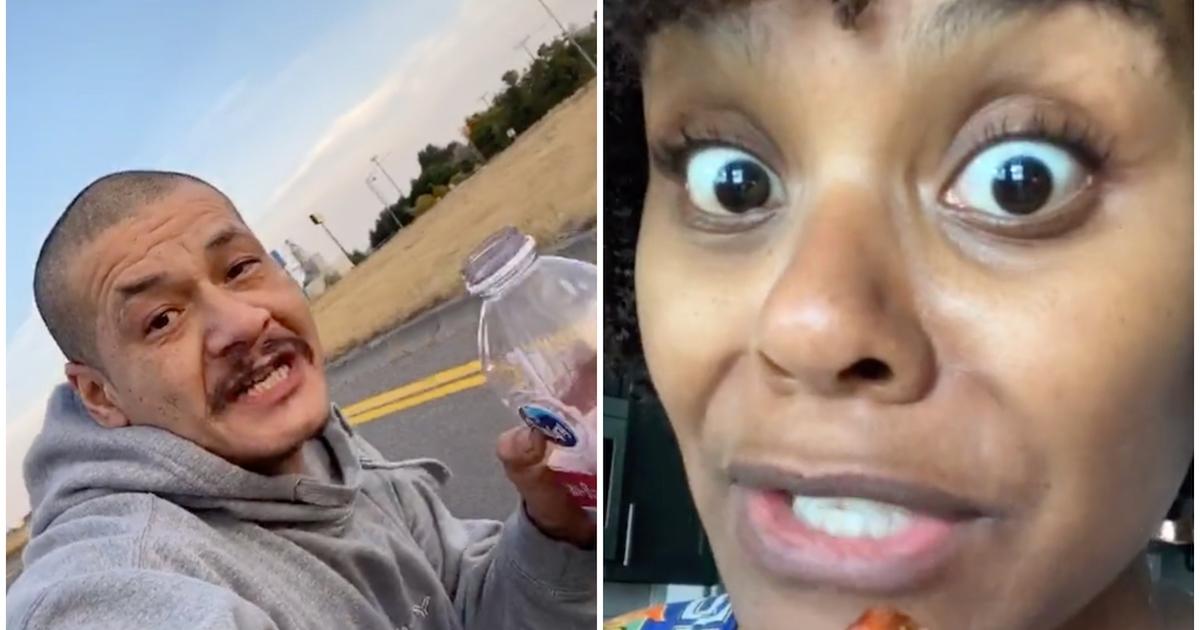 Though TikTok was certainly on the rise in 2019 (it was the most downloaded app of the year after all), people really flocked to it during the lockdowns resulting from the coronavirus pandemic in 2020.
With a lot of people spending more time at home, TikTok users began to create content, start new trends or challenges, and view videos.
Article continues below advertisement
The likes of Charli D'Amelio and Addison Rae continued to grow their already-popular platforms, but new stars like Bella Poarch and Nathan Apodaca (aka Cranberry Juice Guy) emerged with viral videos.
Who had the most-viewed TikToks in 2020? TikTok released a list of the top viral videos — which combines views with impact.
Keep reading to find out if you've seen the most popular content of the year.
1. Bella Poarch "M to the B" (@BellaPoarch)
With an incredibly expressive face, Bella Poarch became an overnight sensation on TikTok for her "M to the B" video. The video itself is simple: it features a close-up of Bella's face as she lip-syncs to "M to the B" by Millie B. She only joined TikTok back in April of 2020, and within just a few months, she had the biggest video of the year.
To date, the video has been viewed more than 532 million times since it was first posted in August of 2020.
Article continues below advertisement
2. Fleetwood Mac Cranberry Juice Guy (@420Doggface208)
Considering the fact that this video only came out in late September of 2020, Nathan Apodaca has more than secured his spot on the list of the most iconic videos of 2020.
In the infamous video, Nathan rides a skateboard while drinking cranberry juice and listening to the song "Dreams" by Fleetwood Mac. Because of his peaceful mood, the sunset featured in the background, and his overall demeanor, people began reposting the video as a #Mood or a Vibe Check.
Article continues below advertisement
After the video went viral, Nathan bought a house, proposed to his girlfriend, and received a truck from none other than Ocean Spray. It's safe to say that posting the video in the first place helped some of Nathan's own "Dreams" come true.
Article continues below advertisement
3. Caitlin Reilly's Take on WFH (@ItsCaitlinHello)
Caitlin's viral video wouldn't have made any sense to us a year ago (what a simpler time). It's an all-too-real take on what it's like to be working from home and conduct meetings on Zoom.
In the comedy post, Caitlin mocks an annoying co-worker on a Zoom meeting who can't stop talking about her ability to work from home and her many contributions to the company.
Article continues below advertisement
4. Jalaiah Harmon's Renegade Dance at the NBA All-Star Game (@JailiahHarmon and @NBA)
Jalaiah is the creator of the ever-popular Renegade dance, which introduced a lot of people to TikTok in the first place. Her performance at the NBA All-Star game in February of 2020 went viral. It's one of the few top videos featured on this list that hit peak popularity before the pandemic.
The video was originally posted on the official NBA TikTok account, and it's since been viewed more than 32.2 million times.
Article continues below advertisement
5. Will Smith and the Wipe It Down Challenge (@Will Smith)
Many people participated in the Wipe It Down challenge (celebrities included), but Will Smith's got a lot of attention because he featured his Men in Black character in it.
It was viewed a whopping 260.8 million times.
Article continues below advertisement
6. The Cereal Jingle that Became a Bread Anthem (@awa_de_horchata_uwu)
The llama dancing to "Mi Pan Su Sus" won viewers over. The song is originally from a Russian cereal commercial, and it has since become an anthem for bread. The video is considered to be part of "Alt" TikTok.
Article continues below advertisement
7. Eliza Peterson's Meteor v. Meatier Mix-Up (@LizeMopety)
Another more recent video that still climbed to the top is Eliza Peterson's hilarious video about a miscommunication regarding dinosaurs. It came out in September of 2020, and it's since amassed more than 19.4 million views.
In the video, Eliza plays both God and an Angel. When God asks if the Angel made dinosaurs "meatier," Angel realizes that she misheard and thought she was supposed to make a "meteor."
Article continues below advertisement
8. Tabitha Brown's Carrot Bacon (@IAmTabithaBrown)
Tabitha's account combines two beloved quarantine pastimes: soothing TikTok videos and cooking.
The vegan superstar posts vegan hacks to make delicious comfort food. Fans flocked to her carrot bacon video, which featured her calm dialogue, some ASMR, and a simple tutorial.
Since April of 2020, Tabitha's carrot bacon video has been seen nearly 20 million times.
Article continues below advertisement
9. Superheroes by Julian Bass (@TheJulianBass)
Unlike many other TikTok videos, Julian's top TikTok features multiple characters, several costume changes, and special effects galore. The content creator dresses as his favorite superheroes, and he seamlessly transitions from look to look.
Since July of 2020, Julian's homage to superheroes has been seen over 14 million times.
Article continues below advertisement
10. Goose Dancing (@Hartyt_)
This video certainly wasn't the first time Hart introduced his followers to his goose, but it definitely got the most attention. Hart dances along with his goose to "Vibe (If I Back It Up)" by Cookiee Kawaii.
Had you seen all of the Top 10 TikTok videos of 2020?