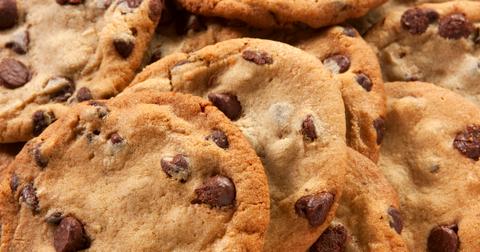 Snag These Sweet Deals for National Cookie Day
By Lizzy Rosenberg

Updated
While you probably ate your fair share of sweets this past week during (and after) Thanksgiving, the sugar-centric holidays aren't over just yet. National Cookie Day falls on Wednesday, Dec. 4, which means cookie chains and restaurants alike will be offering deals and discounts on your favorite baked goodies. So prepare to indulge to your heart's content with these National Cookie Day deals.
You won't want to miss these National Cookie Day deals:
1. Free Cookie at Mrs. Fields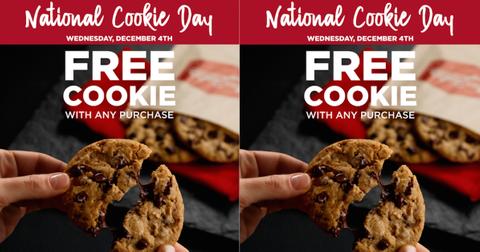 2. Free Cookies at DoubleTree by Hilton Hotels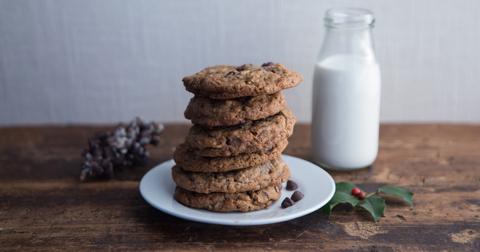 DoubleTree by Hilton is offering guests and non-guests alike their famous fresh-baked chocolate chip cookies for free, at any of the chain's 350 locations, according to the brand. So definitely make a point to stop by, even if you aren't planning to stay the night.
3. Free Cookies With Any Sandwich Purchase at Great Harvest LV North
To celebrate National Cookie Day, Wednesday December 4th we will be giving a free cookie with each sandwich you buy.  
Chocolate chip, oatmeal, peanut butter, sugar.  You can't beat em, might as well eat em.… https://t.co/ZrgsRWI69C

— Great Harvest Las Vegas North (@harvest_lvnorth) December 3, 2019
Source: Twitter
Las Vegas-based bakery, Great Harvest, will be offering customers free cookies with each sandwich purchased, according to the brand's Twitter page. Between classic flavors like chocolate chip, oatmeal, peanut butter, and sugar, deciding on just one cookie will be nearly impossible.
4. Free Cookies at Insomnia Cookies
5. Free Cookie Bites at Penn Station East Coast Subs
6. Free Cookies at The Famous 4th Street Cookie Company
Philadelphia-based bakery, The Famous 4th Street Cookie Company, will be offering free cookies to any and all customers who stop by on Dec. 4, in honor of the sweet, sweet holiday. Both Reading Terminal Market and Ridge Ave. Bakery locations will be running the deal, so make sure to stop by either (or both) locations for a freebie.
7.
Between you and me, I'm totally disregarding all of the pumpkin cheesecake and apple pie last week, because National Cookie Day is here, and IDK about you, but I'm going all out. There are so many delicious ways to eat on the cheap this week, so make sure to set aside some time to snag as many as you possibly can. Oh, and make sure your fridge is stocked with a little extra almond milk ahead of time — missing out on that dynamic duo would be truly sacrilege.