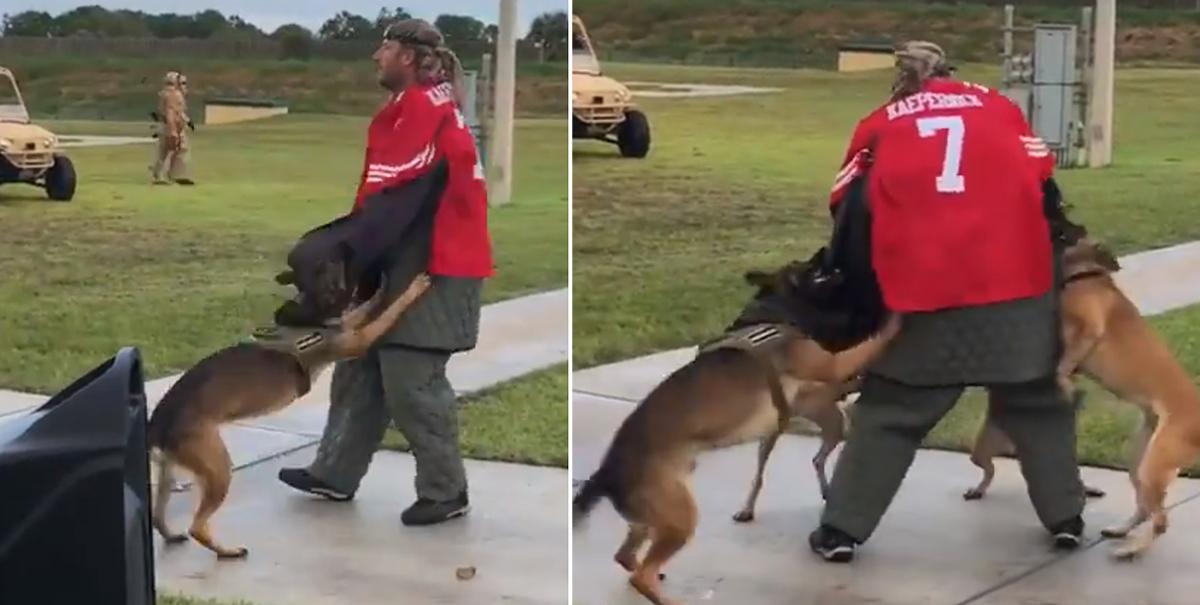 Video Shows Navy SEAL Museum Setting Military Dogs on "Colin Kaepernick Stand-In"
The Navy SEAL Museum, located in Fort Pierce, Florida, is facing criticism after video emerged of a demonstration during which military dogs attacked a "stand-in" wearing a Colin Kaepernick jersey.
Article continues below advertisement
The video, originally posted to Instagram in January 2019, went viral over the weekend after it was shared by Twitter users.
The original Instagram video has since been taken down, but the caption read: "Colin Kaepernick stand in Josh gets attacked by 5 Navy SEAL dogs for not standing during the National Anthem at a Navy SEAL Museum fundraiser."
Article continues below advertisement
In one video of the incident, the man wearing the jersey appears to say "Oh man, I will stand" after being knocked down by the dogs.
Article continues below advertisement
The Navy SEAL Museum is a non-profit "dedicated solely to preserving the history of the U.S. Navy SEALs and their predecessors." The board of directors includes retired SEALs.
Naval Special Warfare Command responded to the video on Sunday, writing in a statement: "The inherent message of this video is completely inconsistent with the values and ethos of Naval Special Warfare and the U.S. Navy. We are investigating the matter fully, and initial indications are that there were no active duty Navy personnel or equipment involved with this independent organization's event."
Article continues below advertisement
Kaepernick sparked a national movement in 2016 when he began kneeling during the national anthem to protest racial injustice.
The quarterback faced backlash, including from President Donald Trump, and remains unsigned. Earlier this year, following the death of George Floyd, the NFL reversed its opposition to players taking a knee during the anthem.
Article continues below advertisement
In a statement earlier this year, Chief of Naval Operations Adm. Michael Gilday announced a task force that would look at ways to "identify and eliminate individual and systemic racism within our force." The plan included allowing Black sailors to speak candidly about their experiences.
"As a Navy, we cannot tolerate discrimination or racism of any kind," Gilday said.
If you are looking for ways to donate your time or money to Black Lives Matter and other antiracist organizations, we have created a list of resources to get you started.