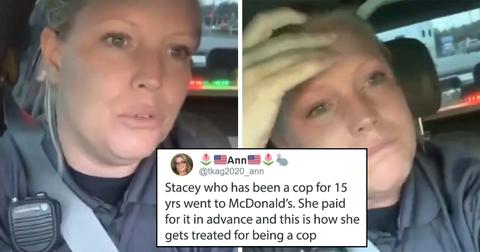 A Cop Is Being Called "Officer Karen" After Video About Waiting for Her McMuffin Goes Viral
By Mark Pygas

Updated
A police officer has been dubbed "Officer Karen" by the Internet after a video of her talking about her experience trying to get a McDonald's breakfast went viral.
A Twitter user by the name of Ann shared the video on Twitter, along with the caption: "Stacey who has been a cop for 15 yrs went to McDonald's she paid for it in advance and this is how she gets treated for being a cop. Come on America. We are better than this."
In the video, the police officer, identified as Stacey, talks about a trip to McDonald's for breakfast.
"I decided to come to McDonald's ... and I waited in line to get my food, I had already done my mobile order, so that people don't pay for my stuff because I like to pay for it myself. But I'm on my way home from work, when I pull up to the window, they hand me my receipt so I go the second window to get my food."
"And I'm waiting, and I'm waiting, and I'm waiting, and so the girl comes to the window and asks me what my order was. I repeat my order, and they ask me to pull up because my food's not ready. It's an English muffin meal with a hash brown and coffee."
"And I mean, I hadn't eaten since probably ... like in a while, so I was kind of hungry. And I'm still waiting, and I'm still waiting, and they ask me to pull up. So I pull up and a girl comes out with my coffee, and just the coffee. And she hands it to me and I have my window down," Stacey states as her voice begins to crack.
"And that's all she hands me is the coffee. So I told her, don't bother with the food because right now I'm too nervous to take it. It doesn't matter how many hours I've been up, it doesn't matter what I've done for anyone, right now I'm too nervous to take a meal from McDonald's because I can't see it being made."
"I don't know what's going on with people nowadays, but please just give us a break, please just give us a break. I don't know how much more I can take. I've been in this for 15 years and I've never had such anxiety about waiting for McDonald's drive-thru food. So just have a heart, and if you see an officer, just tell them thank you because I don't hear thank you enough anymore. All I want is my McDonald's."
As you can imagine, the video attracted a fair bit of criticism online, with many calling the officer "Karen."
"Karen" is the blanket name given to middle-class white women who have been caught doing questionable things, particularly to Black people. In this past, this has included coughing on other people, refusing to wear a mask while shopping, and threatening to call the police on a Black bird watcher.
"The cops who killed Breonna Taylor have still not yet been charged," one user wrote. "Meanwhile, Officer Karen is having a meltdown over a McMuffin."
Another user added: "Pandemic going on and fast food workers got ZERO praise for having to work through it and she crying because she was gonna have to wait 5 extra minutes for a McMuffin F**K OUTTA HERE."
"Everyone in the comments are so mad this poor woman had to wait a few extra minutes for her McMuffin just wait till we tell them how long black people have been waiting for equality," another added.
Others were more sympathetic to the police officer, with one writing: "These police officers r being hung out to dry! We need to fight for them."
Another added: "McDonalds needs to fire whoever did this."
While another concluded: "LMAO McDonald's employees are treated worse than this every day."
All of this over a McMuffin.