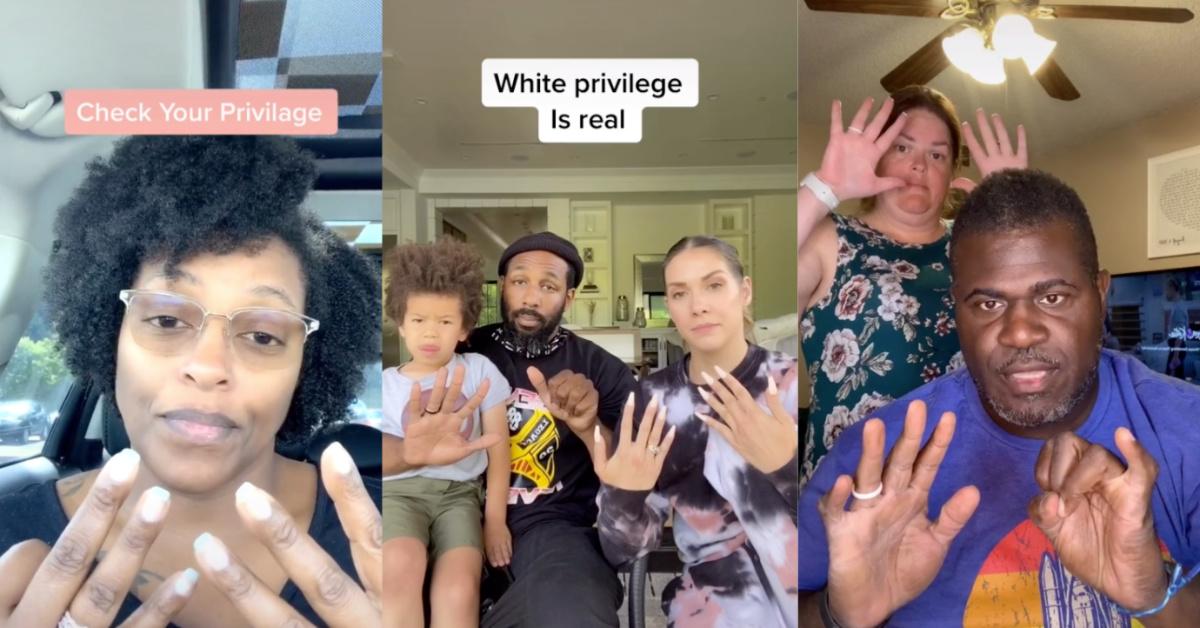 Don't Believe in White Privilege? Do TikTok's "Check Your Privilege" Challenge
Another day, another viral TikTok challenge. This one has the potential to really get people thinking, though. It's called the Check Your Privilege challenge, and it's all about — you guessed it — checking your privilege.
Anyone can participate in it, and those who do might be surprised by how privileged their lives have been.
Article continues below advertisement
What is the "Check Your Privilege" challenge on TikTok?
Chances are you've probably come across various "put a finger down" challenges on the video-sharing site, but just in case you haven't, here's a quick primer. People start with all 10 of their fingers up. They put one finger down for every statement they hear that's true about them. It's basically like the TikTok version of the "never have I ever" game.
There are "put a finger down" challenges for tons of different topics.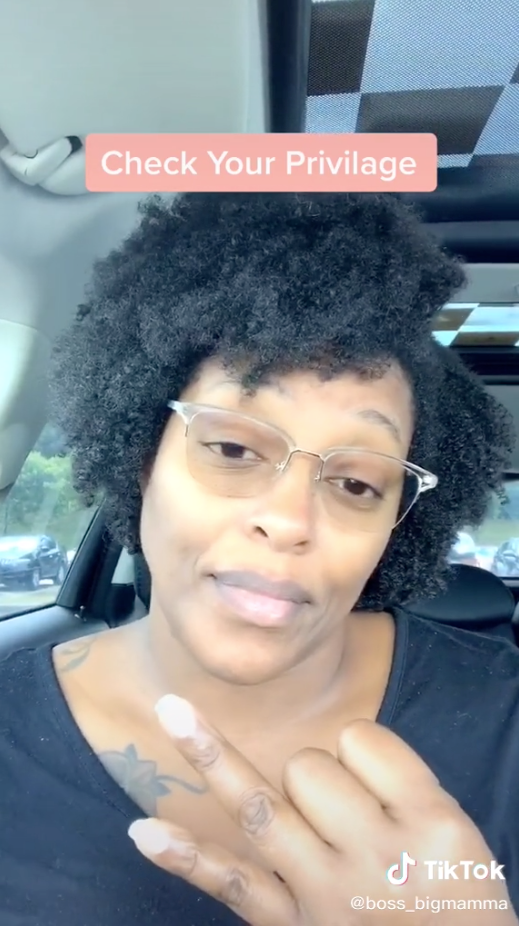 Article continues below advertisement
The Check Your Privilege challenge is one that's making the rounds these days. It was started by TikTok user @boss_bigmamma (who, by the way, is an absolute must-follow!).
On May 22, she uploaded the video that eventually became the official Sound of the Check Your Privilege challenge:
Article continues below advertisement
In it, she lists various situations that most non-Black people (and especially most white people) have likely never experienced. She tells you to put a finger down if, for instance, "you've been followed in a store unnecessarily," "someone has crossed the street to avoid passing you," or "you have never been given a pass on a citation you deserved."
In doing her own challenge, @boss_bigmamma puts every finger down before even getting to the end of the list. At the end of the video, she asks, "Any fingers left? That's privilege."
Article continues below advertisement
People have been using @boss_bigmamma's video to complete their own Check Your Privilege challenges — either by dueting with the original video or using the audio as their Sound.
The challenge really went viral after Stephen "tWitch" Boss and his wife Allison Holker participated in it together (with their 4-year-old son Maddox sitting with them):
Article continues below advertisement
In the video, tWitch puts all of his fingers down, while all 10 of Allison's fingers remain held up until the last phrase: "Put a finger down if you ever had to teach your child how not to get killed by the police." This is the video that really struck people. The comment section was filled with people talking about how it made them feel.
"[I]t annoys me that people I know personally say 'what privilege? I don't have privilege.' They think it means money/etc, but THIS is what it means," one wrote. "This literally breaks my heart," said another.
Article continues below advertisement
It can definitely be difficult for many white people to recognize that they have privilege. Remember: Acknowledging that you have been awarded certain privileges does not mean your life hasn't been difficult, or that you haven't worked hard for your successes. It just means that the color of your skin isn't one of the things that made it more difficult.
This can be a tough pill to swallow, and it sometimes takes a lot of honest self-reflection. The Check Your Privilege challenge is a great way to get people thinking and talking about the issue, though. 10/10 would absolutely recommend it.
If you are looking for ways to donate your time or money to Black Lives Matter and other antiracist organizations, we have created a list of resources to get you started.