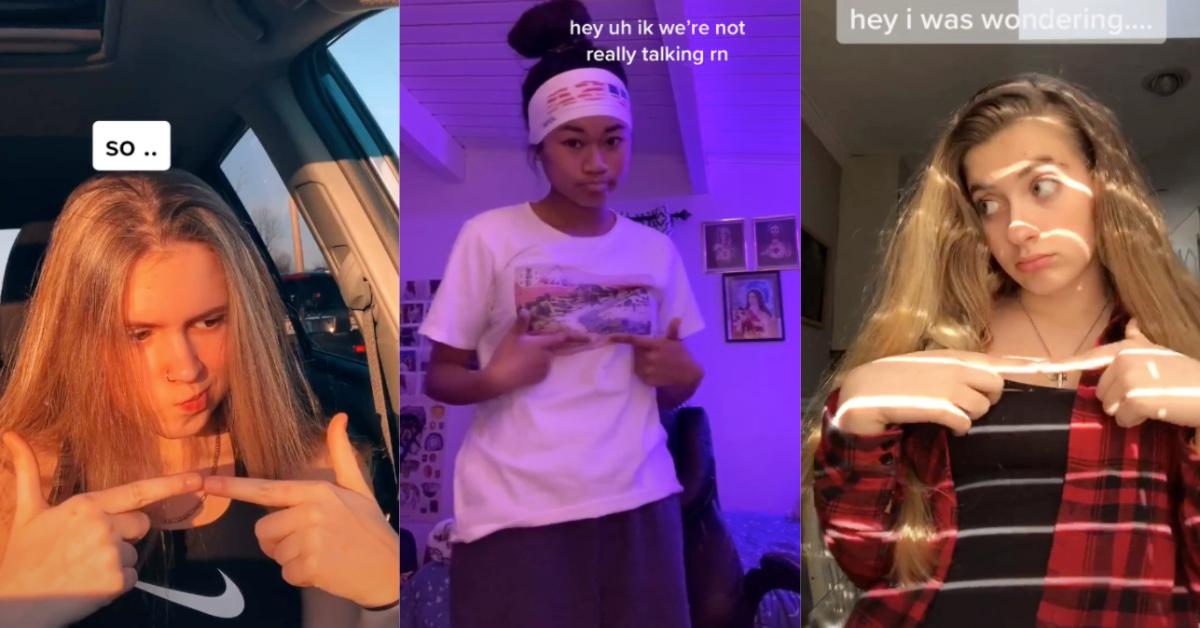 Why Is Everyone Putting Two Fingers Together on TikTok?
Some TikTok trends make sense the first time you see them — no one has to explain why that whipped coffee recipe took over the video-sharing app or why certain dances take off. People see something, relate to it (or just find it funny or interesting), and then make their own version. A trend is born.
Article continues below advertisement
Other trends require a little more digging to fully understand, though. Remember when you didn't know what "#FYP" meant? One TikTok-ism we had to look into recently was why people are posting comments of two finger emojis pointing at each other. They're also making videos with two fingers together. What does it all mean?
Article continues below advertisement
What does two fingers together mean on TikTok?
We all know that sometimes, the meaning behind emojis is pretty clear — there's no secret meaning behind the crying-while-laughing emoji (even though people who use it are probably neither laughing nor crying). Other times, emojis do have alternative meanings. We're guessing very few people have ever used an eggplant emoji to discuss their grocery list, for instance.
The two fingers together emojis on TikTok actually have a pretty straightforward meaning. They're meant to symbolize shyness or nervousness, as though someone is quietly twiddling their fingers together as they work up the courage to say whatever is on their mind. Sometimes the two fingers pointing at each other are also paired with the wide-eyed smiley face emoji to really sell the effect.
Article continues below advertisement
It seems like using the two finger emojis started taking off around March 2020, and now there are literally thousands of uses all over TikTok. There are also tons of videos where people put their own fingers together to indicate their shyness (rather than just using the emojis).
Article continues below advertisement
The two fingers together trend has also gained popularity on Twitter.
You can also find many instances of people using the two fingers emoji trend on Twitter. If you know someone young and hip and cool, maybe they've even texted it to you! Basically, anywhere you can use emojis, you can take part in this trend. Obviously.
Article continues below advertisement
There are also a lot of TikTok videos featuring the phrase "put a finger down."
Another finger-related trend that has really blown up on TikTok asks people to "put a finger down" to admit the things they've done. It's basically the classic sleepover game Never Have I Ever. There are "put a finger down" challenges that call people out on their rude texting habits, reveal how "innocent" someone is, or make parents admit to sometimes lying to their kids.
Users start with all 10 fingers held up and then, just as the directions state, put a finger down for every phrase that applies to them. The number of fingers you have still pointing up at the end of the video indicates the kind of person you are. It's a simple trend, but sometimes those are the ones that gain the most popularity.
Article continues below advertisement
If you really wanted to lean into all of the finger trends at once, you could make a "put a finger down" video with the two finger emojis pointing at each other as your caption. And guess what you'd have to use to post the video to TikTok. Your fingers! It's fingers all the way down, folks.