Here's What All Those Fairy Emojis Mean on TikTok
Mean fairy comments are taking over TikTok and we are pretty obsessed. Here's an explanation of them and the trick to writing your own.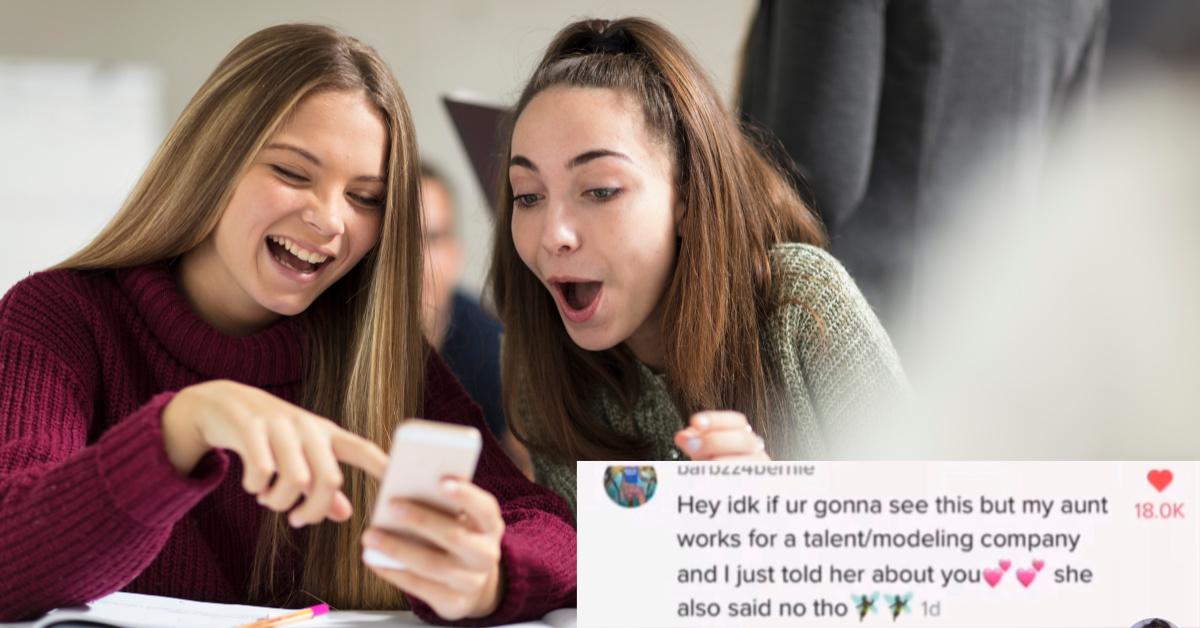 You know you can always count on TikTok to provide you with hilarious videos that will entertain you. We all love a good parent prank or funny challenge video, right? Sometimes, though, the funniest TikTok content isn't found in the videos — it's found in the comment section. Who knew that TikTok comments could provide just as many laughs as videos (if not more)?
Article continues below advertisement
Recently, you may have noticed a bunch of TikTok comments featuring heart and fairy emojis. These are known as mean fairy comments, and they might actually be our favorite thing about the video-sharing app at the moment.
What are mean fairy comments on TikTok?
If you're looking for mean fairy comments on TikTok, there's one dead giveaway: the fairy emoji (you probably could have guessed that one). However, merely including a fairy emoji in a TikTok comment does not make it a mean fairy comment.
Article continues below advertisement
Essentially, mean fairy comments are comments with a twist ending that makes them extra funny. The comments are split into two parts, where the second part is unexpected and makes the whole comment funnier. For instance, if you saw someone's comment begin with "You made my day," you might expect the rest of the comment to be lighthearted and filled with compliments. But if the second part of the comment simply says, "worse," it changes everything.
Article continues below advertisement
On TikTok, the two parts of these mean fairy comments are split up by fairy emojis (along with other lighthearted emojis like hearts, butterflies, and rainbows). According to self-described Gen Z whisperer Tiffany Zhong, the first mean fairy comment can be traced back to April 10, 2020, when someone commented: "Hey idk if ur gonna see this but my aunt works for a talent/modeling company and I just told her about you [heart emojis] she also said no tho [fairy emojis]." Brutal.
Now, mean fairy comments can be found all over TikTok videos — and we are nowhere near sick of them.
Article continues below advertisement
Mean fairy comments on TikTok are actually perfect examples of a literary device called a paraprosdokian.
If you'll allow us to geek out for a second, mean fairy comments are a modern version of a literary device that has been around for literally thousands of years. Comments like these are called paraprosdokians (pronounced para-prose-doke-ians) and they have been used by comedians and philosophers for a long time.
Article continues below advertisement
Comedian Mitch Hedburg was a paraprosdokian pro — "I haven't slept for 10 days, because that would be too long," and "I used to do drugs. I still do, but I used to, too," are prime examples. Winston Churchill was also reportedly a big fan — "If I agreed with you, we'd both be wrong." Add a few fairy emojis in there and you've got yourself a great TikTok mean fairy comment.
Not all mean fairy comments are created equal, of course. The really good ones are more than just a simple insult. The key to a good mean fairy comment is getting a good jab in where someone least expects it. If you're trying to craft your own, good luck! [Fairy emoji] [Fairy emoji] You're gonna need it.