Parents Secretly Gave Their Kid's Cat Away While He Was Away at School
Who gives someone's cat away when they've been asked to watch it? Toxic parents, that's who.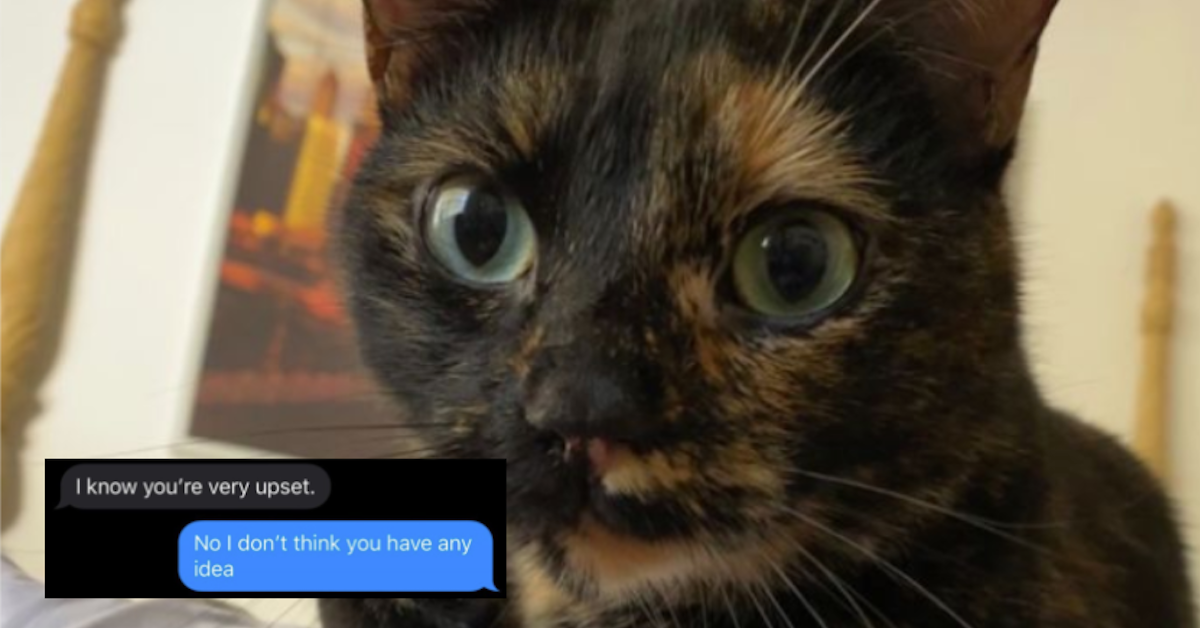 In several posts, Reddit user nexerxe explained how their parents secretly got rid of their cat when they went away to college. I will never understand people who don't understand that animals are part of the family. But to do something like this requires an extra level of cruelty.
Article continues below advertisement
In a post on Insane Parents, they share a text exchange with their parents and explain exactly what happened. "I had my parents watch my cat my first year in college because I couldn't have her in my dorm," they wrote. "Two months from me bringing her up to live with me and they give her away without telling me."
Article continues below advertisement
In a comment, they provide a little more background into the situation. They've apparently always had problems with their parents. Their dad is emotionally abusive and their mom enables it and covers for him.
"I went to the high school that my mom taught at, and I told her that I was going to speak to the school counselor about what I was going through," they wrote. "My mother wouldn't let me because, 'I work there and it would make me look bad.'" Yikes.
Article continues below advertisement
When they were 16, their dad agreed to let them adopt a cat, as long as they took care of her. "I took care of the cat, and the cat was my only friend when s--t hit the fan at home. I often cried with the cat," they wrote.
As soon as they could, they got out of their house. They moved to a state university three hours from home, and their parents agreed to take care of the cat during their first year. But then, their mom called and told them they gave away the cat. She refused to say where she'd taken her.
Article continues below advertisement
OP was supposed to get her cat back in August, just a few months from now. They called shelter after shelter looking for her cat, and finally, after much searching, the cat was located at a shelter.
Article continues below advertisement
Spotty was coming home. The only snag was that the shelter wouldn't just let OP re-adopt her cat for free. They'll have to pay the adoption fee to take their own cat home. Since they're a "broke college kid" and they definitely wouldn't be getting any help from their parents, they set up a GoFundMe to raise the $150 dollars to bring Spotty home.
OP reached their goal and then some, bringing in $370 to make sure Spotty got home safe and sound. The cat is officially home, and now the only problem left is OP's parents. According to OP, Spotty will be staying with a friend until August, when they'll be able to take her for good.
Article continues below advertisement
OP says their parents "will be livid" that they went behind their backs to re-adopt Spotty, but they went behind their kid's back to get rid of their beloved pet, so I don't think they have any right to complain.
Article continues below advertisement
Plus, it's not as if Spotty is back in their house. In all honesty, they probably just didn't want the responsibility of changing the litter box and caring for a cat. I have a feeling Spotty's in a much better situation now.
Props to OP for recognizing that what their parents did was horrible and for being strong enough to strike out on their own and get their cat back. Their parents have a whole lot of groveling to do.