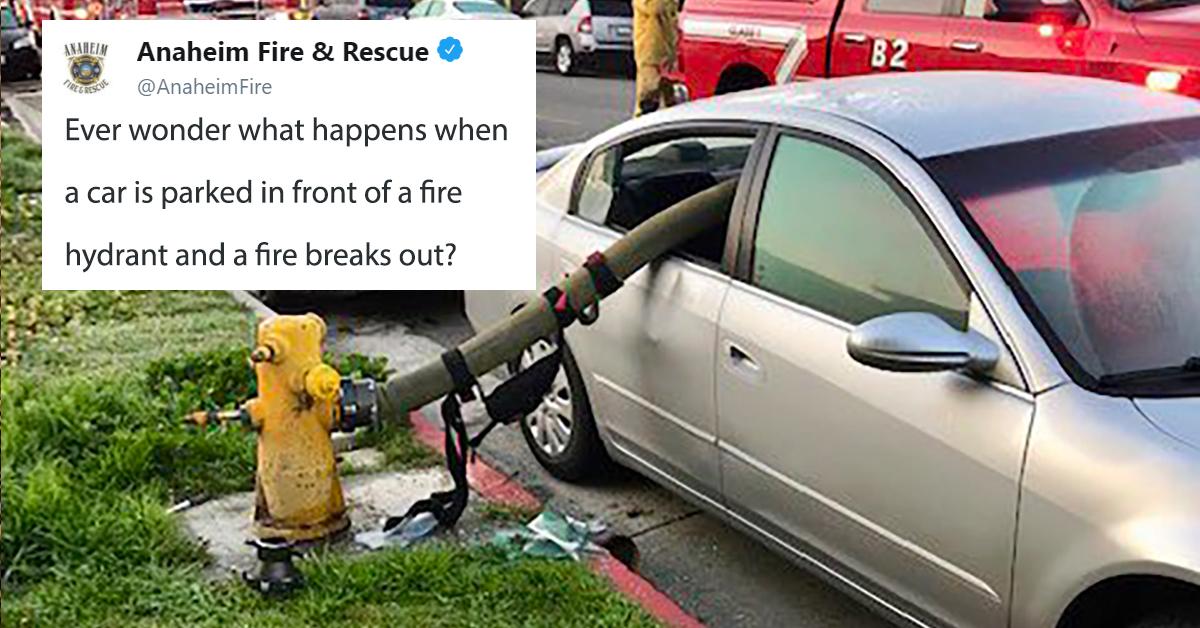 Firefighters Show What Happens If You Park In Front of a Hydrant
Article continues below advertisement
"Ever wonder what happens when a car is parked in front of a fire hydrant and a fire breaks out," the fire department asks. "Is a closer parking spot worth the broken windows and the citation and towing fees to Anaheim Police Department?"
Article continues below advertisement
That's gonna cost you. According to Fox43, crews were dispatched to the 100 block of North West Street to battle the residential fire. When they arrived, they discovered a car parked in front of the hydrant, and firefighters and police broke the car's windows to be able to run the hose line through it.
The Police Department, which also assisted in the fire, retweeted the photo and reminded drivers that red curbs exist for a reason.
Unsurprisingly, the tweet attracted plenty of responses, with over 1,400 retweets and hundreds of comments.
One user wrote: "Good for you @AnaheimFire doing whatever it takes to save lives and property!! 'Maybe' that person has now learned, NOT to park in front of a Fire Hydrant let alone in the RED!!"
Another added: "That's what the driver 'gets.' Everyone knows you're not supposed to park in front of a hydrant. I'm glad you fire crews did that. Lesson learned."
While one Twitter user stated: "Great shot. Shame on them for parking there. Should be an added fine for slowing FFs down when every second counts."
One social media user applauded the move: "Good work guys! You have a hard job and people who park their cars like that are doing a disservice to the safety of the city. We support you 110% in the decision to run the hose through the car."