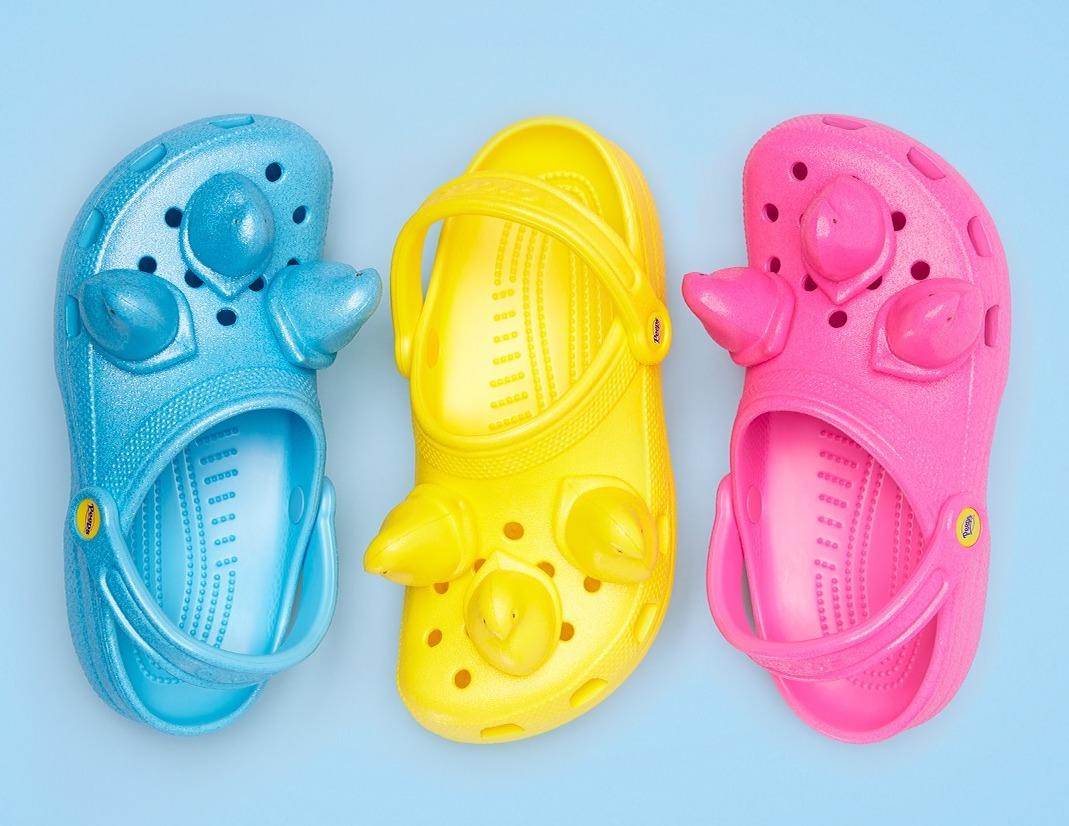 This Crocs / Peeps Collaboration Is Just What You Need for Your Easter Outfit
If you're already stressing about putting together the perfect outfit for your Easter brunch with the family, well worry no more because we found the shoe that will make the rest of your ensemble not even matter. Did we also mention that you'll be able to walk for miles because these are pretty much the most comfortable shoes on the planet? We're talking about everyone (and Post Malone's) favorite shoe: the Croc.
Article continues below advertisement
Just in time for Easter, Crocs teamed up with everyone's favorite marshmallow fluff candy, Peeps to bring you the specialty Croc of your dreams. Crocs have done some pretty out-of-the-box collaborations in their time, but this one may take the cake. What they have dreamed up with Peeps is definitely eye-catching and bold, but honestly, they're adorable and we're here for them. Peep (pun intended!) these new shoes that will be available very soon!
The Peeps Crocs will be available on March 3rd.
Crocs announced on Instagram on Feb. 27 that they would supply these special-edition Crocs in their classic clog in three spring colors: baby blue, yellow, and hot pink. If their past special-edition Crocs are any indication these new Peeps inspired ones will sell out very quickly.
Article continues below advertisement
While we're not 100% sure if their availability will be just online or in shoe stores as well, but it would be in the best interest of Peeps and Crocs enthusiasts to head over to the Crocs website at midnight on March 3rd. According to the Peeps Facebook page, your local retailer might have them in stock! They wrote, "Run, don't walk to your local Crocs retailer tomorrow to add some colorful PEEPSONALITY to your wardrobe!"
Article continues below advertisement
The Peeps Crocs will also have Peeps-shaped Jibbitz charms.
The phrase, "Shut up and take my money" has never been truer. Not only will these Crocs be in adorable Peeps-like colors, but you can accessories them with Peeps-shaped charms! These charms, about a one-third the size of an actual peep, come in the same colors as the Crocs themselves, but think of all the possibilities if you were to mix and match these bad boys!
Article continues below advertisement
At first glance, they do look like rhinoceroses-inspired Crocs, but take a closer look at these masterpieces and you can see these are precious Peeps adorned on top of a comfy Croc. You will be the talk of the town at Easter brunch in these bad boys.
This isn't the first collab Crocs has done with an unusual company.
The brand announced its collaboration with Kentucky Fried Chicken in which they offered KFC-themed Crocs. They featured their classic style with a red and white striped bucket design on the bottom. They also came with Jibbitz charms that were shaped like drumsticks. They were also chicken-scented. Anyone else hungry all of a sudden?
Article continues below advertisement
Crocs also designed multiple collections with Post Malone. His designs sold out so fast that some third-party sellers were trying to sell the special-edition shoes for triple the price. We won't be surprised if the same thing happens with these Peeps-inspired Crocs.