The Cartoon Character Peppa Pig Is Probably Way Taller Than You Thought
The cartoon character Peppa Pig is a lot taller than everyone thought — find out the popular children's TV personality's height here.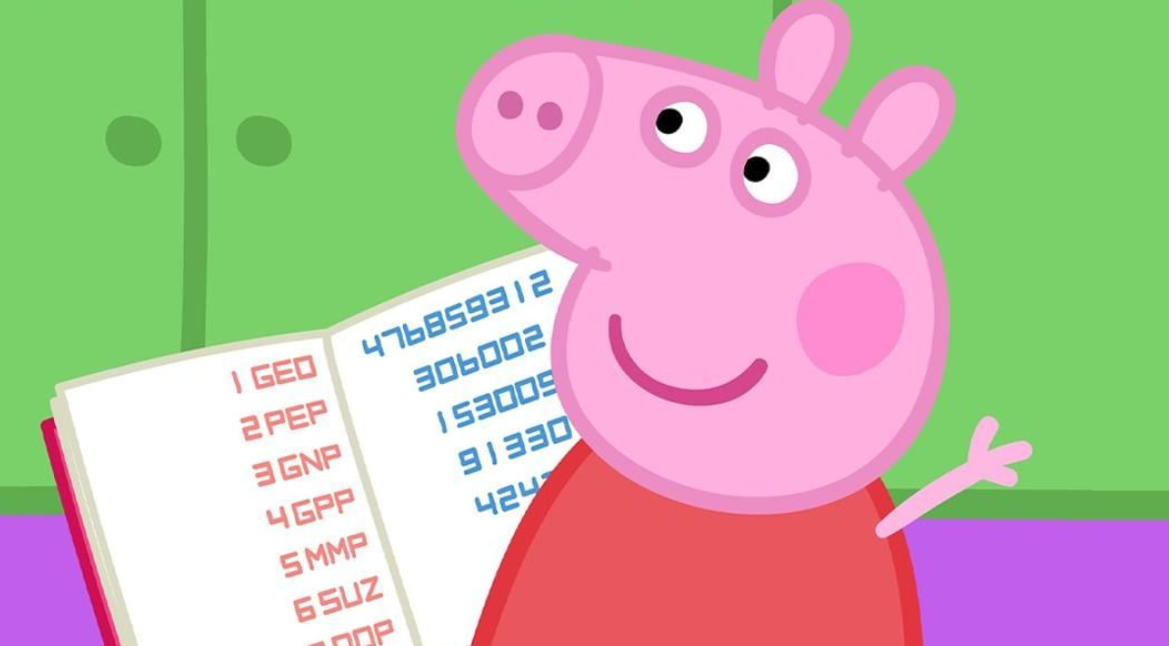 Peppa Pig has been on TV for over a decade, and if you've heard of the show, you know kids everywhere can't get enough of it. The series follows a little pig named Peppa, her brother George Pig, and their parents Mummy Pig and Daddy Pig. But while watching Peppa Pig, whether you're an adult or child, it's difficult not to wonder how tall the character is, so we did a little investigating. Scroll down for everything we learned about Peppa Pig's height!
Article continues below advertisement
How tall is Peppa Pig?
According to Insider, over the summer, rumors began swirling that Peppa Pig is over 7 feet tall even though she's just 6 years old! One Twitter user posted a photo from Google claiming that the popular cartoon character is 7'1," which is as tall as some NBA players!
At this time, the true height of Peppa has not been confirmed or clarified. Another report from Fandom suggests that the pig is only 3'9," which actually makes way more sense in our opinion. That said, her actual height is really unknown.
Article continues below advertisement
Despite Peppa's actual true height, fans couldn't help but blow up social media with funny memes and theories about it. "Fun fact: Peppa Pig and Shaquille O'Neil are the same height and I'm terrified," one said. "Need a man who's the same height as Peppa Pig please," another joked.
And then came the puns! "Peppa Pig Is Now Peppa Big," one hilariously wrote on the social media platform. "Why did we let her become this powerful?" another responded.
The best ones were the ones where users pointed out that if Peppa is over 7 feet tall, then her parents must be literal giants. One meme joked that Daddy Pig is over 14 feet tall, Mummy Pig is over 11 feet tall, and George Pig over 4 feet tall.
Article continues below advertisement
How long has 'Peppa Pig' been on TV?
Peppa Pig has been on television since 2004, so 2020 marks the 16th year of the show's existence. It aired its first-ever episode on May 31, 2004, and that season followed with 51 more episodes after that.
Since then, there have been five more seasons of the show, which totals it out to be six seasons of Peppa Pig thus far. Each season totaled 52 episodes, which means there have been nearly 300 episodes of the series since it first aired!
How can I watch episodes of 'Peppa Pig'?
To catch up on older episodes of Peppa Pig, you can head to Vudu, YouTube, Philo, fuboTV, NickJr.com, or SlingTV. However, since the series is still airing new episodes as a part of Season 6 of the series, you can catch them weekdays on Nick Jr.
Or if you want to see how tall Peppa really is in person, you can purchase tickets to Peppa Pig Live! in a city near you. And if you go, please report back on whether or not she's really over 7 feet tall...