PETA Says Humanity Brought COVID-19 on Itself Because We Aren't All Vegan
PETA is known for taking unapologetically strong stances to advocate for animal rights in order to make headlines.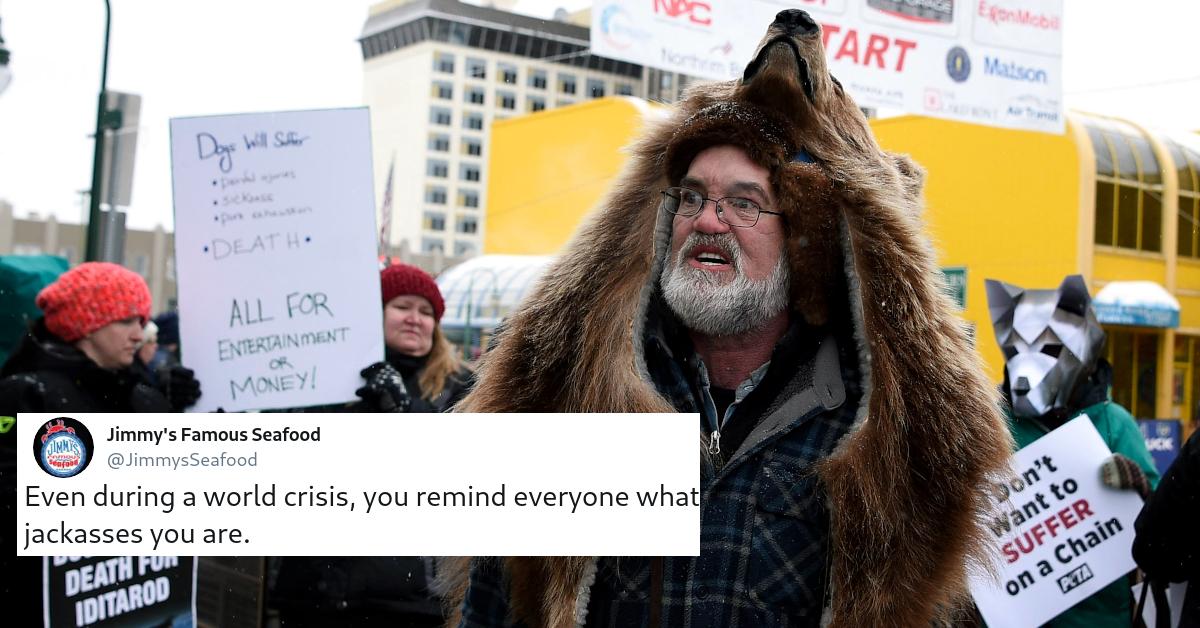 The year was 2018. PETA tried beefing with Jimmy's Famous Seafood restaurant by erecting a billboard near their location convincing people not to eat crabs and to go vegan instead.
The organization and their proponents were summarily and hilariously roasted by Jimmy's in a series of tweets, which were taken to the next level after Jimmy's started pointing out the hypocrisies in PETA's mission statements.
Article continues below advertisement
Like the fact that they are proponents of mass euthanizations and are responsible for the deaths of thousands of animals a year, despite their very pro animal message. PETA stopped interacting with Jimmy's online, but that hasn't stopped the restaurant for taking potshots at them every so often and reminding folks that they're taken pets from people's home to euthanize and that their original billboard backfired, as it only encouraged people to visit their restaurant.
Article continues below advertisement
They supported their claim in a follow-up tweet by stating that experts believed the disease originated at a "wet market" where both live and dead animals were sold "for human consumption" and that the disease was spread from our furry, finned, and feathered friends to people.
The article doesn't provide any concrete evidence of this claim, or that eating animals is what caused COVID-19, just that it was spread from animals.
Article continues below advertisement
So, technically speaking, what PETA is actually saying is that COVID-19 wouldn't exist if animals themselves, didn't exist. Because all it would take is an interaction between people and creatures for the disease to transfer to our species.
That's not to discredit the poor hygiene standards of meat markets in certain parts of the world, however — which is what many believe was the starting point of COVID-19, along with SARs and MERS.
Article continues below advertisement
It didn't take long for people, including Jimmy's Seafood Restaurant, to call out PETA for their "insensitive" comments. Many felt that the group was piggybacking on all of the panic and widespread fear caused by the coronavirus as a chance for them to further their own agenda while not paying any heed to the individuals who have been seriously afflicted or killed by COVID-19.
Article continues below advertisement
It didn't take long for a bunch of folks on Twitter to dogpile on PETA for their comments and further Jimmy's barb. The restaurant's tweet has received over 12,000 likes as of this writing.
Others were also quick to show the hypocrisy of PETA's tweet and that several people were rendered ill as a result of an E. coli outbreak caused by mass shipments of lettuce all over the country.
Article continues below advertisement
Article continues below advertisement
Despite several people tweeting at PETA, encouraging them to take down the post and explaining to them just how harmful their tweet is, it's highly unlikely the organization will, judging on their past social interactions and the organization's own admission of purposefully using "shock" value to get its message across.
Article continues below advertisement
Folks also dug into the archives to point out some of the less-than-savory details about PETA that they don't exactly advertise about themselves.
Article continues below advertisement
PETA has yet to respond to Jimmy's tweet or many of the responses that provide counter points to their proposal that COVID-19 would be stopped as a result of a worldwide adoption of veganism.
What do you think? Does PETA have a point despite its shady practices?