Passenger Gets in Shouting Match With Dad Over Crying Baby on Plane, Internet Says Parents to Blame
A dad wanted to know if he was in the wrong for shouting at a plane passenger who took issue with their crying baby.
Redditors are telling a father that he was in the wrong for shouting at a plane passenger who told him and his wife to control their crying baby during a flight.
Being locked in a tin can up in the air for multiple hours isn't fun. With seat sizes becoming so cramped that the FAA is seriously considering mandating larger ones, and flight delays and cancellations at an all-time high, performing any type of airplane travel is a constant source of frustration for many people.
Article continues below advertisement
And when you add a crying baby into the mix while you're stuck on the tarmac, taxied and wondering if your plane is ever going to take off, that could leave you feeling even more frustrated than before. Genfare conducted a survey on some of the biggest travel annoyances that commuters face, with 27% of fliers naming crying children and babies as one of the most irritating things to deal with while traveling in an aircraft.
It was second only to folks getting their seat kicked, which a whopping 54% of folks ranked as the most infuriating thing to deal with from fellow passengers.
That being said, there are still plenty of people who loathe the sound of a squealing babe while on board, and a Redditor says that there was a certain individual while he was on a flight with his wife and two children (aged 7 and 2) who had no qualms with telling him so.
Article continues below advertisement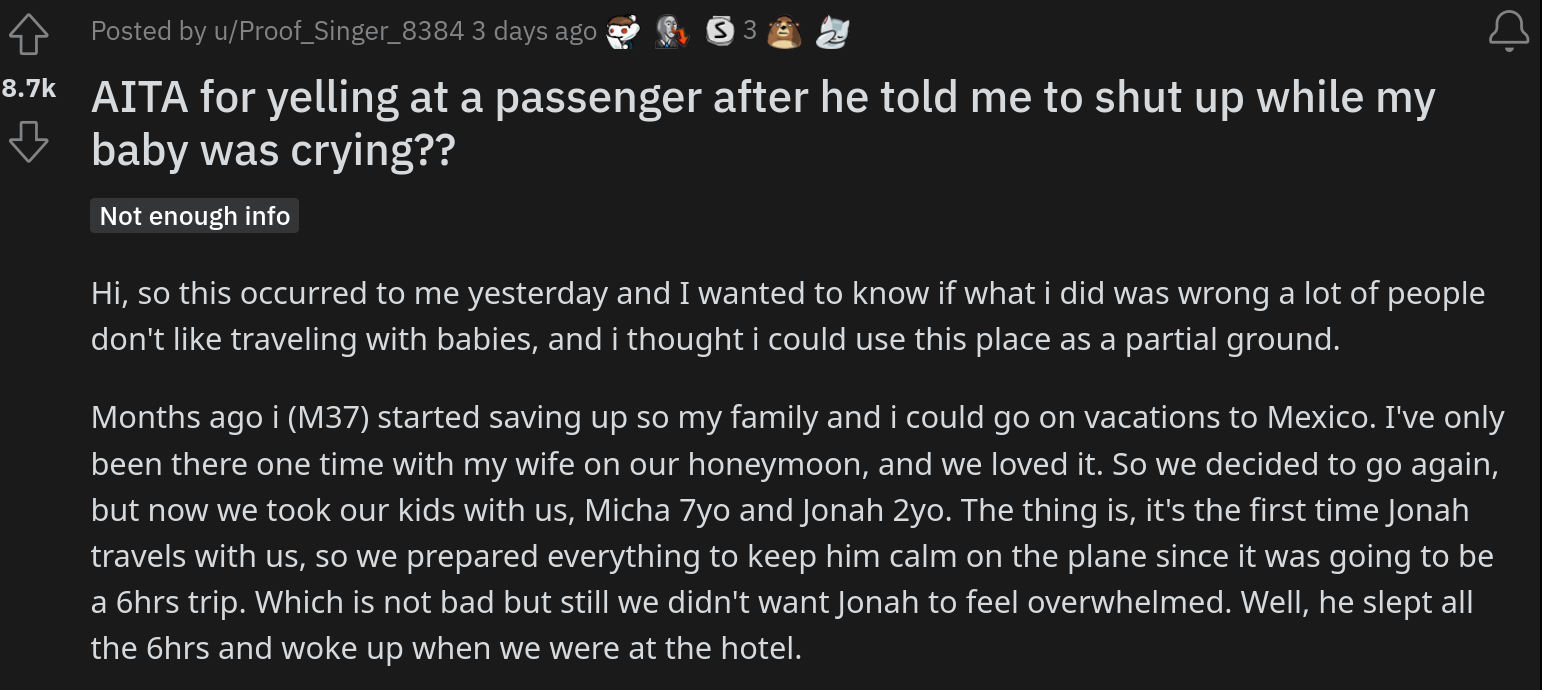 User @Proof_Singer posted a question on Reddit's AITA ("am I the a-hole?") sub: "AITA for yelling at a passenger after he told me to shut up while my baby was crying??"
He penned his story on the social media site, wondering if he was in the wrong for reacting the way he did to someone else on the plane: "Hi, so this occurred to me yesterday and I wanted to know if what i did was wrong a lot of people don't like traveling with babies, and i thought i could use this place as a partial ground."
Article continues below advertisement
"Months ago i (M37) started saving up so my family and i could go on vacations to Mexico. I've only been there one time with my wife on our honeymoon, and we loved it. So we decided to go again, but now we took our kids with us, Micha 7yo and Jonah 2yo. The thing is, it's the first time Jonah travels with us, so we prepared everything to keep him calm on the plane since it was going to be a 6hrs trip. Which is not bad but still we didn't want Jonah to feel overwhelmed. Well, he slept all the 6hrs and woke up when we were at the hotel."

Article continues below advertisement
He said that his whole family had a great time going to Mexico and while they were preparing to leave, his two-year-old, Jonah, fell asleep while they were at the airport, They figured he was going to be asleep throughout the duration of the flight like they did while they were on their way to Mexico, but that's not what happened.
"When we arrive at the airport Jonah is asleep, we thought he would sleep through the whole thing again, but just 1hr later he starts crying, my wife and i try to keep him calm, and even though it worked, it only did for almost 30mins. He wanted to 'walk' but my wife and i tried to entertain him with his fave toys, but he was desperate to move. At this point he starts crying, but louder than the first time. I can see so annoyed faces but none of them made comments."
Article continues below advertisement

OP's attempts at soothing his toddler while in the chair instead of letting him walk around the plane didn't exactly pan out and there were several folks who were visibly annoyed with his screaming and crying: "We played for him those baby sensory videos of fruits dancing, and he was distracted for 45 solid minutes; however he lost interest and again wanted to move from where we were, but we didn't let him, so the crying comes back. It was incredibly loud and i could see my wife frustrated and tired. I try again with the sensory videos, toys, and everything i could think of, but nothing worked."
Article continues below advertisement
It's at this time another passenger walked by OP's family and tells them that they're bad parents for not knowing how to control their kid and yells while doing so: "Then a passenger gets up, i thought he was going to the restroom, though he approached us. He started reclaiming my wife for 'our bad parenting' and demanded we control our baby. My wife annoyed told him that we are trying but he is overwhelmed. We are so sorry for upsetting him but we are trying. He said it wasn't enough, he is tired and wants to sleep but our baby doesn't let him. Again, my wife apologizes and at this point, he starts yelling at us."

Article continues below advertisement
"He said stuff like 'Babies shouldn't be allowed to travel', 'We are irresponsible parents', and all kinds of nonsense. I asked him to lower his voice if he doesn't want to scare Jonah, but the dude was so mad and started insulting us. I just lose it and yell back at him, which didn't help because Jonah was crying at a higher pitch than before."
OP said that a flight attendant managed to come and quell the situation by telling the passenger to go back to their seat on the plane, but there were still many other folks on board who were clearly not digging the fact their child was crying so much: "Then the flight attendant came and ask him to go back to his seat firmly. He leaves us alone but i can see a lot of people looking terribly at us. I try to ignore them and focus on my kid. After a couple of minutes, he fells asleep and stayed like that."
Article continues below advertisement

OP says that his wife called him an a**hole for arguing with the person on the plane, which only made matters worse for Jonah, who could sense the tension between both of the parents. "When we came back home, my wife called me an AH for arguing with the passenger, that I just scared our kid and made things worse."
Article continues below advertisement
Several Redditors remarked that they should've just let Jonah walk through the aisles of the plane as a toddler walking around and being inquisitive/curious was way better to deal with than hearing a crying baby throughout the flight. OP said in an addendum to his piece that the reason why he and his wife decided against this was due to Jonah's tendency to grab stuff that doesn't belong to him and they wanted to mitigate passenger annoyance.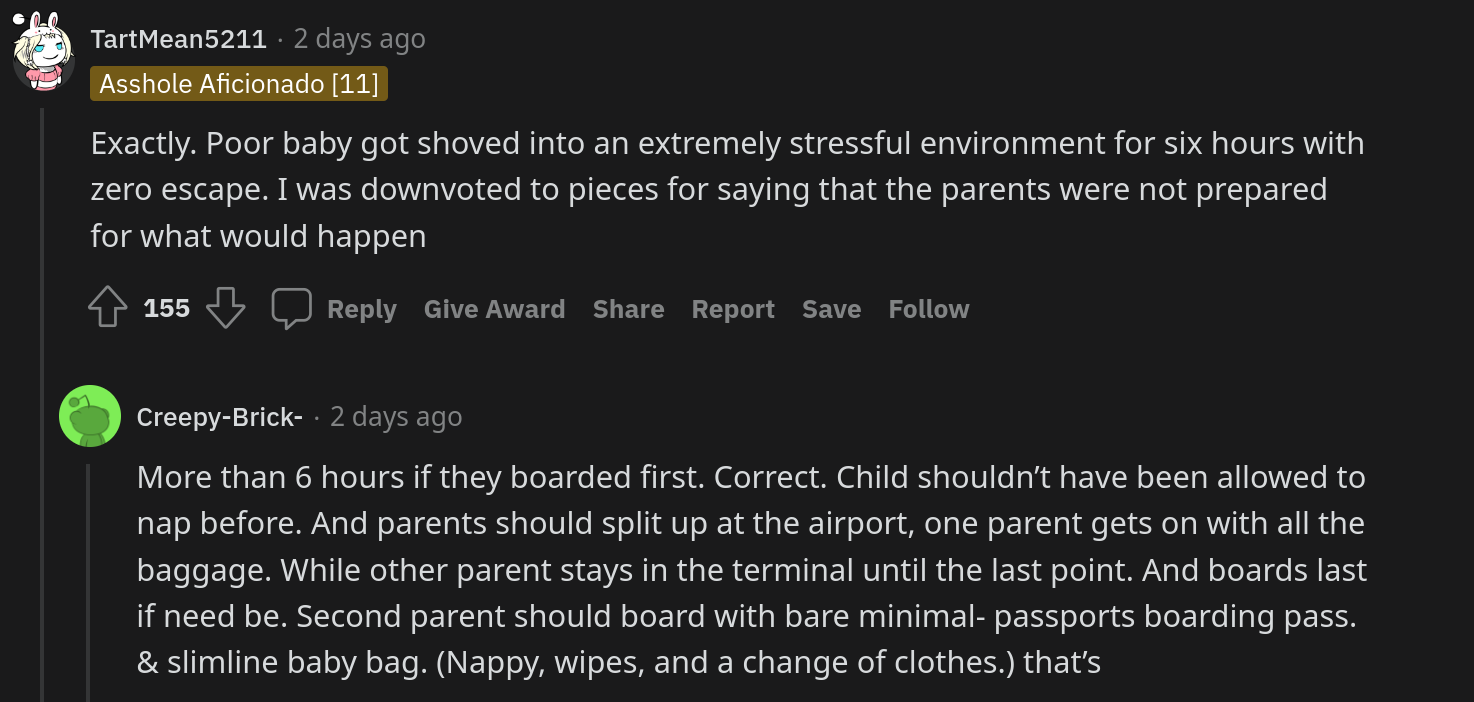 Article continues below advertisement
Others quipped that they shouldn't have brought their toddler on a family vacation, while someone else said that there was a way better solution in dealing with the irate passenger who approached the family: "OP should have said 'Sir, there are two people on this plane yelling and disturbing others because they are tired and can't sleep. He's two. What's your excuse?'"

However, there were also many Redditors who sympathized with OP and stated that the "glares" from other passengers were more probably sympathetic looks and not ones made out of hostility.
What do you think? Should parents have a better handle on their kids when they're out in public and know ways to quell their tantrums? Or is this a problem that you won't be able to fully appreciate unless you have children of your own?