Woman on Disability Blasts Planet Fitness for Making It So Difficult to Cancel Membership When She Lives on $600 a Month
A TikToker has gone viral after chronicling her frustrations in trying to cancel her Planet Fitness membership.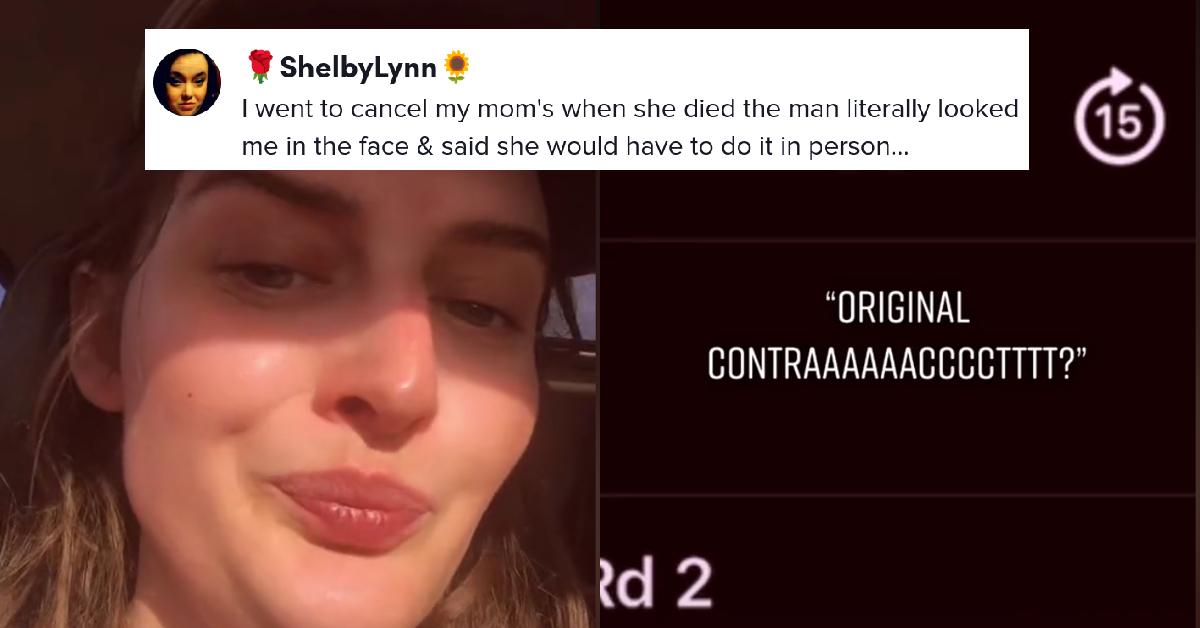 50% of Americans purportedly don't know how much they're spending monthly on recurring payments and in the same survey conducted on the subject, 60% said that they had forgotten about at least one recurring payment taking money from out of their accounts, or being charged to one of their credit cards.
Article continues below advertisement
When you factor that there are some 214.8 million Americans with debit cards and the Census Bureau's statistics that some 183 million Americans are rocking credit cards, there are potentially hundreds of millions, if not billions of dollars being spent and charged erroneously every single month.
What's more, many of these recurring charges, depending on the nature of the purchase and the businesses enacting them, come with their own agreements. For instance: if you're part of a health club or classes, you sign a contract that locks you in for a specific rate for a particular time. Gyms are notorious for this, and one TikToker says that they lost $3,000 to unwanted Planet Fitness recurring charges due to these difficult-to-cancel agreements.
Article continues below advertisement
TikToker Tara Rule uploaded a now-viral clip where she discusses the headache, along with a slew of recurring charges billed to her account without her knowledge incurred by popular health club Planet Fitness. Tara says in the video, "If you're seeing this Planet Fitness stole your money too, hunh? I'm gonna tell you how to get it back!"
Article continues below advertisement

She continued, "To be clear this is for all y'all like me who have canceled your subscription like a trillion times and have confirmation numbers saying you canceled it and they still continue to bill you or will take a few months off and secretly bill you all that stuff. Even worse for someone like me who's disabled and on disability and only gets $600 a month and they still steal from money from a disabled person? Umm, not good I'm gonna tell you what you can do."
Article continues below advertisement

"First off all go in person. And record you interaction with the person, I'll post some of my interactions. First be very friendly. Say hey, is there anyway to get a print out of like all the times I've been here like all my check ins and stuff and they'll say yeah absolutely. Get that."
Throughout the clip, Tara cuts back and forth between her monologue to TikTok viewers and a recorded conversation she had with a Planet Fitness worker.
Article continues below advertisement
"Then, ask for a copy of your [original contract] also, get that. Then ask for all your invoices and billing info. And then get that and they will print it all out for you and seem very happy and excited and like you are ready to work out and say thank you and by the way...[this is when the clip cuts to her audio conversation with the Planet Fitness worker]."

Article continues below advertisement
"Is there anything additionally I need to do because I've canceled my membership a number of times and it hasn't gone through which is why I'm getting all this so is there anything else I need to do? In person? [The clip cuts back to Tara addressing the camera] Because this time you're gonna be recording them. And then what what we're gonna do is we're gonna file a class action lawsuit against them."

Article continues below advertisement
She drives the point further home, "All of us. Or Planet Fitness, if you want to pay me back for all the money you've stolen from me over the years from a disabled person maybe I'll take this video down. Otherwise, let's sue Planet Fitness."

Article continues below advertisement
The video then ends on a cut back to her conversation with the Planet Fitness employee who asks: "You wanna cancel it now?" to which Tara responds by saying, "I mean if you wanna cancel it again sure, I've done it a bunch of times in the past but I guess canceling it again can't hurt."

Article continues below advertisement
Tons of other users on the platform who saw Tara's post shared Planet Fitness and gym contract horror stories of their own. Multiple people claimed that gyms attempted to consistently bill deceased relatives of theirs despite the fact that they were no longer living.

Article continues below advertisement
One even remarked that a Planet Fitness associate said that a person's dead mother would have to come in person to stop billing despite the fact that they were indeed dead.
After Rule went viral, it appears that Planet Fitness higher-ups caught wind of the situation. The Daily Dot reported that Rule live streamed a call with someone who said they were a legal representative of Planet Fitness.
Article continues below advertisement
Rule went on to say in the live stream's comments section that employees of the gym were harassing her, but added that she was first able to get her bank to block all future Planet Fitness charges on her account and that we were ultimately given an official cancellation form from Planet Fitness that looked different from all the other ones she had filled out.
The outlet, after reaching out to Planet Fitness for comment, received a statement from representatives of the gym who said, "We never want to charge a member after cancelling/ Reasons can include a member not properly cancelling/only cancelling one of multiple memberships."