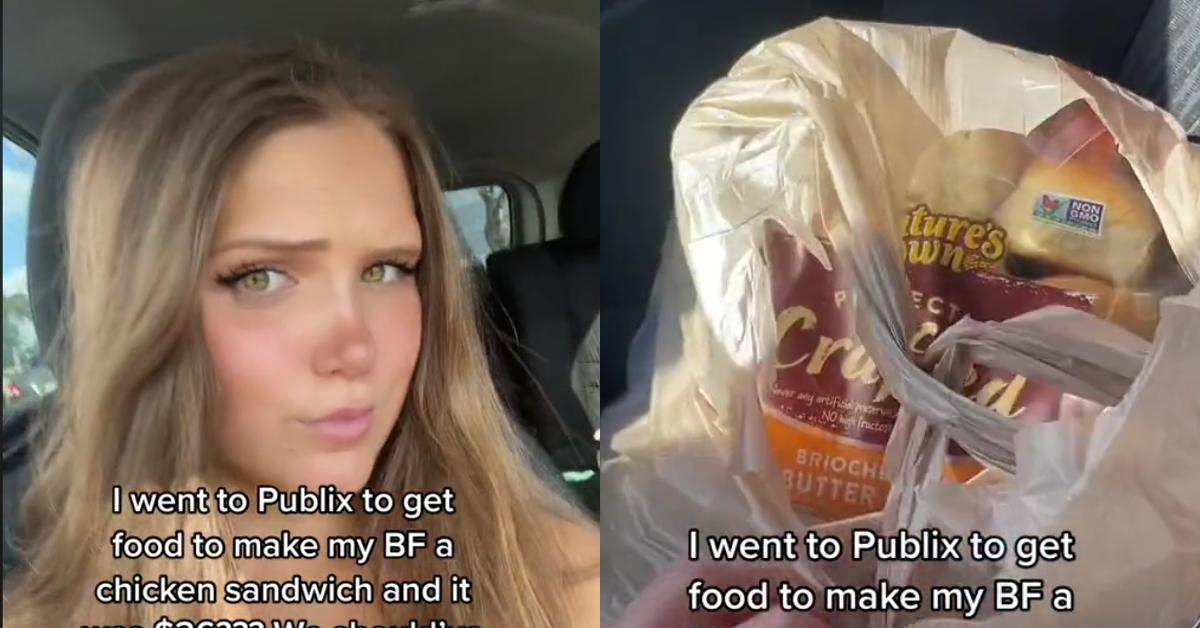 Woman Bashes Grocery Store High Prices, Saying It Cost Her $36 to Make a Chicken Sandwich
Depending on where you're going out to eat, it's almost always cheaper to just make food at home for yourself instead. Sofi reports that cooking at home is almost always more affordable than going out to eat depending on the types of groceries you're getting versus where you're going out to eat.
Article continues below advertisement
Plus there's the added benefit of knowing exactly what's going into your food: you pick the proteins, the carbs, the veggies. You pick the brands that you like, the sauces, the butter (if you're using that) everything. If you have food allergies, then you're probably no stranger to preparing your own meals too.
However, there are some sources online that contend there are instances where getting someone else to make your food could be cheaper, especially if you're fine with continually eating fast food fare from a local place that's running a special on particular items you can nab for a bargain. And while this notion has been challenged, there's now an anecdotal situation from a TikToker that might support the theory eating, in some cases, could be better for your wallet.
Article continues below advertisement
TikToker @daniellewal2468 posted a now-viral clip of her in her car where she shows off a bag of groceries. A text overlay in the video reads: "I went to Publix to get food to make my BF a chicken sandwich and it was $36??? We should've just gone to Chipotle lol"
Article continues below advertisement

Americans, on average, waste 30-40% of food annually, or about $161 Billion worth of products. It's important to note that this is a general number and doesn't necessarily account for food thrown out by customers who have already purchased it.
Article continues below advertisement

To that end, however, some 80% of Americans end up discarding otherwise fine-to-eat food after they've purchased it. While it can be argued that the TikToker in question certainly ended up buying more food than she would've gotten at Chipotle for $36, it could be that like many of us, the next time she plans on making a meal that necessitates any of the items she just purchased, they'd have either spoiled or the quantities aren't enough, which will require yet another trip to the supermarket.
Article continues below advertisement

That, itself takes time out of one's day, not to mention the time it takes to prepare the meal, too.
If you've got a hankering for a fried chicken sandwich, however, there are some folks online who've done a lot of legwork, recipes included, on how to make it for much cheaper than the $36 @daniellewal2468 spent to make them.
Article continues below advertisement

Good Cheap Eats published a recipe for a chicken sandwich that they estimate comes out to about $1.60 a sandwich when followed accordingly. Adjusting for inflation and local grocery store prices, along with whatever additional accouterments you'd like to add to your sandwiches, and that price will probably go up.
Article continues below advertisement

This frugal-living blog for college students states that taking this "meal prepping" approach to cooking food in large batches, then tossed in a fridge to be reheated/enjoy at a later time, also significantly cuts down the amount of money a made-at-home meal costs as opposed to a made-to-order one.
Article continues below advertisement

TikTokers who saw @danielleawal2468's post had a variety of different reactions to her claims. Some took her post as an affront to Publix, while others acquiesced that the chain has been known to have some pretty high prices depending on the items one's purchasing. Others suggested that she just purchase the grocery store chain's ready-made sandwiches.
Article continues below advertisement

And then others said while the store is pricier than other grocery options, that the "atmosphere and customer service and food is top tier."
Then there were those who said that she's probably just not shopping correctly if she's spending that much money to make a chicken sandwich, Publix visit or not.
Article continues below advertisement

What do you think? Is it cheaper sometimes to eat out than make food for yourself at home? Would you rather prepare your own meals or go out to eat them instead?