Teacher Blasts "Pathetic" $3,000 Salary Increase After Getting Master's Degree — Says She Deserve More
A teacher sparked a viral TikTok debate after highlighting how little of a raise she received upon completion of her Master's degree.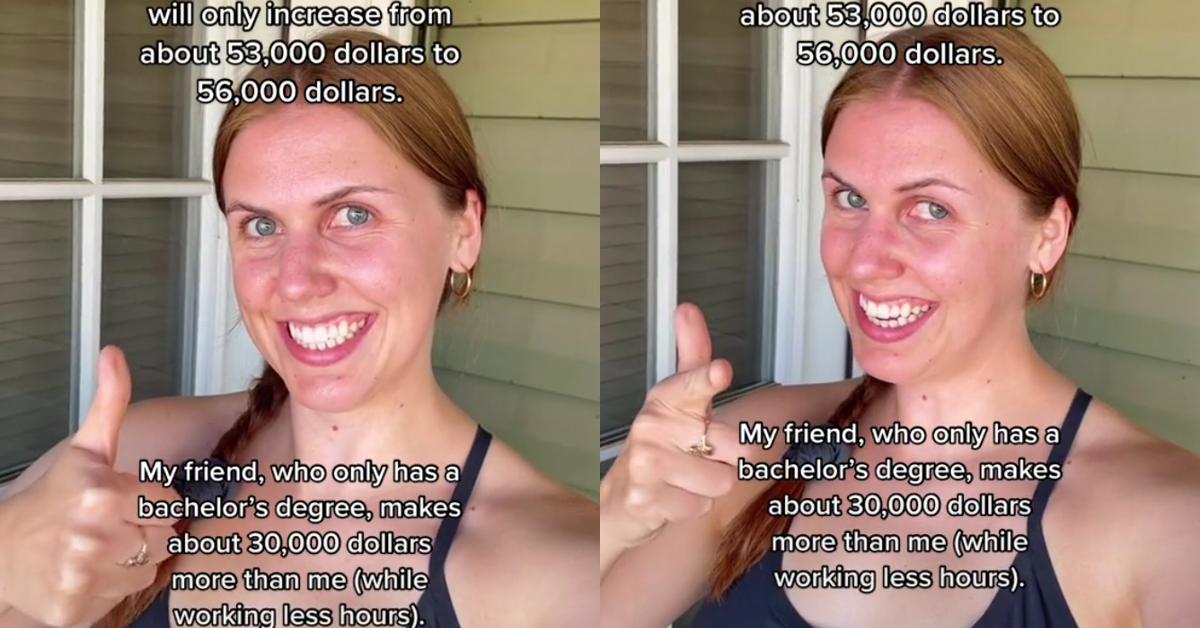 American teachers are considerably underpaid when compared to other industrialized nations around the world. A study from Brookings.edu writes: "If we wanted to raise the relative salaries of American teachers to the level seen in Finland, we'd require a 10 percent raise for primary school teachers, an 18 percent raise in lower secondary, and a 28 percent raise for upper secondary school teachers."
Article continues below advertisement
There's been an "alarming" number of US teachers who are either leaving the profession entirely or have expressed a desire and plan to do so in order to seek out more lucrative career opportunities. There are a number of reasons why teachers ultimately decide to leave the profession, with many problems that could be highlighted in the US Education system, but there's a strong argument to be made that raising teacher pay could be a quick "fix" to keep more schools staffed with faculty members.
And now a viral TikTok from user @ms.zak has launched a viral debate about the treatment of teachers, whether or not people should "know better" before getting into the profession, and criticisms of higher education in the US.
In the clip, Ms. Zak revealed that upon completing her Master's Degree, she only received a $3,000 annual salary bump, from $53,000 to $56,000 per year.
Article continues below advertisement
She also mentions that her friend earns about $30,000 more per year than she does despite only having a Bachelor's degree. The educator writes in a text overlay: "I got my Master's degree in education. My salary will only increase from about 53,000 dollars to 56,000 dollars."
Article continues below advertisement

She continued: "My friend, who only has a bachelor's degree, makes about 30,000 dollars more than me (while working less hours)."
Article continues below advertisement

Commenters who saw the post had a litany of varying responses. Some folks said that she should ultimately learn to "live with the consequences" of her chosen career path as she ultimately knew what she was getting into salary wise.
Article continues below advertisement

Others defended her decision to share the post and thanked her for helping to spread more awareness on an issue that they felt didn't get discussed enough: highlighting how compared to other countries with comparable social structures to America, that US teachers are underpaid.
Article continues below advertisement

Others thought that if teaching was a field "dominated" by men, salaries would be much higher. Several other teachers in the comments section also sounded off, many of who were in agreement with the TikToker.
"Here come the people that aren't educators to comment about how our jobs are "amazing". They just don't know. Lol"
Article continues below advertisement

"if teaching was a male dominated field the minimum pay for teachers would be at least 80K"
"Surely you knew this ahead of time?"
"In NC, teachers don't get any bump in pay with a masters if they started the program after 2017"
Article continues below advertisement

"ppl literally refuse 2 empathize with teachers lol.so much of the work is unseen/uncompensated.If they all quit like the comments suggest, what then?"
"your choice. Live with the consequences. You could've chosen to do something else. ALSO you get a nice pension, insurance, summers off. Not a bad deal"
Article continues below advertisement

What do you think? Is the only way to solve the "teaching crisis" in America is for teachers to just quit en masse and force schools, local governments to offer more competitive salaries to ensure they're hiring qualified professionals? Or should teachers advocate for higher salaries, or should laws be changed, like much maligned Title I schools, to fix the issue?