Starbucks Manager Asks Worker to Change Day She Puts Dog Down So She Can Cover a Shift
A Starbucks employee went viral after tweeting that her Starbucks manager asked to reschedule the day she put her dog down to cover a shift.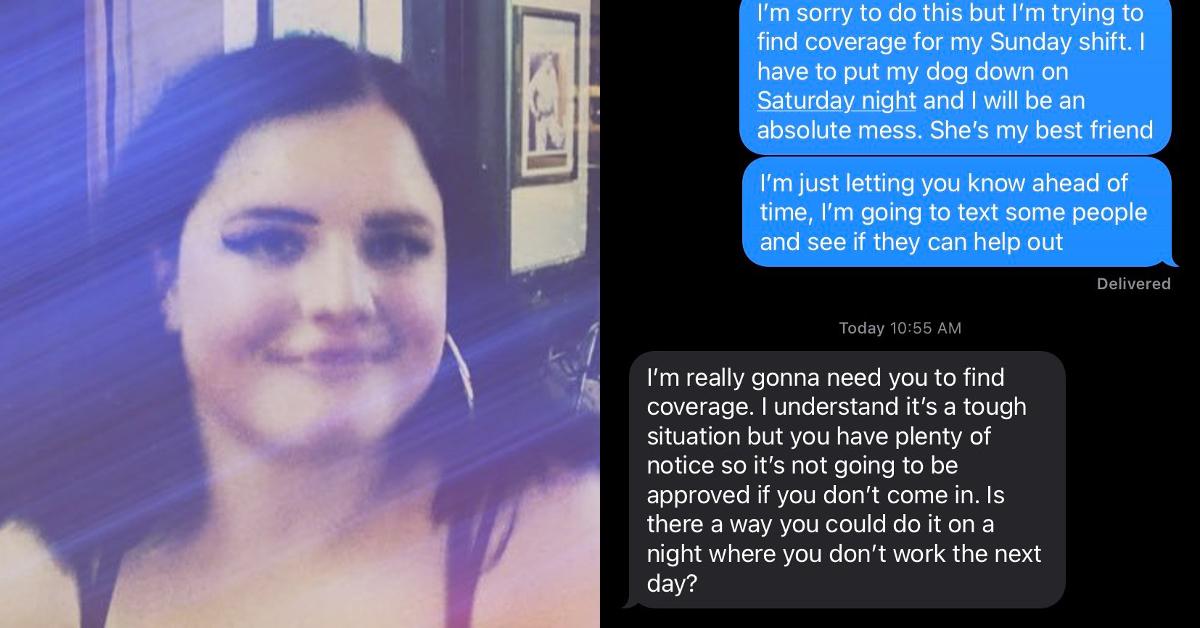 Caring for a pet responsibly is almost unanimously hailed by mental healthcare professionals as being nothing short of incredible. Helpguide.org writes: "Pets, especially dogs and cats, can reduce stress, anxiety, and depression, ease loneliness, encourage exercise and playfulness, and even improve your cardiovascular health. Caring for an animal can help children grow up more secure and active. Pets also provide valuable companionship for older adults."
Article continues below advertisement
The US Department of Health and Human Services also writes: "Nothing compares to the joy of coming home to a loyal companion. The unconditional love of a pet can do more than keep you company. Pets may also decrease stress, improve heart health, and even help children with their emotional and social skills."
Understandably, many people who care for their pets build strong bonds with these animals: they are essentially their caretakers and become a member of the family. But the most unfortunate part of owning a pet is knowing that you're more than likely going to outlive it. And there might come a time when you are forced to make the decision, as a pet owner, to put your pet down.
Something that Twitter user @lai_lette had to do, but says her boss tried to get her to reschedule so she could work a Starbucks shift.
Article continues below advertisement
She posted screenshots of a text conversation she says was with a Starbucks manager, which went as follows:
SM: Hey! Any chance you can work 130-330 today?
L: Hey, I'm sorry I was in class at that time and forgot to respond. I'm sorry to do this but I'm trying to find coverage for my Sunday shift. I have to put my dog down on Saturday night and I will be an absolute mess. She's my best friend...I'm just letting you know ahead of time, I'm going to text some people and see if they can help out.
Article continues below advertisement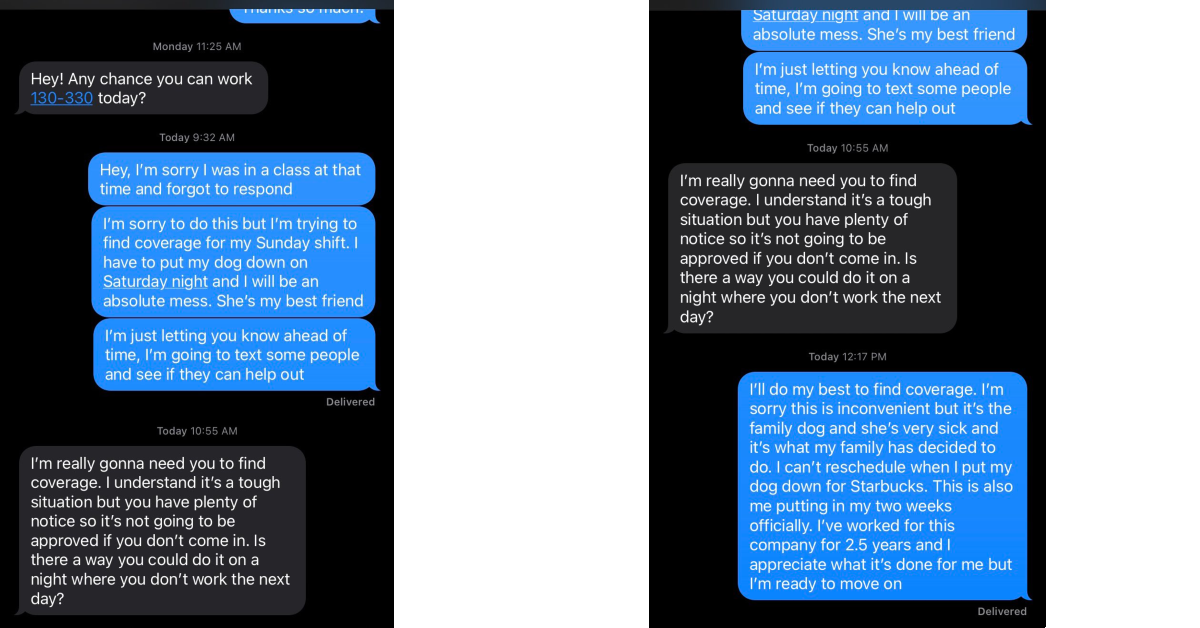 SM: I'm really gonna need you to find coverage. I understand it's a tough situation but you have plenty of notice so it's not going to be approved if you don't come in. Is there a way you could do it on a night where you don't work the next day?
Article continues below advertisement
L: I'll do my best to find coverage. I'm sorry this is inconvenient but it's the family dog and she's very sick and it's what my family has decided to do. I can't reschedule when I put my dog down for Starbucks. This is also me putting in my two weeks officially. I've worked for this company 2.5 years and I appreciate what it's done for me but I'm ready to move on.
Article continues below advertisement
Disgusted by her manager's response, @lai_lette quit working after the text exchange. Her post garnered a ton of different reactions on Twitter. Some people thought that there was more to the story and believed she should've found coverage for her shift sooner as she knew when her dog was going to be put down, even if they didn't agree with her manager's response.
Article continues below advertisement
There were many who were shocked by her boss' reaction and shared the tweet in an attempt to garner Starbucks' corporate offices' attention to her story.
Article continues below advertisement
Others shared stories of unsympathetic managers/companies of their own in their own workplaces, like one Twitter user who said that they worked for Disney for 35 years and when they informed management their sister passed away and would need to take 5 days off for bereavement their response was: "were you THAT close to your sister?"
Article continues below advertisement
Another said that after they when were late for a shift when their dog was hit by a car, their boss suggested shooting their pet in order to "solve the problem!"
Article continues below advertisement
A number of people criticized @lai_lette for forgetting to respond to their boss' message about covering a shift and cited her behavior as being "unprofessional" as well.
What do you think? Should the manager have just assisted after learning their employee was about to go through a traumatic experience? Or was @lai_lette in the wrong for not letting their boss know she couldn't make her Sunday shift sooner?