Dunkin' Donuts Employee Claims He Pockets "Pay It Forward" Money, Opinions Are Divided On Whether It's "Theft"
A Dunkin' Donuts employee sparked a viral debate after posting a TikTok claiming they took pay it forward money as a personal tip.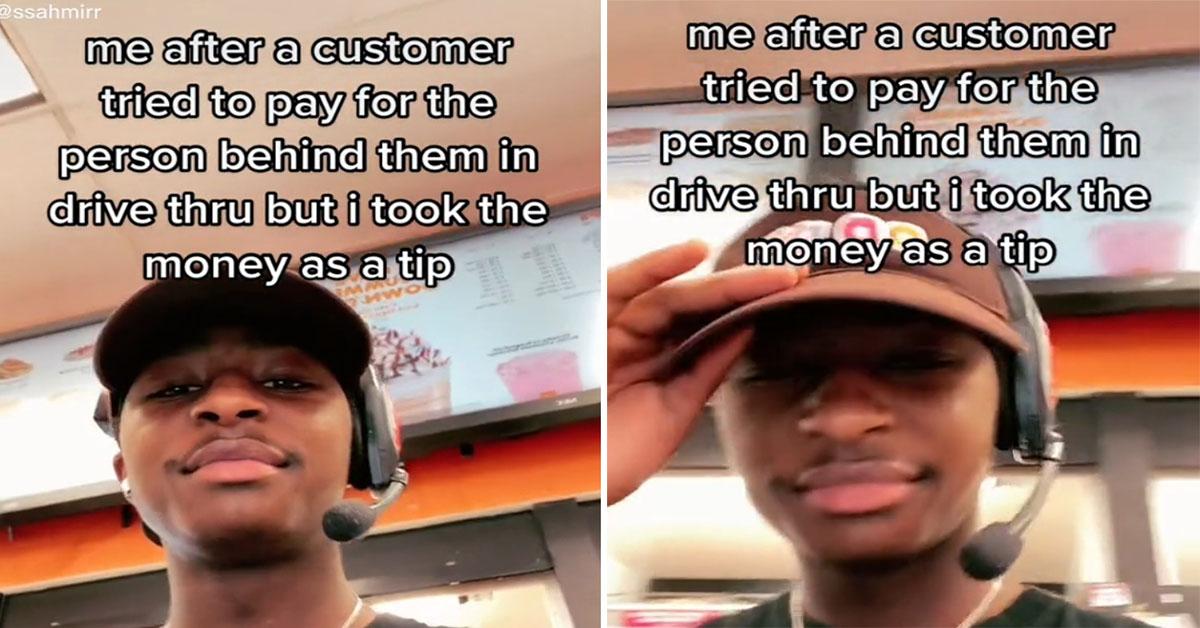 The idea of "paying it forward" is a nice little concept, even if there are some folks out there who try to "game" the system, like this one individual who had a $46 Starbucks order. While it's fine if a customer ultimately decides that they want to tap out of a "pay it forward chain" some folks feel pressured into doing it nonetheless to keep the good vibe going.
Article continues below advertisement
It seems like this phenomenon is most prevalent at grab-and-go food/coffee spots. Paying a few bucks for someone's coffee isn't as tall of an order as paying it forward for the person buying themselves that expensive handbag they've been eyeing for months at Bloomingdale's, it's not like all of us are running around with Shaq money.
One Dunkin' Donuts worker is going viral for taking a new spin on the "paying it forward" phenomenon, by paying himself forward with the cash that customers hand him to cover the cost of the person's order behind them.
Article continues below advertisement
Sahmir Shenck posted a now-viral TikTok where he claims that he took the money a drive-thru customer left for the patron behind him. In the 7-second clip he lip-syncs some back-and-forth dialogue from a "Terry Reloaded" sound while at a Dunkin' Donuts location.
Article continues below advertisement

A text overlay on the video reads: "me after a customer tried to pay for the person behind them in drive-thru but i took the money as a tip."
Article continues below advertisement

Judging from posts online, some Dunkin' Donuts employees report that they make $5 in tips per shift "on a good day" while other folks seem to have way more success, most probably because the location they're working at experiences more customer traffic.
Article continues below advertisement

TikTokers who say Sahmir's post disagreed with his actions. Some said that from a purely ethical standpoint, it wasn't cool of him to do this. Others stated that he could probably find himself in some trouble with upper management, or even customers themselves if he was discovered doing this; not that it helps he was posting his actions on social media, either.
Article continues below advertisement

Some folks said that they did something similar in the past and it ended up backfiring because the customer behind the person they took the "pay it forward" money from knew the individual that bought them their food/drink.
Article continues below advertisement

"What if they was traveling together LMAO"
"did this once ... and they came back cuz they were together"
"nah pass kindness and it'll come back to you 10x better"
"My grandma found out they was doing this and got the whole place fired"
Article continues below advertisement

And then there were some folks who thought it was a brilliant idea and it seemed like they wished they had thought of it first.
"I NEVER THOUGHT ABOUT THIS BEFORE LMAOOOOO"
"I sent this to corporate"
"Tell us you didn't think of the legal ramifications without actually telling us."
"Lol guess this made you famous. Now we are all waiting to see if you keep your job"
Article continues below advertisement

Others mentioned that this would be difficult to do as most folks at their locations pay with their debit/credit cards.
What do you think? Was it wrong of Sahmir to do this? Or since inflation is now at a 40-year-high in America with the cost of living going up for housing and just about every consumer good, it's hard to fault him for skimming customers' "pay it forward" cash as a tip?