Woman Catches Store Putting Fake Designer Labels on Dollar Store Plates to Upsell Them
A TikToker went viral for claiming that department store placed Kate Spade labels on the same plates she purchased at Dollar Tree.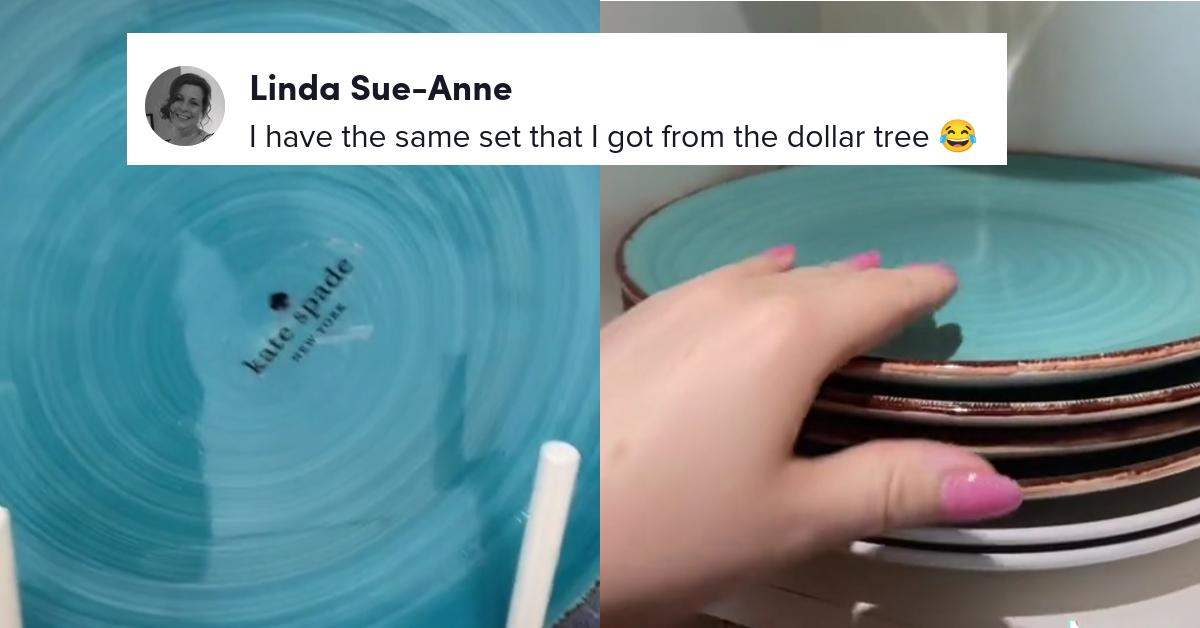 If you're familiar with the brand Luxxottica, then you're probably familiar with the fact that people are getting royally screwed when they shell out a ton of money for name-brand sunglasses. That's because there's virtually no difference between the "knock-off" brands that a lot of places sell of popular stylings, and the ridiculous up-charging the company makes for a variety of brands they manufacture for.
Article continues below advertisement
In some instances, the "dupe" versions of products are actually identical to other luxury/name brands, or at least they're speculated to be, because it's not like a company is going to go around and state, "hey we're making our product with a different label that's way cheaper, but please, pay us for our name!" Grey Goose actually dedicated a page on its website to dispel the rumor that Kirkland Vodka is just their booze rebranded, that's how similarly people think they taste.
And now a TikToker is claiming that they've encountered a similar "the dupe is the real deal" experience while shopping at a Department Store and noticing that a Kate Spade dish set looked virtually identical to plates/dishes they purchased at the Dollar Tree years ago.
Article continues below advertisement
TikToker Autumn, who posts under the handle @slug_whisperer uploaded a video showing off the dish set she found at a Winners location, which is owned by TJX, the same parent company that operates TJ Maxx, Marshalls, HomeSense, and other retailers.
Article continues below advertisement

Autumn says in the clip while inspecting the plates: "Shout out to Winners for sticking a Kate Spade sticker on these plates and bowls. Charging $9.99 and $19.99 for them. The same plates and bowls that I bought three years ago from a Dollar Tree for a dollar twenty-five each. What the f---?! Ok."
Article continues below advertisement

In the second half of the video she then cuts to the plates she has in what's presumably her home pantry, and they do look identical to the ones at the Winners.
Like Luxxottica sunglasses, it's not uncommon for companies to either "farm out" their products to other companies, or just slap their labels on products developed by other businesses.
Article continues below advertisement

For example, let's say you're browsing for power banks, or a pair of workout Bluetooth headphones, or USB cables, you might notice that there are a lot of products that look exactly the same, but nearly all of them are labeled with different brand names. This is a phenomenon that a lot of folks have mentioned seeing pop up with products that hail from China.
Article continues below advertisement

It could be that there was a plate manufacturer which offered up some of their designs to someone at Kate Spade, or they reached out to the clothing brand to collaborate in selling the plates and dishes in the hopes that they could turn a higher profit margin so there are folks who want to dine on discs and saucers to store their food from the same place they bought their handbag.
Article continues below advertisement

Some TikTokers criticized the store and shared stories of working there, and then there were some who were shocked to learn that Kate Spade sells plates and dinnerware. There were some folks in the comments section who said that they work at Dollar Tree and remarked that the chain still offers the same plates shown off in Autumn's TikTok video.
Article continues below advertisement

Then there were others who speculated that someone bought plates from the Dollar Tree and purchase Kate Spade plates, then "returned" the Dollar Tree plates with the Kate Spade stickers on them to get the pricier plates at a steep discount.
""Someone got Kate spade plates. Went to dollar tree and bought those. Then returned them. They got Kate spade plates for a dollar tree price"
Article continues below advertisement

"def a fraudulent return"
"i work at winners it was just a fraud return and no one caught it it happens a lot but the frontline ppl and floor workers should pay closer attention"
"The stickers are just slapped on too lol"
"Former dollartree employee, they still sell them lmao"