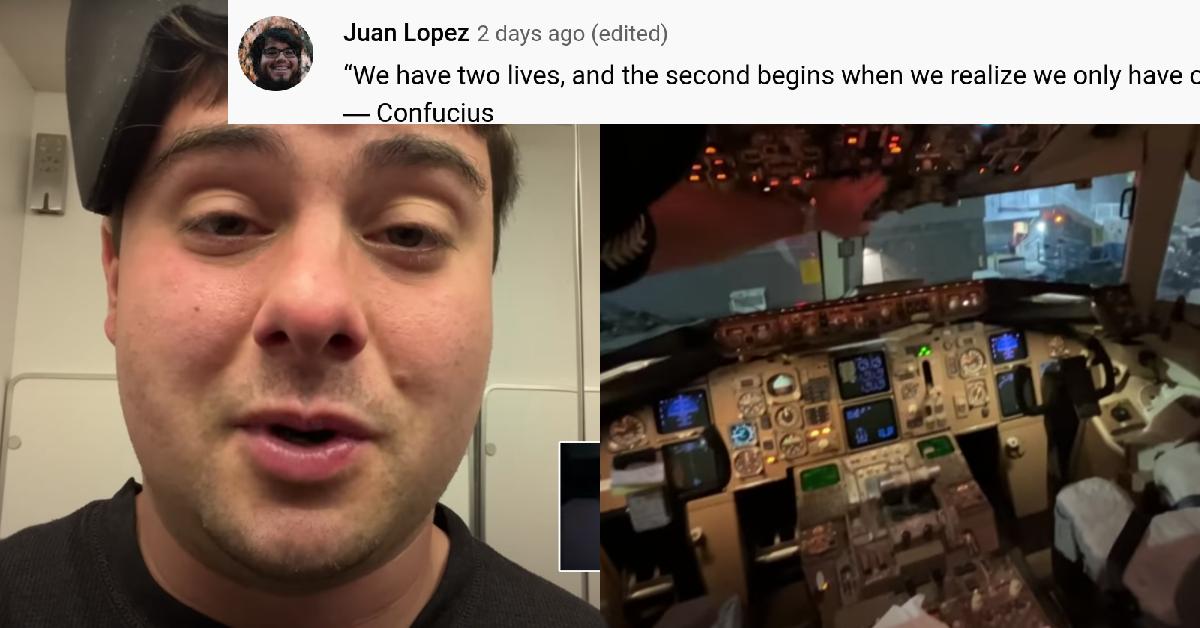 Delta Passenger Documents "Horrifying" Experience When Plane Turns Around Mid-Flight
Airline travel can be extremely stressful even if everything goes smoothly and according to plan. You have to worry about getting to the airport on time, checking your luggage and ensuring it's under the weight limit, giving yourself enough wiggle room to get through security, and then finding your gate and actually boarding the plane and hoping it'll take off at its correct time.
Article continues below advertisement
Not only that, but you'll have to make sure that everything's copacetic once you land. And while it's easy to dismiss a lot of these problems by just "being a worrywart" which could easily be solved if you simply learn to "go with the flow," that's becoming increasingly difficult these days as airline travel post-pandemic can be best described as an absolute s**tshow.
Article continues below advertisement
YouTuber Arieh Smith who posts under the username @xiaomanyc, documented his experience aboard Delta Flight DL9923 from NY's JFK Airport to Kotoka International in Accra, Ghana on July 24, 2022. Arieh calls his time on board "the scariest day of my life" and to hear him recount the tale is pretty darn terrifying.
Article continues below advertisement

Originally, the plane was supposed to leave at Midnight, but passengers were told that the plane's captain was sick and wouldn't be able to make the journey. The flight was rescheduled, so Arieh went home and returned to the airport the following day. However, passengers were met with another hour delay as massive Thunderstorms prevented them from taking off.
Article continues below advertisement
Finally, however, they were up in the air, but around two and half hours into their journey, folks began to notice something was amiss: the Captain was walking through the aisle of the airplane and looking out the window and at the plane's wing.
"This is causing a bit of a stir, I remember saying to the guy sitting next to me 'this doesn't look good,'" Arieh said.

Article continues below advertisement
About a half hour later, that's when the captain relayed to everyone on board that they had to return to New York. Arieh says that at the time, passengers "didn't really have clarity around what the actual issue was. It was really the most nail-biting two hours I've ever experienced in my life."
Newsweek reported that Delta confirmed what the issue with the plane was: "DL9923 was returned to JFK out of an abundance of caution due to a fuel imbalance in-flight. An emergency was declared on arrival at JFK to obtain priority handling from air traffic control."
Basically, the flight crew operating the plane Arieh, and others had to get home as quickly as possible in case the fuel-imbalance problem became severe.
Article continues below advertisement

Plane and Pilot Magazine penned an article listing tons of accidents and plane crashes that were caused due to fuel imbalances between wings, which is where gas is usually stored on airplanes.
Arieh said that while on the flight, the energy was tense and hopeless. Folks had no choice but to remain calm and just hope for the best.
Article continues below advertisement
"People were understandably freaking out. The woman next to me had her Koran out, praying. People were just like, whispering, talking to each other, and praying. There's nothing you can even do at that point."
Arieh decided to film himself while on the plane, providing commentary on the situation, which he later incorporated as part of his video.

Article continues below advertisement
"I hope everything's OK with this flight. It'd be really great to be able to hold my baby again. I really hope I'm overreacting here. I'm sure I am," he says in the clip.
Thankfully, the flight made it to New York without issue, and once they landed, there were fire trucks and emergency vehicles waiting as a precaution.
Delta made a statement regarding the landing: "Delta flight DL9923 on July 25, en route from New York-JFK to Accra, returned to New York-JFK out of an abundance of caution due to operational reasons. The flight landed safely and customers deplaned as normal. The safety and security of Delta's passengers and crew is Delta's number one priority. Delta's customer support teams at JFK were engaged on the ground to assist affected customers and Delta deeply apologizes for the inconvenience and delay of their planned travel."
Article continues below advertisement

After landing, the Captain of Arieh's flight recognized the YouTuber and even allowed him inside the Cockpit to explain the issue that occurred while they were on board. He shows off the fuel gauges explaining the imbalance. It has not yet been reported what the cause of the fuel imbalance was.
Plane manufacturer Boeing says that "conditions frequently identified as being responsible for in-flight fuel imbalance include differences in fuel system component performance, different rates of engine fuel burn, internal fuel system failures, or fuel system or structural faults.