Remote Worker Shares What It's Like Getting Fired at Home in Viral TikTok
A Remote Worker shared what it's like to get fired from home in a viral TikTok and how she dealt with being let-go midday.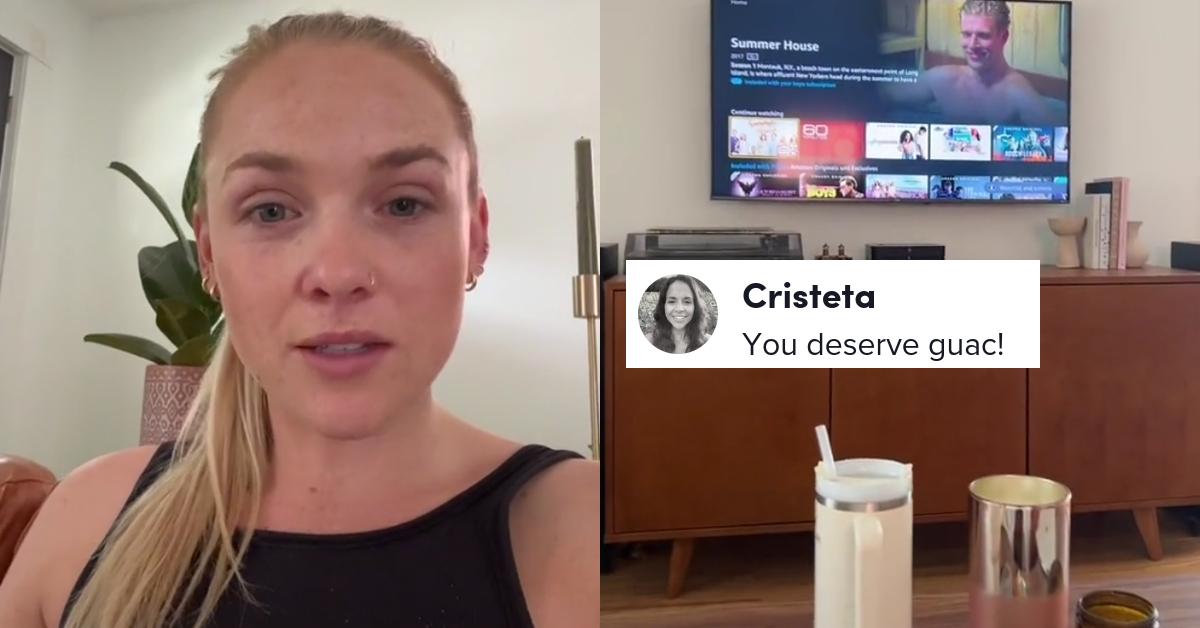 During the height of the COVID-19 pandemic, tons of e-commerce businesses saw record increases in profits as throngs of folks from all over the world had to turn to online shopping as their primary source of fulfilling consumer needs. This meant that many companies went on hiring sprees.
Article continues below advertisement
While Amazon has been one of the most profitable businesses in the world for several years, it experienced explosive growth during the pandemic: some $570 billion and a 63.3% stock price increase occurred almost immediately after lockdown, social distancing, and quarantine measures were implemented in response to the pandemic.
Other online shopping companies, like Wayfair and Shopify, also experience tremendous growth during the pandemic as well, however, it appears that a lot of that customer fervor has started to wane for many retailers, some more than others. Like Shopify, which has seen its shares take a 77% hit in 2022.
As a result, the brand's CEO, Tobias Lutke announced the company would be laying off 10% of its workforce, which amounts to around 1,000 employees. And TikToker Caro Schissler, who posts under the handle @hicallmecaro, appears to have been one of those layoffs.
Article continues below advertisement
In the clip she states: "When you're busy, Tuesday, full of meetings that you got up early to prepare for, turned into getting laid off and then sitting on your couch eating salsa and watching reality TV because I was slacking everyone and then they just hit the kill button on my computer so I have no access to it anymore so uh, what a day."
Article continues below advertisement

TikTokers were sympathetic to Caro's post, with many people saying that they experience similar situations at their own jobs. Some folks said that they've been attempting to secure a position with Shopify and now understand why they were unable to do so.
Article continues below advertisement

There were also tons of other positive comments that seemed to lift Caro's spirits as well, several people who saw her post offered to discuss positions at their own companies with the TikToker; including someone who said that they work at TikTok themselves.
Article continues below advertisement

Another Shopify employee who was laid off commented that they had a near-identical experience to Caro themselves: "Now-former Shopifolk here - I woke up early to prepare for a presentation of some recent work and having that taken away somehow made it worse."
Article continues below advertisement

Caro responded to her comment: "That's awful I'm so sorry I feel the same about the projects I was working on and the goal setting call I have on the cal for today"
Article continues below advertisement

Others encouraged her to leverage her "connections" to try and hustle to find another position quickly.
"Has happened to me too girl. Happened to my friend a few months ago too and she just got a killer job with Toast," one commenter encouraged.
Article continues below advertisement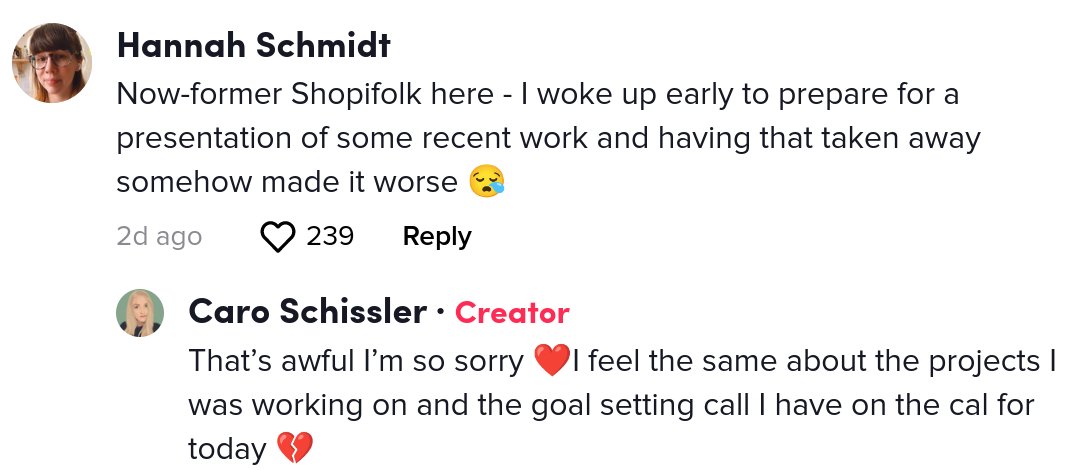 Shopify's CEO, Lutke, said that the company had misjudged the growth of e-commerce when it onboarded so many employees and that he was "deeply sorry" for the business' gaffe.
Article continues below advertisement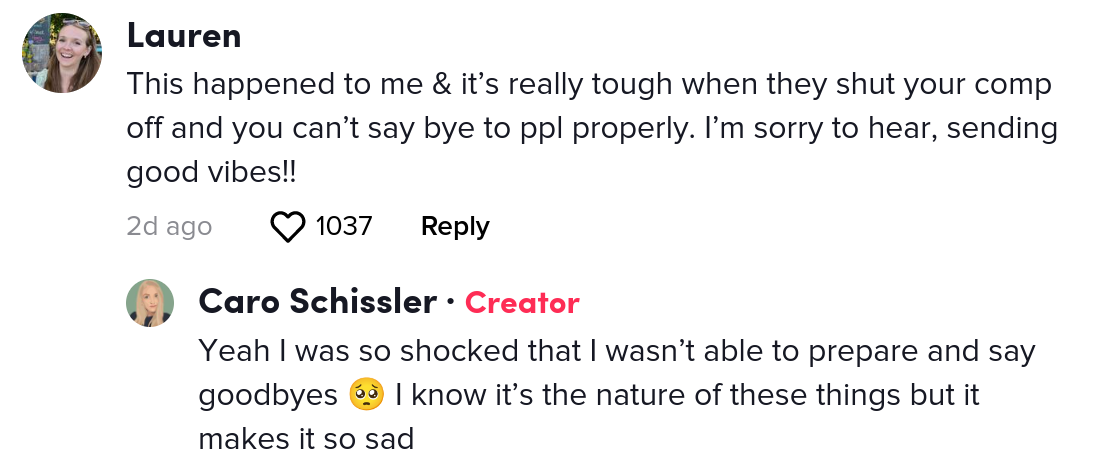 He wrote in a company email: "We bet that the channel mix – the share of dollars that travel through e-commerce rather than physical retail – would permanently leap ahead by 5 or even 10 years. We couldn't know for sure at the time, but we knew that if there was a chance that this was true, we would have to expand the company to match. It's now clear that bet didn't pay off. What we see now is the mix reverting to roughly where pre-Covid data would have suggested it should be at this point."