TikToker Says Former Boss Didn't Let Them Keep "iPad Tips" They Pushed on Customers
A former fast food employee says that they weren't only embarrassed by asking customers for tips, but they didn't even receive them.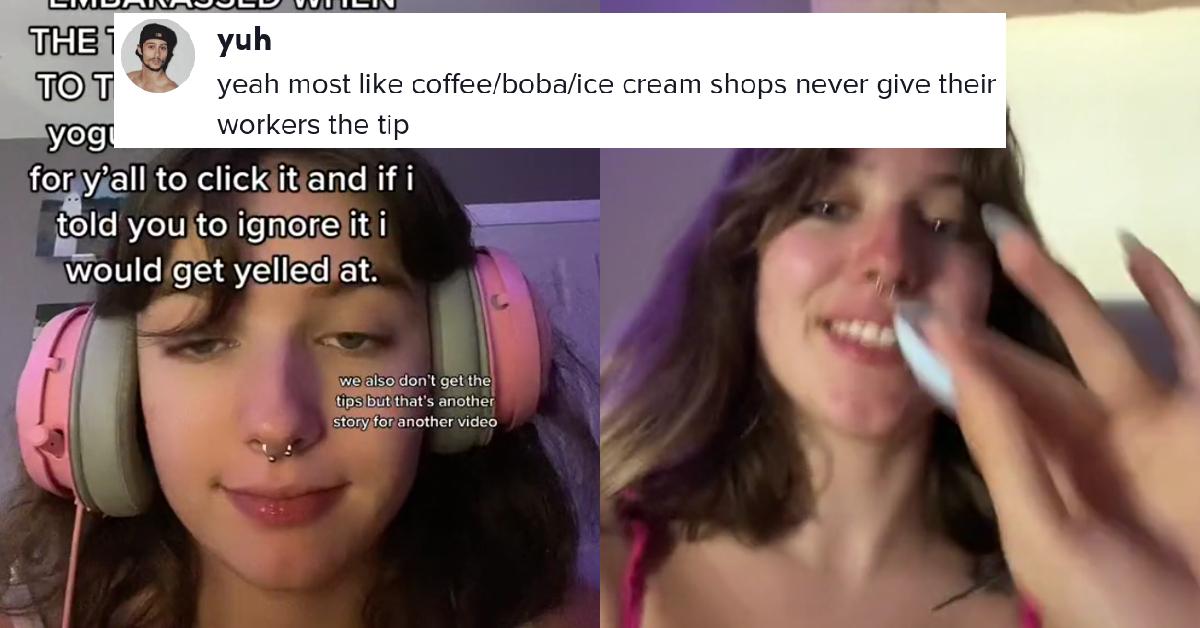 Tablet-based point-of-sale systems have been getting a lot of flack on social media as of late as they become more and more prominently placed in stores all across the country. There are tons of posts lambasting the implementation of "iPad cash registers" and one aspect of their operation in particular: tip-giving.
Article continues below advertisement
You're probably familiar with the moment, you tell the cashier what you'd like to purchase, or order, and they ring you up, and then swivel the touchscreen around and say, "it's just going to ask you a few questions."
Usually, those "questions" are varying tip amounts, giving customers the option to leave a gratuity for whatever they're purchasing.
There are a lot of folks who argue that there are some vocations where gratuities are expected: like when you go to a restaurant and drop down some cash for the server. But there are a lot of folks who don't think that going to pick up a coffee and a bagel from their local cafe shouldn't prompt a request for gratuity.
And a TikToker went viral saying that these interactions are just as awkward for employees as it is for customers.
Article continues below advertisement
The TikToker, who goes by Allison and posts under the handle @pharbiebarbie, penned her feelings about gratuity in a text overlay on a five-second clip. The video shows her looking into the camera while rocking a pair of pink over-the-ear headphones and placing her fingers over her eyes as if to intone embarrassment.
Article continues below advertisement
"as an ex fast food worker WE GET EMBARASSED WHEN THE TABLET ASKS YOU TO TIP. i worked frozen yogurt and had to ask for y'all to click it and if i told you to ignore it i would get yelled at."

Article continues below advertisement
She added another bit of saucy information stated her and her co-workers didn't receive gratuities from the transactions: "we also don't get the tips but that's another story for another video."

Article continues below advertisement
It's difficult to imagine that many of these point-of-sale systems don't separate tips from store transactions. Clover's software, for example, has options to split tips between employees, separating gratuity from item sales.

Article continues below advertisement
In a follow-up video she explained the tip situation at her former job, and stated that her supervisors would "scream" at her if she didn't tell customers to select a gratuity option.
Article continues below advertisement
Allison then went on to say that the froyo place she worked at would get busy and during one particular shift she kept track of all the tips she was supposed to be receiving. After checking her paycheck, however, she noticed that the math just wasn't adding up, but she didn't ask about it and ultimately quit the job.

Article continues below advertisement
TikTokers had various opinions on Allison's experiences behind the counter when it comes to "iPad tipping." Some thought the fact that her previous employers seemed to be stealing from her was sketchy, as there's supposed to be a break down of the hours they've worked and a separate category for tips on their paycheck.

Article continues below advertisement
"that's so sketch most places put how much you earned in hours then tips separate so you can see that sucks tho im sorry"
"Oh nah if I didn't get the tips I'd 100% tell every customer that"

And then others were just dumbfounded by the types of businesses asking for gratuities, while some shared their experiences dealing with the touchscreen POS systems both behind and in front of the counter.
"people will literally say "no i'm not tipping you." like okay???? you could have just clicked no now my feelings are hurt"
"t's always at the weirdest job too. Like all u did was put my cookies in a box why would I tip u 20%."