Frozen Yogurt Employee Says "I Wouldn't Tip Me Either" in Viral TikTok About Tipping Culture
A TikToker who works in a frozen yogurt store said that they don't blame non-tippers in a viral clip about tablet-based POS systems.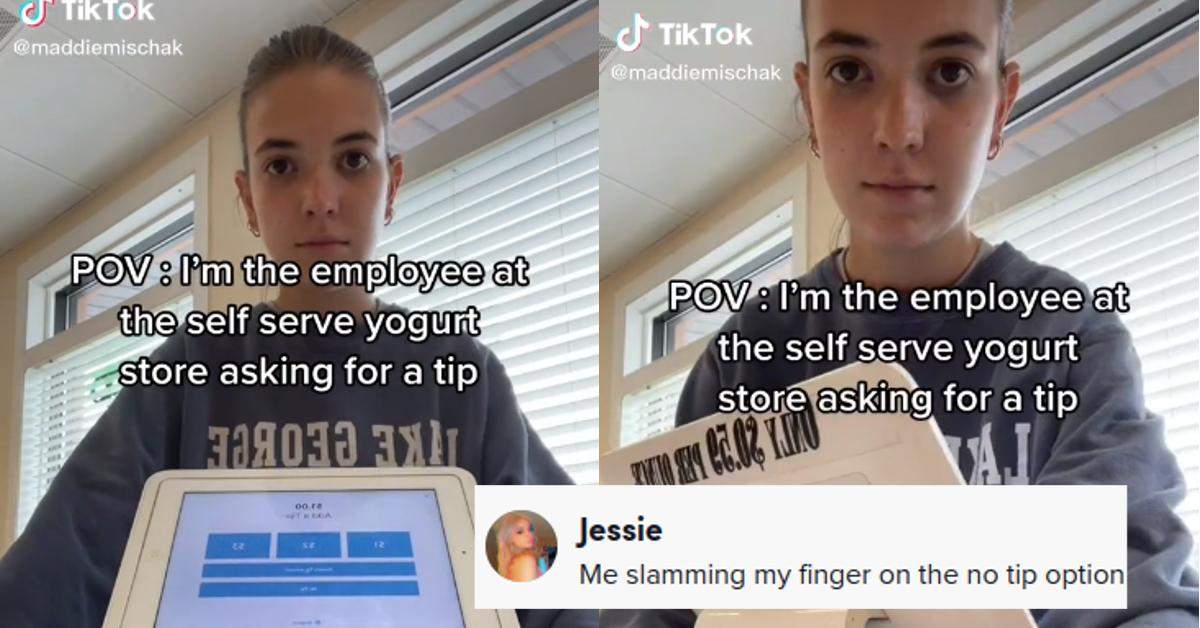 Tablet-based point-of-sale systems are constantly coming under fire for putting customers on the spot to add a tip in a situation that they wouldn't normally tip.
We all know the drill, the employee behind the counter flips the iPad-looking thingy around and tells you that it's just going to ask you a few questions.
Article continues below advertisement
You're presented with a few options for various gratuity amounts that many find in some instances to be "outrageous." There are tons of social media posts about these types of cash registers, and people attribute their prevalence as a reason why tipping culture is "out of control."
While few would argue that employees don't deserve to be paid more on average, especially since two-thirds of Americans say that their wages aren't keeping up with inflation, many think that this financial burden shouldn't be shouldered by consumers.
And a now-viral TikTok from a user by the name of Maddie, who posts under the handle @maddiemischak on the popular social media platform addresses the issue of "gratuitous gratuities."
Article continues below advertisement
Maddie, who works at a self-serve frozen yogurt store records herself acting as if she's helping a customer and is wrapping up their transaction in the clip. She shows them the infamous tablet-based POS screen with its various tip options as a text overlay reads: "POV: I'm the employee at the self-serve yogurt store asking for a tip."
Article continues below advertisement
Self-serve food locations seem to be a particularly sore spot for many folks who have gripes with "unnecessary" tipping. The argument is a simple one: I'm the one loading up my cup with frozen yogurt and decorating it with various confections, so why should I tip the staff who is just ringing me up and performing their other basic job duties?

Article continues below advertisement
Maddie seems to be taking a jab at this trend and herself as well. She writes in a caption: "It's funny because I am indeed this employee."
She goes on to state in the comments section of the video: "I do ask for tips but obvi I don't expect any because I understand the nature of a self-serve restaurant. I wouldn't tip me either guys it's okay."

Article continues below advertisement
Other TikTokers expressed just how they felt about the tablet-based systems: "I will dead stare back and leave no tip if it's a self serve"
"*shamelessly taps no tip*"
"If there's an iPad I won't tip"
"Immediately selects No Tip"
"It's just gonna ask you a few questions"
"I'm sorry but if I did more work then you..your not getting a tip"
A blog post on EF.com talks about the culture shock visitors from overseas experience when they come to the United States and experience having to tip for the first time.
Article continues below advertisement

"Visitors to the US are often baffled by our tipping culture. It's true – it's a wild monkey you have to learn to tango with."
The outlet even discusses the origins of paid gratuities in general: "Tipping became the norm in the 1900s. Rumor has it that the practice drifted over from Europe thanks to the aristocracy. After their European visits, where tipping was part of the culture, they wanted to seem more cultured and in-the-know than their peers."
Article continues below advertisement

The outlet continued, "Perhaps they were a bit too enthusiastic about the whole thing, because Americans were subsequently criticized for over tipping by Europeans and continue to be to this day. But there's actually a legitimate reason why Americans continue to tip more than Europeans."
Article continues below advertisement

The reason for that is the 1960s "tipping credit" given to businesses for employees who worked in vocations where gratuities were expected. They didn't have to provide a federal minimum wage as long as the tips their workers were getting at least covered that.
Pretty wild, hunh? How do you feel about tablet-based POS systems? Do you find yourself tipping more as a result of their inception? Or do you think they're completely fine and people should pony up the cash and accept the fact if you're going to eat out anywhere and buy a Boba tea, that whoever had a hand in making it should be compensated on top of whatever they're making at that store?