Man Gives Best Argument to Keep Jobs Remote: "Annoying" Co-Workers Who Kill Productivity
A TikToker gave a real-world, albeit funny example of why it's in the best interest of businesses to keep many jobs as remote positions.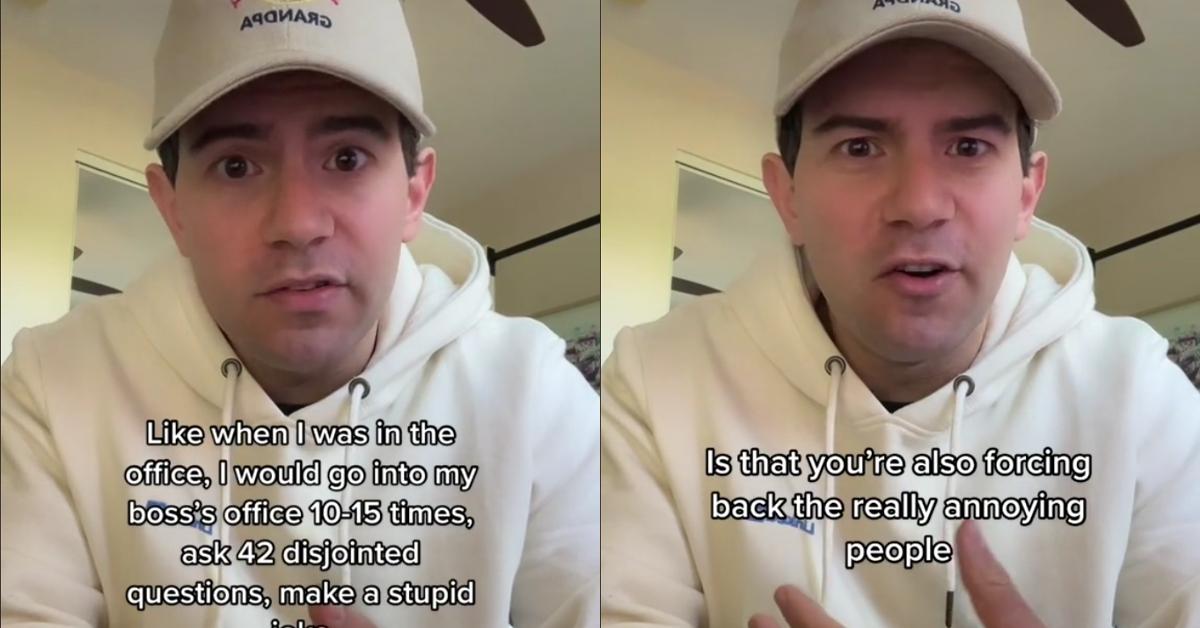 Article continues below advertisement
Business News Daily has broken down the statistics of folks who work from home and it turns out that on average, remote professionals clock in an extra 1.4 days of work per month for their jobs than when they were working in an office setting. This results in about three additional weeks of labor for higher-ups at no additional charge.
Plus businesses get the benefits of decreased overhead costs which could be invested elsewhere. Employees are then able to get more time to sleep, and more personal time to themselves, giving a better work/life balance, presumably equating to greater career satisfaction.
There's a litany of practical reasons for a business if it specializes in an industry that has operations that can be handled remotely, to consider it as an option.
However, one TikToker has an incentive: interactionstions with "annoying" people.
Article continues below advertisement
TikToker Matt M. who posts under the handle @itsmattslaw brought up a point that directly pertains to not only workplace productivity, but a phenomenon many office workers have experienced: the chatty co-worker. Maybe you're a chatty co-worker yourself (I know I am.)
Article continues below advertisement

He states in the now-viral TikTok: "What I find funny about all these employers trying to force people back into the office is that you're also forcing back the really annoying people."
Article continues below advertisement

He continued, "Like when I was in the office I would go into my boss' office 10-15 times ask 42 disjointed questions, make a stupid joke and scurry off."
Article continues below advertisement

Matt admitted to being one of these "annoying" employees that probably torpedoed productivity, and judging from the comments section of the viral clip, it seems like a lot of people agree that garrulous employees (like Matt) are indeed efficiency killers.
Article continues below advertisement

"Overly social" employees are an oft-discussed problem in business and there are several online resources that publish tips and strategies for management to help ensure these hires know when to work and when yuck it up with Susan from accounting.
Article continues below advertisement

Local News Outlet Cleveland 19 wrote in 2019 (prior to the pandemic) that the biggest productivity surveyed employees faced were chatty co-workers. "A new survey, released by the hiring firm Accountemps, looked at the biggest productivity killers in the workplace and for Cleveland, 47% said it was chatty coworkers."
Article continues below advertisement

Michael Steinitz, senior executive director of Accountemps said concerned workers "should focus on important assignments when they're most alert and energized, and if necessary, consider posting a 'Do Not Disturb' sign at their desk or switching team chat status to 'Busy.'" He added, "Finding ways to shut out distractions can help maximize productivity, no matter the day, time or place."
Article continues below advertisement

Many TikTokers themselves admitted to being the type of worker to distract others, with other commenters remarked how frustrating it was to deal with "loud" and overly social employees themselves.
What do you think? Do you prefer working in an office environment? Or would you rather remote work and feel you're more productive out of the "traditional" corporate scenario?