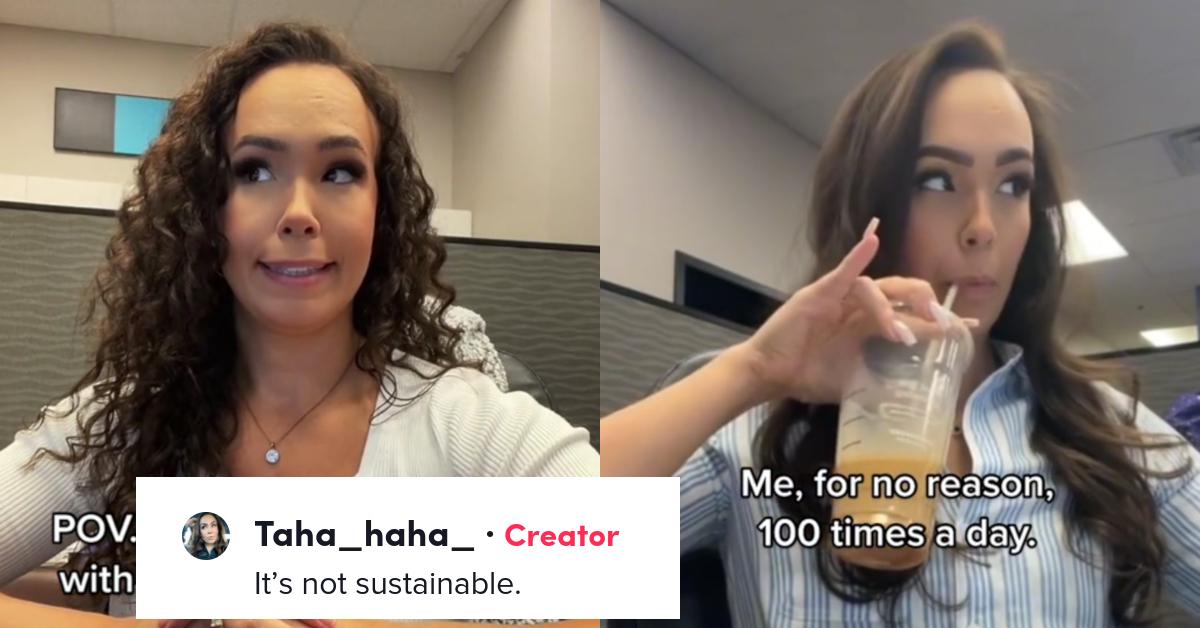 TikToker Urges Office Workers to Use All of Their Paid Time off as Corporate "Doesn't Care"
Article continues below advertisement
And then there's the question of paid time off and how so very few Americans actually use it. A 2021 BBC article cited a 2017 study that indicated only 54% of Americans deplete all of their PTO in the workplace. Something that TikToker @taha_haha_ said is a big mistake in a series of TikToks about working a corporate job.
In the videos, she delineates a ton of tips for folks who are employed in office environments, but one of the biggest aspects of #thatcorporatelife is to "Use ALL of your PTO every year."
Her reason is: "No one cares that you worked instead of taking time off. You're just making your own life harder."
Article continues below advertisement
Canopy Health urges business owners in a piece to not only offer paid-time off to employees but that it's an integral means of creating a better work atmosphere that will ultimately be salubrious to the long-term health of any enterprise.
The TikTok in question is also littered with additional text overlays, with the PTO tip listed at the top. Beneath it, the content creator lists 4 other pieces of advice.
Article continues below advertisement
"2. If you're not getting some kind of raise year to year, find another job. They don't care about you." Economic inflation and costs of goods and services are projected to go up annually, even by the smallest increments on average, which means if you're in a position that doesn't see some kind of merit increase from year to year, you're technically taking a "pay cut."
Article continues below advertisement
She also warns against jobs that require employees to have an additional "work cell phone" calling that aspect of the job "exhausting" as workers are expected to be "on call" all of the time.
Her fourth tip is one that hearkens back to the initial PTO comment, which is "being the hardest working person, doesn't get you as far as you think it would."
This is a sentiment that is shared in yet another BBC article, which states that hard work alone, without recognition for one's accomplished work, will not necessarily equate to upward career mobility.
Article continues below advertisement
Article continues below advertisement
Many commenters on Taha's post shared their own anecdotes about their work experiences that seem to corroborate the TikToker's suggestions:
"The first six months I worked so hard and even got a promotion (with no raise). After a year I'm now so burnt out, I can't keep doing this"
Article continues below advertisement
Others even added their own tips: "6. They don't put your job title on your tombstone. Stop stressing out. You are here for a short time. Enjoy yourself."
"I don't care what any manager says, when I'm home the work cell phone is off!!!"
"When I made my company $20k in less than a month & didn't receive any type of compensation that's when I knew they didn't care about me"
"Left a job with 500 hours of time off I couldn't cash out. Should've used the hours"
Article continues below advertisement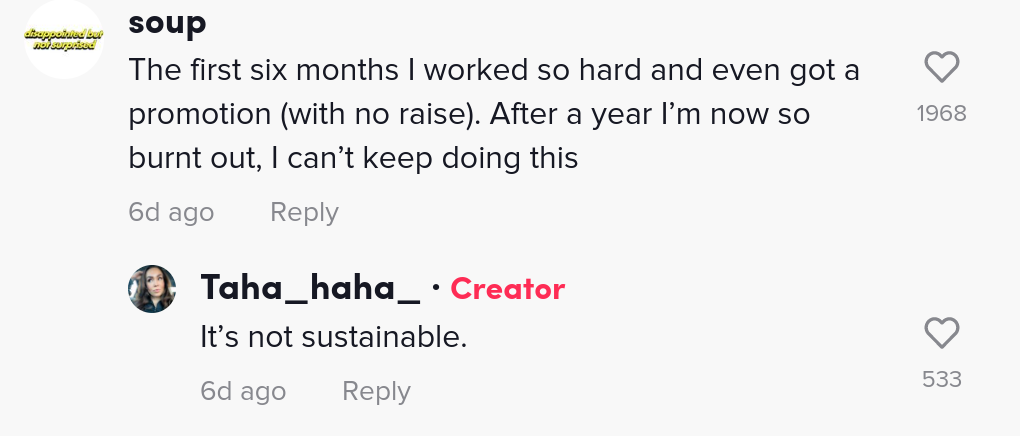 A report indicated that in 2018 alone, a total of 768 million days of paid time off was left collectively unused by Americans in the workplace.
Allina Health listed that vacations have numerous benefits: "Studies have shown that taking time away from the job can have physical and mental health benefits. People who take vacations have lower stress, less risk of heart disease, a better outlook on life, and more motivation to achieve goals."
Article continues below advertisement
Even if one is a workaholic, taking paid time off at a job to pursue other goals and passions, aka "secondary work" could be a good use of time for folks who are looking to transition their passions into full time work. A Quora post by Professor of Physics at the University of California, Berkely also indicates provides a great example as to why vacations are beneficial even for people who love their jobs, as well.

His blog inspired the following response from a user by the name of Marcus Broberg who summed up Muller's point pithily: "In Sweden this is not a choice, the employer most see to that their employees take their vacation. If you love your work you will come back with more energy and inspiration. If you hate your work you can use the vacation to think about your future."