McDonald's Worker Puts Headset on Customer to Help with Drive-Thru Order in Viral TikTok
While picking up food at a McDonald's drive-thru a TikToker helped employees translate an order for a Spanish customer behind them in line.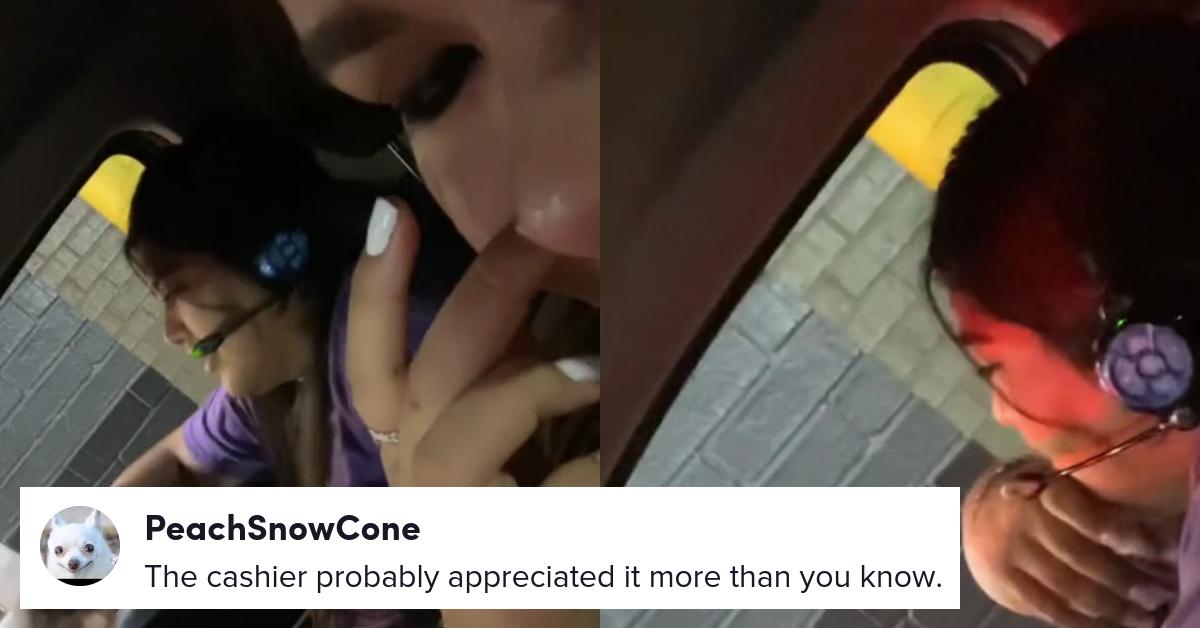 Sometimes ordering through the drive-thru can be a truly cumbersome task. From employees getting your order wrong or forgetting sauce, to customers getting out of their car and blocking you from putting your order in, to people getting into arguments or straight up fist fights, there's a lot of drama that can occur when you're hanging out in a line of cars full of hungry people trying to get some fast food.
Article continues below advertisement
And thankfully while all of these experiences aren't universal, there is probably one drive-thru situation many of us have been in multiple times: trying to understand a worker through the loudspeaker. It's difficult to comprehend what fast food locations have against high-fidelity audio, but it seems like every chain at one point or another decided to install speakers made of crushed aluminum cans and ground-up My Pet Monster dolls.
Now imagine trying to understand a customer's order through one of these setups, from someone speaking a language you're not fluent in. How will you get their order correct? Well, one McDonald's worker had to rely on the kindness of a stranger, who thankfully spoke Spanish and decided to get to work while picking up their food.
Article continues below advertisement
TikToker @epaloma650 uploaded a video of her and another woman in a car assisting a McDonald's employee with an order. A text overlay in the short clip reads: "ik damn well they didn't just ask her to take a Spanish order." She captioned the TikTok with: "I aint ever seen anything more ghetto."
Article continues below advertisement

The driver is wearing a headset and it sounds like the person ordering on the other line is asking for a "frappe." She then looks at the camera and smiles after she realizes she's being recorded and then puts the car into gear before the TikTok cuts out.
Article continues below advertisement

And while drive-thru communication systems get a bad rap, there are plenty of folks who've worked at fast food chains who say that there are varying degrees of clarity depending on the set-up a particular franchise has.
Article continues below advertisement

One Quora user, Daniel Liddle wrote: "Most times, drive thru employees can hear a drive thru customer quite well. There are varying grades of microphone and speaker quality. I believe that it is safe to say that a bank invests more money into quality sound equipment than a fast food restaurant does."
Article continues below advertisement

They went on to say that different variables could affect call quality, as employees can usually hear customers just fine, but if there's no awning over the drive-thru lane and weather conditions are less than ideal, i.e. if there's a bunch of wind or rain, then it might be difficult for employees to hear whoever is on the other line.
Article continues below advertisement

In the same forum post, another user, Jordan Hood wrote, "Most times its right on , clear. It's the customers with chewing gum..add accents…and not clear what they want…or it might be the worker experiencing it…and that's why communication breakdowns occur…at times."
Article continues below advertisement
Some TikTokers who saw the post said that they've been put in similar situations themselves and have translated for fast food workers in the drive-thru. Others wanted to know if they were given any free items from the staff to show their appreciation, or at least a "check" from Ronald McDonald himself.
Article continues below advertisement

"Better hit up Ronald for that check"
"I used to make my ex do this."
"Did you guys get your food for free at least"
@epaloma650 says that unfortunately they weren't gifted anything from their efforts, which many thought was a McShame.