Woman Blocks McDonald's Drive-Thru Line to Save Spot for Her Husband in a Truck
A TikToker recorded a "Karen" in a McDonald's drive-thru who cut in front of a line of cars to save a spot for someone else in a truck.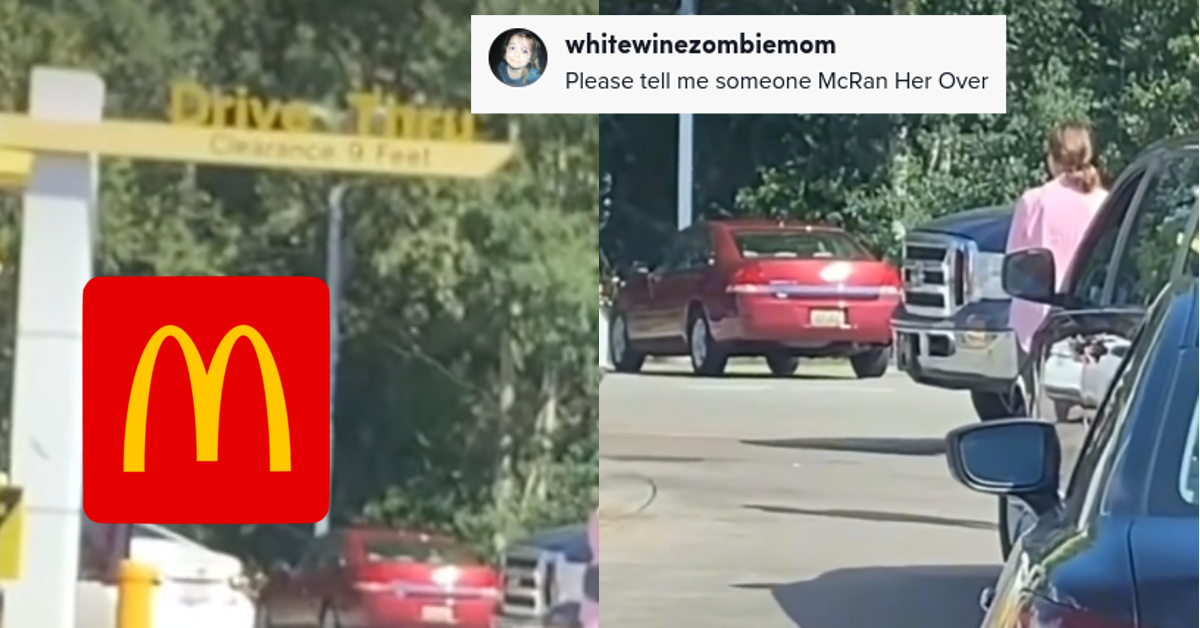 If you've ever watched The Founder then you'll know just how much of an impact McDonald's and Ray Kroc made on the food service industry. The speedy meal system developed by brothers Richard and Maurice McDonald minimized wait times for customers and using predominantly paper products from wrappers, bags, and cups resulted in a takeout phenomenon that tons of other businesses would go on to emulate.
Article continues below advertisement
The total worth of the fast-food industry in the United States stands at a massive $296.55 billion as of 2021 and there are constant developments being added to restaurants every day. From mobile ordering to app delivery services getting in on the action, more and more people are discovering ways to eat the quickly prepared meals that they've made dietary staples for themselves.
But there's another service that's existed for decades that's still massively used today at these eating establishments and that's the drive-thru. While McDonald's didn't invent it, you'll be hard-pressed to find a Mickey D's that isn't inside of a giant retail store, mall, or airport that doesn't give customers the options to order and pick up their food from the comfort of their own vehicle.
Article continues below advertisement
Drive-thru has its own set of protocols customers are expected to follow: know your order and make sure that you convey it correctly the first time. Don't ask for additional items when you make it to the window (in order to minimize wait time for other diners) and obviously don't throw your car in reverse.
Oh and make sure you're going through the drive-thru in an actual car, it's called a drive-thru and not a walk-thru, something that this customer didn't seem to care about.
Article continues below advertisement

Drive-thru lines can get pretty long, which is exactly what happened in now-viral TikTok which shows a woman attempting to bypass the long line by blocking off other cars so someone else in a truck can get in and order food.
Article continues below advertisement

A frustrated customer can be heard saying in the video, "I just pulled into McDonald's, and this lady is holding this spot in front of this van for her husband to cut us all in the drive-thru, so she can get her McDonald's first. There is a line for a f**king reason."
Article continues below advertisement

Commenters on the video were perplexed and angry by the woman's actions. Some wondered why those waiting in line didn't voice their concern or hold down their car horns and signal for her to exit the line.
Article continues below advertisement

Others asked why she didn't just walk inside of the McDonald's, however, since the account that posted the clip regularly uploads "Karen" encounters, it could be that when the video was taken, this particular franchise location had closed its dining hall due to COVID regulations.
Article continues below advertisement

And even though mask and social distancing mandates are being lifted all around the country and most McDonald's locations have opened dining halls, the company does state that there may be some that are drive-thru only.
Article continues below advertisement

As per the Mickey D's website: "While more than 99% of our restaurants are open, we continue to act in line with local regulations, which unfortunately does mean that restaurants in select locations may be operating on limited hours or may be closed temporarily
Article continues below advertisement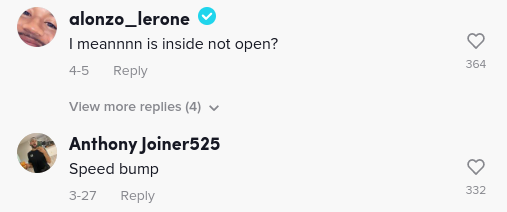 What do you think? Did this Karen break drive-thru protocols? Or should she be given a break because she's just trying to get a meal like everyone else, potentially at a location that prevented diners from going inside to order a meal?