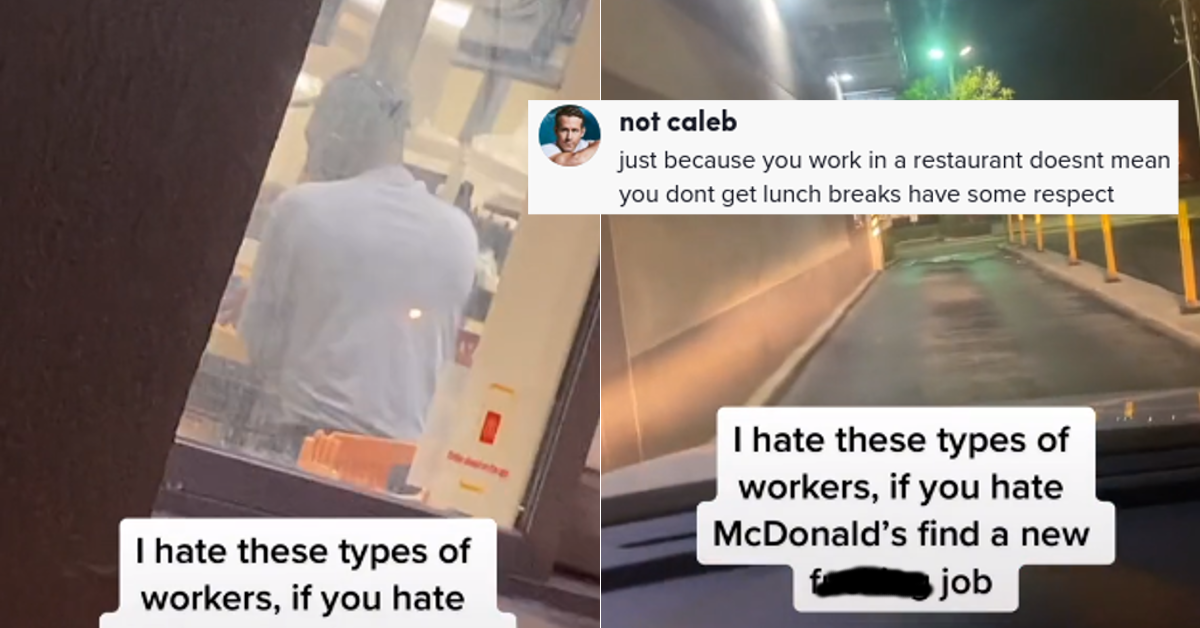 Drive-Thru Customer Records McDonald's Worker Blatantly Ignoring Him in Viral TikTok
The entire reason why people decide to order food via the drive-thru is that, theoretically, it should be faster. You don't need to park your car and step inside the restaurant and you don't need to leave the comfort of your own vehicle and/or stop bumping whatever music it is you're currently vibing to in the car.
Article continues below advertisement
Plus there's just the laziness factor, too. You can even eat the meal without ever leaving your vehicle before you head back home, drag yourself indoors and curl up on the couch like the domicile gremlin that you are. Or, you know, you can just be pressed for time or maybe living that way truly makes you happy, either work.
But there are plenty of instances where using the drive-thru is actually a major inconvenience and you'll probably have a much quicker/better time ordering your food if you just stepped inside to complete the order.
And since many fast food locations shut their dining room doors after a certain hour, that leaves only the drive-thru open. Maybe that was the case with this TikToker who uploaded a now-viral clip about their awful experience at a McDonald's.
Article continues below advertisement
There must've not been anyone else in the drive-thru at the time, otherwise there would've been a lot more customers really, really upset. The TikToker in question, @carekadunn says that they were waiting to be acknowledged/addressed by a drive-thru employee at a local McDonald's.
Article continues below advertisement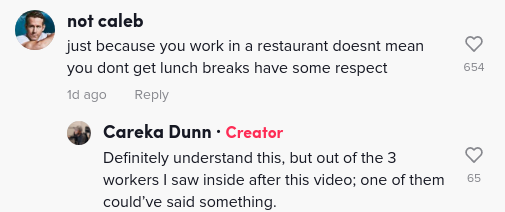 The worker in question had their back turned to the drive-thru window and didn't attempt to provide service to the customer who honked their horn several times to try to get the employee's attention.
Article continues below advertisement

"McDonald's please hire new workers for your 7030 Palmetto Park Road, Boca Raton, FL branch. Your boi just wanted a 10 piece @McDonald's," the TikToker wrote in the caption of his video. In a text overlay on the clip, he added, "I hate these types of workers, if you hate McDonald's find a new f***ing job."
Article continues below advertisement

But there were a number of TikTok users who thought that OP was jumping the gun a little bit and began offering up a litany of different reasons as to why the McDonald's employee wasn't assisting him in the drive-thru.
Article continues below advertisement

Some speculated that he could've been on his 20 minute break and others stated that just because he works in a restaurant doesn't mean that he's eating all day and that he needs some time to himself in order to grab some grub.
Article continues below advertisement

And then there were others who highlighted the current labor shortage in the United States as a potential reason behind the employee not assisting the TikToker. Some speculated that he may have been one of the only workers at the McDonald's at the time, however, the TikToker stated that he could visibly see three total employees inside the restaurant.
Article continues below advertisement

What do you think? Should the TikToker just lay off on food service employees as they have to deal with enough stress at their job as is? Was he in the wrong for not considering whether or not the employee was on a break? Or should the worker have informed whoever was coming through the drive-thru that they were on a break, or at the very least put a sign on the drive-thru outdoors to inform customers that it would be a little bit of a wait?