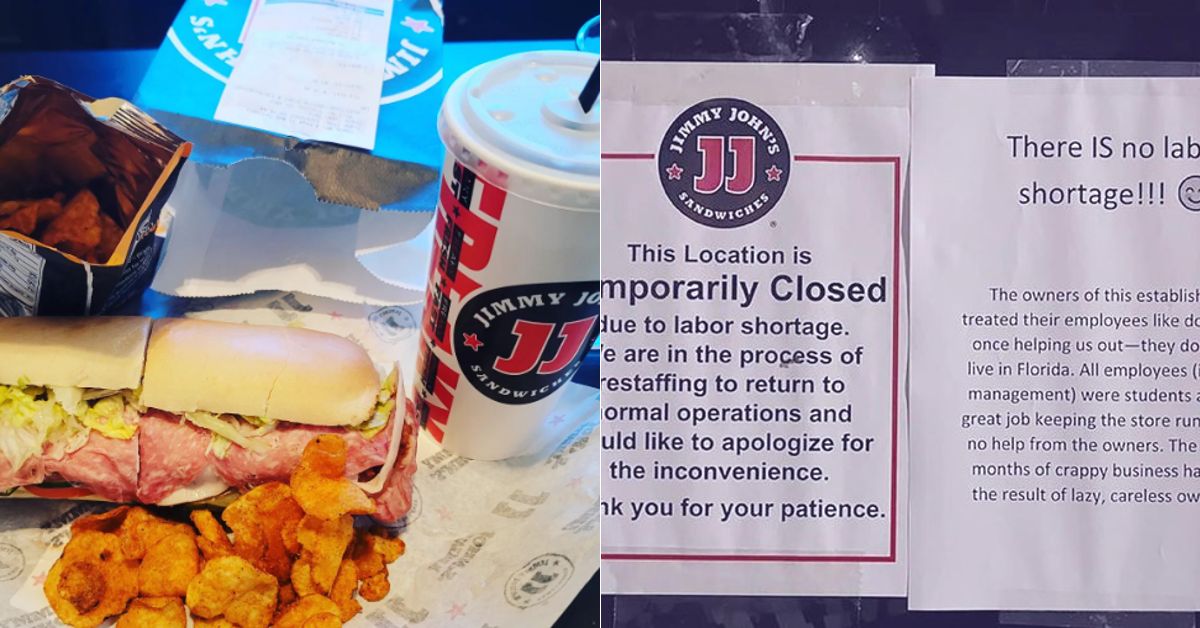 Employee Note Posted on Jimmy John's Store Refuting Owner's Claims Goes Viral
Working in the foodservice industry isn't a walk in the park, especially if you're employed in establishments that pride themselves on speedy service. Customers not only expect to get their meals quickly, but they want them to be perfectly crafted as well, which can lead to some pretty hectic and stressful situations especially, during an out-of-nowhere rush of customers.
Article continues below advertisement
And just like any job, if you go above and beyond to perform your duties and meet the challenges that are presented to you, you'd expect upper management to compensate you fairly or at the very least give you a helping hand.
Something that employees at this Jimmy John's location say happened before its temporary closure.
A viral photo that's making the rounds on Twitter shows the location's employees' response to a claim from managers that their reason for closing is due to a "labor shortage."
The initial posting from the Jimmy John's store in question reads: "This location is temporarily closed due to labor shortage. We are in the process of restaffing to return to normal operations and would like to apologize for the inconvenience. Thank you for your patience."
Article continues below advertisement
The store's employees reportedly posted a notice that rejected this notion, stating, "There IS no labor shortage!!! The owners of this establishment treated their employees like dogs, never once helping us out — they don't even live in Florida. All employees (including management) were students and did a great job keeping the store running with no help from the owners. The past few months of crappy business have been the result of lazy, careless ownership."
Article continues below advertisement
It didn't take long for the image to go viral and it's not hard to understand why. There's been a growing number of food service employees complaining about their workplace experiences at the hands of management. And if what these Jimmy John workers are alleging in the letter is true, then they've got a lot to be upset about.
Article continues below advertisement
This isn't the first time the Jimmy John's name has been associated with a scandal with its employees. Last year it was reported that the chain had to pay $1.8 million to workers for a dispute regarding overtime compensation.
Article continues below advertisement
And then there was the sandwich shop's "non-competition clause" contract that forbade its workers from seeking employment at other Sandwich retailers or businesses that earn 10% or more in revenue from shilling sandwiches. What's nuts is that the non-competition agreement lasted for a period of 2 years even after someone quits working at Jimmy John's in some instances.
Article continues below advertisement
Many argued that the agreement was set in place in order to coerce employees from ever leaving their jobs at Jimmy John's. New York Attorney General Eric Schneiderman spoke poorly of the agreement: "They limit mobility and opportunity for vulnerable workers and bully them into staying with the threat of being sued."
Article continues below advertisement
Then there's the fact that a litany of Twitter users offering up their own experiences with Jimmy John's. Like this Twitter user who said that it was advertised that they'd start working there at $15 an hour, but when the manager offered them the job at $8 he said he was interested, and then he was kicked out of the store.
Article continues below advertisement
A scan of employee review site Comparably also features a comment from someone who claims that their hours were reduced once they were pregnant: "Seemingly excited at first until I've worked there a year, when I got pregnant, they cut my hours tremendously after I helped them stay open during a pandemic. With no assistance, compromise, or resolution in site. They just hope you'll leave when they are done working with you instead of fair& square."