Dunkin' Employees Show Just How Slammed They Are During Lunch Rush in Viral TikTok
Two Dunkin' Donuts workers highlighted just how crazy a rush period can get in a now-viral TikTok they posted online.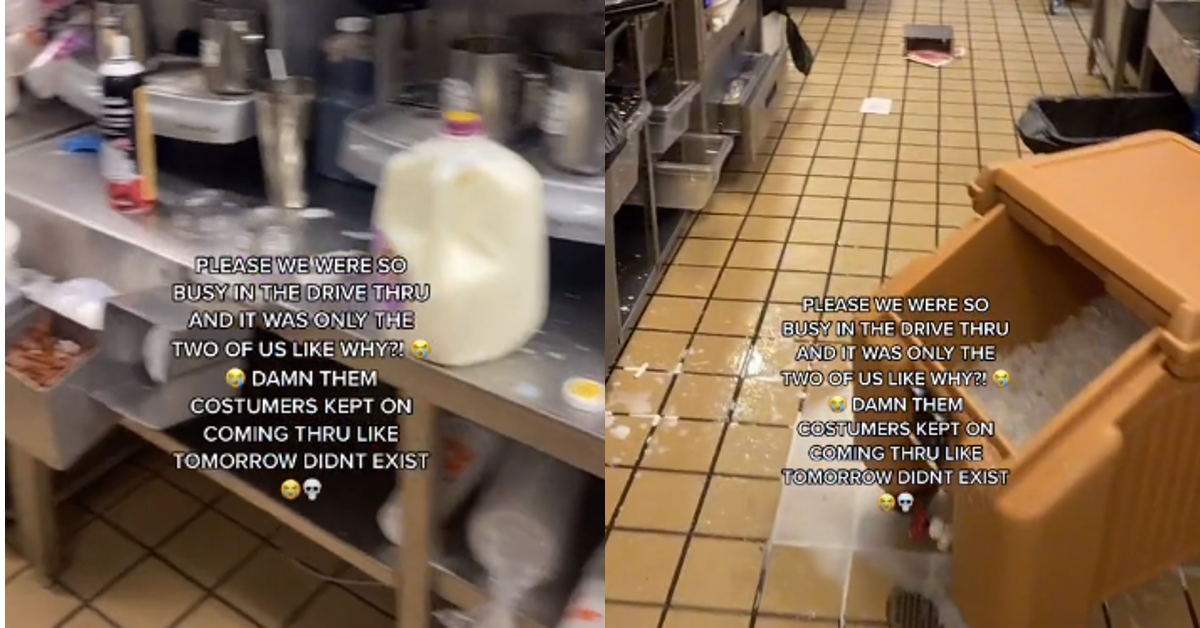 If you work in the food service industry then you've definitely encountered those miserable rushes that fill you with anxiety and have you questioning your employment choices.
This is especially true of fast food locations at busy times. Working at the best sandwich joint in town? You know from 11.30 am until around 1.30 you're going to have holy hellfire rained down upon you.
Article continues below advertisement
And if you're behind the counter at a coffee spot, then you just know the mornings/afternoons are going to be rough with throngs of people trying to get their favorite beverage into their car's cup holders to power them through another day of staving off the existential dread.
At moments like this, it's all hands on deck, especially in a typically highly-trafficked establishment like Dunkin' Donuts.
Folks are used to ambling in, placing their coffee order, grabbing it along with whatever once-frozen good of their choice, and go on their merry way in a matter of minutes.
And if you're severely understaffed, then making it through the rush without angering folks who've already paid you money for their items can be super stressful.
Something that TikTok user @marxotorrez captured in a now-viral clip.
Article continues below advertisement
In the video, Marco captured the back-end of a Dunkin' Donuts that looks like a miniature tornado ran through it. There's milk spilled on the countertop, a rolling ice bucket in the middle of the floor, cooking utensils splayed out all over the countertop, and debris/crumbs littered all over the place.
Article continues below advertisement

Marco captioned the video with, "Just a typical afternoon working at Dunkin'."
Tons of users weighed in on the aftermath of the afternoon rush. @anastasiaarose wrote, "Playing barista, sandwich station, and cash all in one shift."
Article continues below advertisement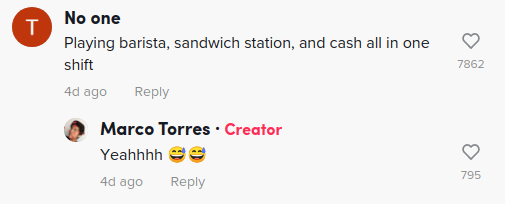 During rush times, there are some orders that are exponentially more inconvenient than others. User Brant Paulick wrote, "It will be a rush and someone will ask for 25 munchkins and I feel my soul leave my body."
Other Dunkin' workers nodded their heads in agreement: "WHEN THEY ASK FOR TWO DOZEN."
Article continues below advertisement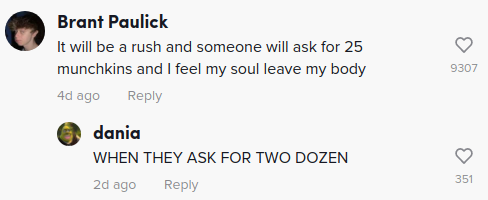 @witchbladdes chimed is as well: "When they ask for 10 hash browns."
Even though many of the food items are ready-made at Dunkin', they're usually there to compliment the coffee, which is the biggest earner for the retail chain.
Article continues below advertisement

60% of Dunkin's revenue comes from coffee sales, so more often than not folks are grabbing a quick cup of jo' while they're on the go. So having an employee get frozen hashbrowns to place in the oven and then go back to after a pre-set amount of time while fulfilling a bunch of orders can only make things more hectic.
Article continues below advertisement

One TikTok user pointed out a recurring trend that they noticed at Dunkin' Donuts locations: "Is it me or is dunkin always short staffed" @neon_3 asked. To which Marco replied, "Yes Dunkin fr is always understaffed."
Article continues below advertisement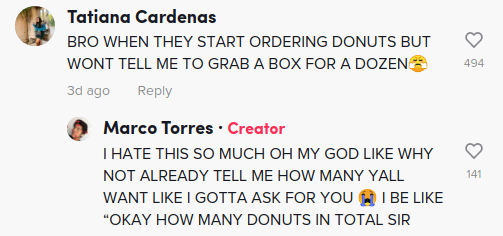 But by scanning the comments section, there are some other pieces of ordering etiquette Dunkin' workers would probably appreciate during a rush. Like Tatiana Cardenas points out: let them know if you're getting a dozen or half-dozen before telling them how many donuts you're getting, this way they can grab and prep the box first before loading them up with the desserts.
Article continues below advertisement

Others mentioned that for the amount of work Dunkin' employees are doing, especially during the rush the individual locations should "hire more people AT HIGHER PAY."
Have you ever worked at a highly trafficked food spot during a rush? Is it really that bad? Or do you think folks are just being dramatic about it?