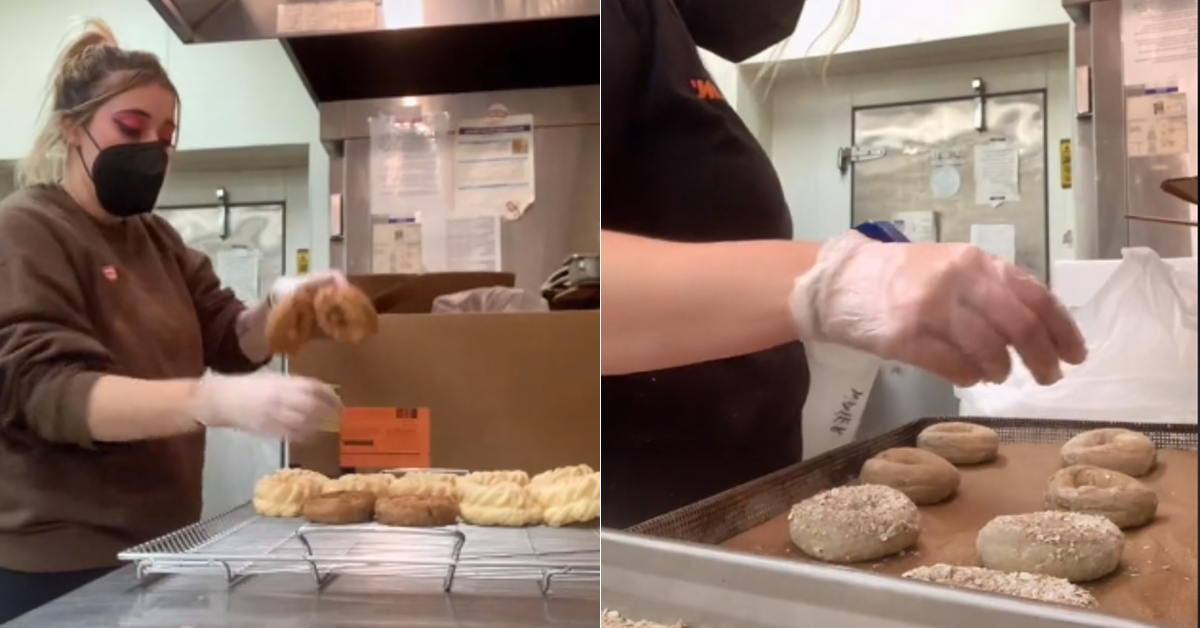 Dunkin' Employee Reveals Donuts Are Actually Frozen in Viral TikTok
A Dunkin' Donuts employee went viral after showing how donuts are prepared at her location and folks were shocked to discover they were frozen.
While freezing foods then reheating them is a common practice, there's a reason why tons of folks look down on eating the stuff: it's because that no matter how many precautions one takes in ensuring that whatever they're packaging is carefully preserved, there's always a chance for moisture to set in.
Article continues below advertisement
That moisture, combined with extremely low temperatures, results in freezer burn, which sucks and can greatly affect the flavor and quality of the food. And there are some foods that suffer from this a bit more than others. You'll probably tolerate drunkenly scarfing down dinosaur chicken nuggets that have a bit of freezer burn.
But if you're paying for a baked good at a retail chain with the name of said baked good in its branding, then maybe you'd want that baked good to not be frozen then reheated for your consumption.
At least that's how a lot of commenters felt when a viral TikTok demonstrated how Dunkin' Donuts employees prepare their donuts for the day.
And they aren't freshly baked.
Article continues below advertisement
Sophia Fischett (TikTok username @sophiafischett) recorded a "go to work" smash cut video that shows what a typical workday looks like for her and "accidentally" spilled the beans on the Dunkin' secret: its donuts are frozen.
The clip shows her taking a bunch of food items from out the freezer to place in the store's ovens before she goes on to complete a bunch of other tasks.
Article continues below advertisement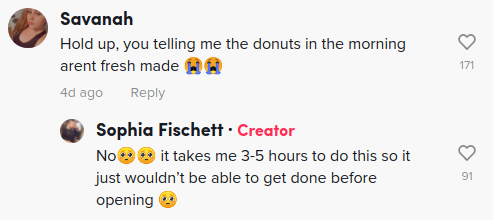 But what folks were fixated on was the fact that the "Time to make the Donuts" mantra from back in the day probably meant, "time to defrost and heat the donuts," and people were not happy.
Article continues below advertisement

"The donuts are FROZEN?! My life has been a lie," one user said. Another remarked, "Hold up, (you're) telling me the donuts in the morning aren't fresh made?"
Article continues below advertisement

Fischett explained that making them fresh in house would probably be impossible due to the high volume of donuts that are being sold, not to mention that the entire "reheating" process itself takes anywhere from 3 to 5 hours.
And while there were a lot of people who were genuinely distressed to learn that Sophia was taking donuts out of a freezer to reheat in an oven, there were other folks who weren't really all that surprised.
Article continues below advertisement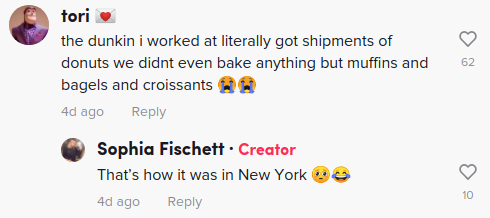 One user penned, "The fact people actually think the donuts are made there. I find better donuts at the gas station tbh."
But other commenters said that the mass freezing and reheating of donuts happened some years ago and that the baked goods used to make every single one of them fresh every day.
Article continues below advertisement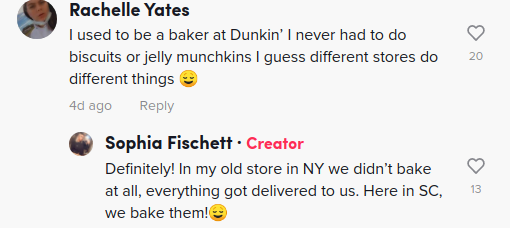 "My uncle owns several DD's in the North. The donuts used to be made fresh everyday but that changed many years ago. Now they are made somewhere else."
So do you feel a little bit more validated now when you swore that the donuts there just didn't taste the same anymore? Will this change your mind about buying donuts from the coffee shop giant? Or will you still eat them anyway?