Waffle House Customers Cook Their Own Food Because Restaurant Was Short-Staffed
Waffle House is known to stay open all day, every day. Naturally, they can't always stay staffed, and here's what happened during one of those times.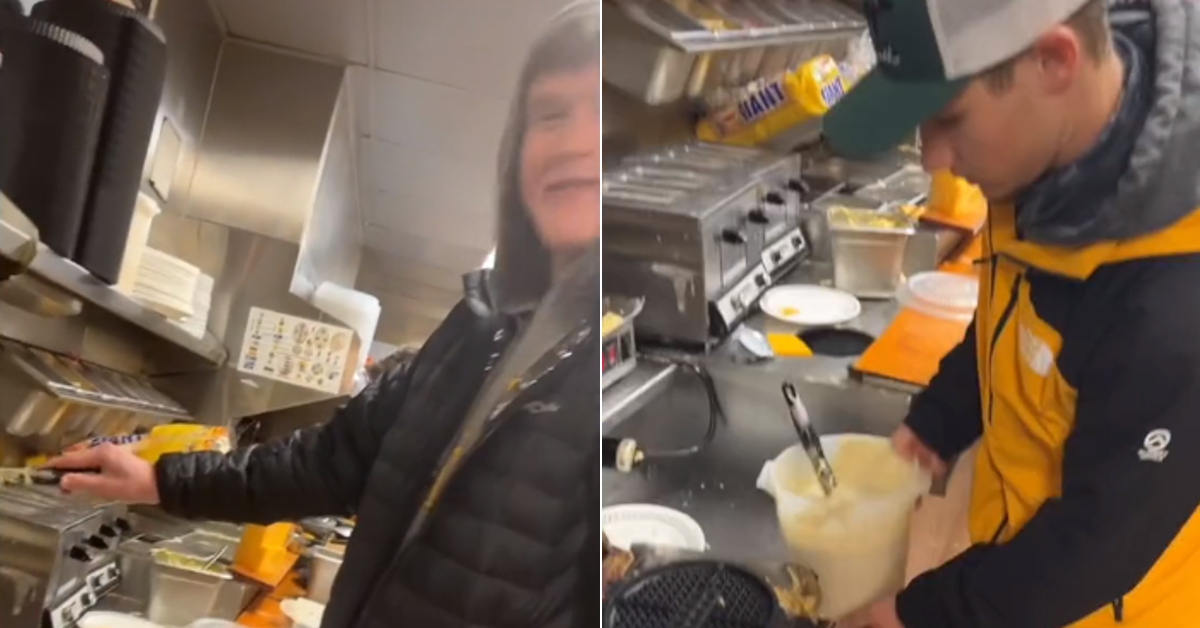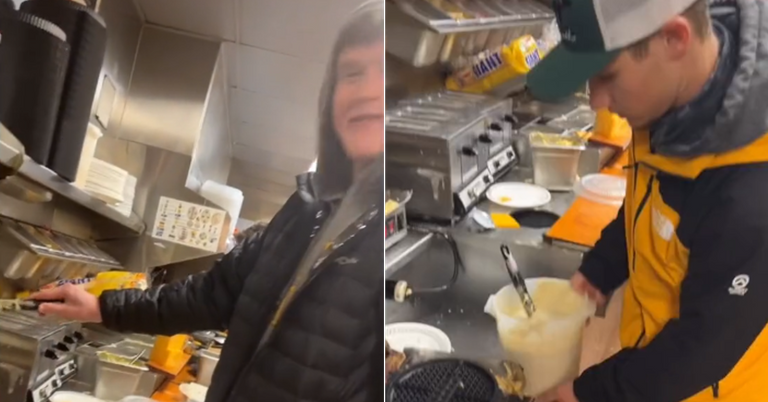 America is known for some truly distinct eating franchises that are known for a specific thing. If you're going to Cracker Barrel, you're going to want to spend some time ambling around the spot's gift shop ogling all of the bespoke old-school candies and sodas and checking out the nick-nacks clothes and Christmas Albums from people your grandparents still bop to while applying Fixodent to their dentures.
Article continues below advertisement
With Denny's you know you're gonna be able to get an order of nachos and pancakes at the same time and no one's going to even bat an eye and it'll cost about as much as a stop at a drive-thru fast food joint. With Taco Bell, it's screaming to yourself in the car and cursing the heavens that your favorite menu item is no longer there (RIP Cheesy beef and potato burrito).
But there are some eating establishments that are just legendary, and Waffle House has attained that status: because no matter what, the House is pretty much always open.
The only time the House is ever closed is when there's a natural disaster of biblical proportions afoot, and even then they'll be taking orders. Seriously, there could be a plague of locusts eating folks alive outside and you'll still be able to get an All-Star breakfast and a cup of coffee at 2:40 am on a Wednesday.
Article continues below advertisement
But Waffle Houses aren't always staffed to the gills, which is probably a big reason why many of the chain's locations are able to keep costs down. But this also means that if an emergency were to arise with a staff member or two during the middle of a late-night shift, getting a replacement to come in and regulate is going to be difficult to deal with.
Article continues below advertisement


This is exactly what happened to a group of snowboarders who were hungry after an entire day of riding and wanted to grub up at a local Waffle House location. The only issue is, some of the store's workers collapsed and had to be hospitalized, leaving only one employee behind. And that employee wasn't properly trained behind the grill.
So they made an offer.
Article continues below advertisement


TikToker @vjxsh0 uploaded a clip of him and his snowboarding pals in the kitchen making their own Waffle House meals. They wrote, "So the workers at Waffle House collapsed and had to go to the hospital leaving one worker who couldn't cook. She told us we could make our own food."
Article continues below advertisement


The caption for the video reads: "Well they say there's a first time for everything." In the comments section, the TikTok-er said that there weren't any other restaurants open and the employee offered the customers free use of the kitchen to craft their own meals, if they left her a sizable tip.
Article continues below advertisement


Although it might seem kind of strange to pay more money to make your own food at a restaurant, there were a lot of commenters who were jealous of the night's events:
"It's hard seeing other people live your dream," one commenter wrote.
Article continues below advertisement


"At Waffle House anything is possible," slurpfather quipped.
"It ain't waffle house it's waffle home."
TikTok user @officialfernandooo went on to say "Waffle House doesn't even feel like a diner. You're just walking into a strangers kitchen and they decide to make food for you."
Article continues below advertisement


Back in 2017, Alex Bowen documented his own Waffle House self-service experience when he saw a cook asleep at the restaurant. He wanted to have his meal after a night out drinking and many people found it hard to blame the guy.