Server Texts Customer Who "Tipped" Her With His Phone Number on $200 Bill, Ends Up Getting Venmoed
A server who didn't receive a tip on a $200 ticket texted a customer who left his phone number on the receipt.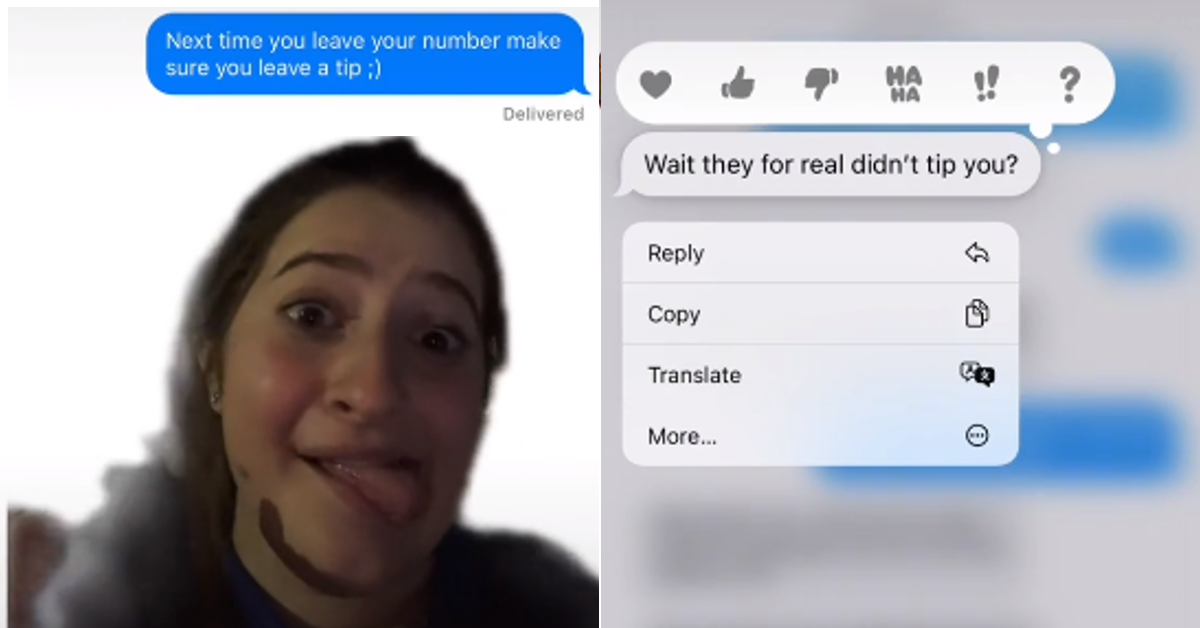 For some reason, people think it's a good idea to hit on folks while they're at work. And while yes, there are certainly instances where you might vibe with someone when they're on the clock, it's generally best to just leave someone be, especially when they're working alone in a store and are displaying clear signs that they aren't interested in speaking to you.
Article continues below advertisement
Things can get even more complicated when you're dealing with an individual who works in the hospitality or service industry. There are probably throngs of buzzed or overly excited bar/restaurant-goers who mistake the kindness and enthusiasm of servers as a romantic interest.
Any waiter or waitress will probably tell you dozens of stories of customers leaving their phone numbers on a receipt in the hopes of getting a phone call or text.
This is exactly what happened to TikToker @momitsyourbirthday. What was shocking to her, however, is that the customer had the audacity to put his phone number on a $200 bill, without leaving a tip.
While there are many restaurants raising the wages of workers, many establishments still follow a gratuity-based model of compensation, meaning that the "base" pays for tons of waiters and waitresses are still heavily dependent on the magnanimity of customers.
Article continues below advertisement
The woman in question couldn't believe the gall of the man who basically tipped her with his phone number while telling her she was cute, so she decided to call him out on it in a text and then share her interaction on TikTok.
"Next time you leave your number make sure you leave a tip ;)" she wrote.
That's when things took an interesting turn.
Article continues below advertisement
It didn't take long for the man to immediately Venmo her $75, which is a 37.5% tip. He wrote, "Tip from last night..... so sorry!"
According to the customer, there was one person at the table who was in charge of paying the restaurant's bill. The bill payer in question apparently forgot to leave the tip even though he received the money from everyone at the table, and that's why the young woman did not receive the gratuity.
Article continues below advertisement

People had a lot of different reactions to the story. Some folks from across the pond still had difficulty wrapping their heads around the fact that tip-culture in the United States is so prevalent: "I have to remind myself the culture's very different in America when it comes to tipping. This attitude makes sense there, but in the UK wouldn't," @kowabungamother said.
Article continues below advertisement

Another wrote: "Why do Americans just expect people to tip them I don't get it..."@huj598tgn wrote. The OP in question responded by saying that her base pay is around $5 an hour and that she relies on tips in order to make a livable salary."
Article continues below advertisement

There were others who just couldn't understand why someone would go out to eat if they couldn't afford a tip. But it seemed like the majority of commenters just weren't buying the story that this particular customer's friend conveniently "forgot" to leave the waitress a tip and probably just kept the extra gratuity money their pals gave them.
Article continues below advertisement

"The friend accidentally forgot to tip you… okay. He definitely pocketed the extra all his mates gave him," @jessarcher90 wrote.
Another wrote that they thought the customer was full of BS himself and the only reason he left such a large tip is that he was called out.
What do you think? Is the guy telling the truth? Or was he caught red-handed being a cheapskate?