Starbucks Barista Gets Dragged for Denying "Cheat Code" Order from Customer
A Starbucks worker bragged about how they stopped Starbucks customers from saving money in a now viral TikTok.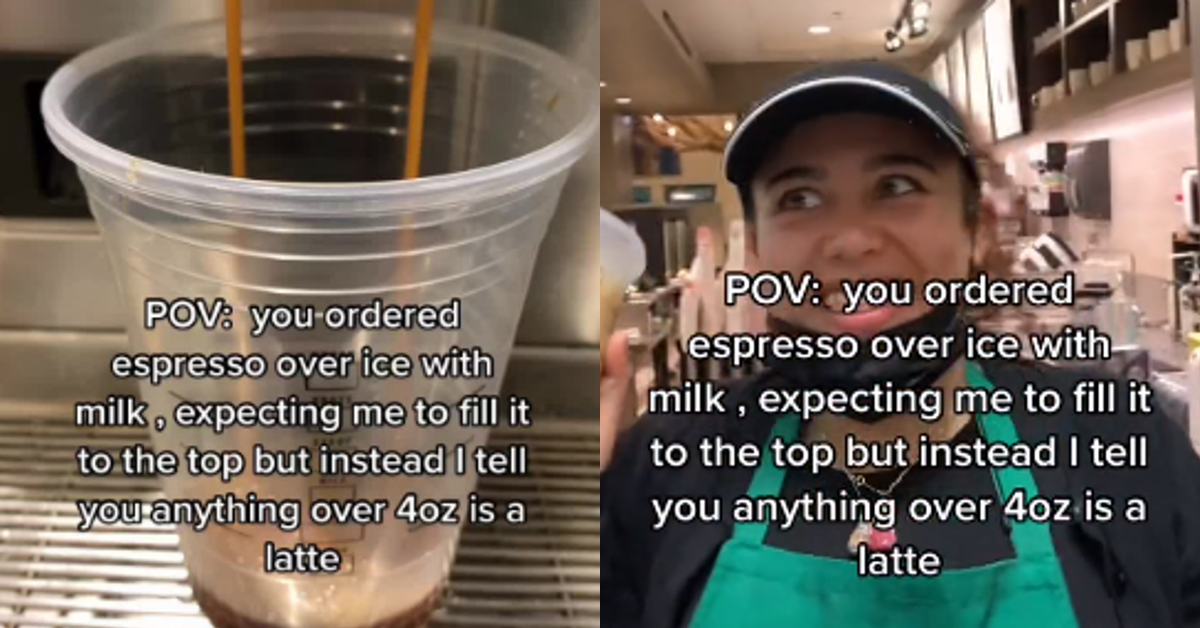 Fast food restaurants are full of useful hacks. For example, why would anyone ever order a Big Mac at McDonald's when they could just order a triple cheeseburger with Mac sauce and add lettuce and tomatoes to it? Instead of that third piece of bread, you get another patty and it costs around the same if not a little bit less than the trademark sandwich.
Article continues below advertisement
Or if you're at Chipotle and when you're asked what kind of filling you want, if you ask for half and half, they'll usually give you a little bit more of a pour for each "half" meaning you'll get way more bang for your buck.
Starbucks also has some hacks of its own. Since many of the drinks use a lot of similar ingredients, the way you structure your order means you can get the same exact beverage for a cheaper price depending on how you word your request.
For example: instead of asking for a Doubleshot on Ice at the coffee chain, you can save some coin if you request an espresso over ice with milk. However, one TikTok-er by the name of Arri (@thebrattylibra) posted how she negates this "cheat" custom order on the popular social media platform.
Article continues below advertisement
Arri didn't like the fact that there are customers who do this and wrote in a text overlay in a now-viral video: "you ordered espresso over ice with milk, expecting me to fill it to the top but instead I tell you anything over 4oz is a latte."
This means that if she were to fill your cup up past 4 ounces of liquid she's going to charge you for a full latte.
Article continues below advertisement

There were a lot of commenters who couldn't understand how or why Arri was taking pride in getting a few extra cash for "corporate overlords." Many TikTok users accused her of being petty for no reason and rattled off a litany of criticisms in the comments section.
Article continues below advertisement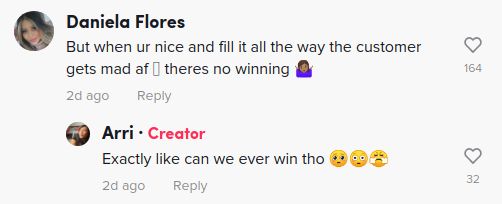 "I was this way once then I realized it's not coming out of my paycheck," one user wrote.
Another penned "People care too much about their work as if corporate America cares for them."
Arri replied to one user who said, "you don't get paid enough to be doing all of this" with "Girl I be bored and I like to argue."
Article continues below advertisement

There were other users who thought that Arri was in the right, as Starbucks employees are specifically trained to fulfill orders in a certain way and charge the correct amount.
Article continues below advertisement

What do you think? Is Arri being "petty" for not just letting the customer order the "cheat code" version of the drink? Or is she just doing her job and should be commended for doing so?
It could be worth considering that maybe she's looking for upward mobility at her Starbucks location and is trying to do the best job possible by adhering to all corporate guidelines.