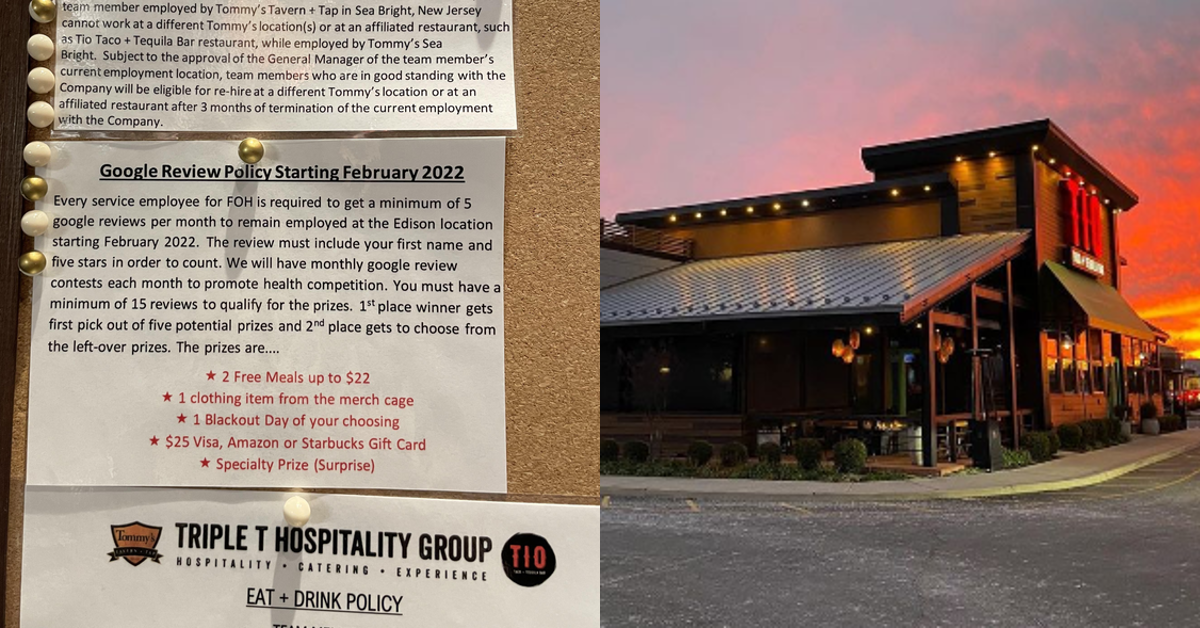 Restaurant Threatens to Fire Employees if They Don't Get 5-Star Reviews From Diners
Reputation is everything, that's why there are so many online businesses and companies that rely heavily on positive reviews, specifically on Google. 91.4% of all internet searches are performed on Google, and the Mountain View, Calif. tech giant is continually refining its search practices and is constantly adding new features.
Article continues below advertisement
In fact, one of the first things you see when searching a location on Google, are user reviews on the place. At a quick glance, users can see a "star" rating for the place of interest they're looking up and then delve into more detailed summaries should they choose. For businesses that are trying to get more visibility and customers, a bevy of positive reviews will hopefully draw more and more people into their doors.
And there are different methods that management teams at these respective businesses go about ensuring their staff is securing these Google Reviews. Usually, it's a little reminder that if the customer enjoyed themselves, it would really go a long way should they decide to drop a rating on the search engine.
But the Triple T Hospitality Group, which runs restaurants in New Jersey took an approach that's being heavily criticized online.
Article continues below advertisement
A photo of an employee policy at Tio Taco and Tequila Bar in Edison, NJ went viral for the demands it made of employees with respect to securing 5-star Google Reviews from the location's customers.
"Every service employee for FOH is required to get a minimum of 5 Google reviews per month to remain employed at the Edison location starting February 2022. The review must include your first name and five stars in order to count," the letter read.
Article continues below advertisement

It continued, "We will have monthly Google review contests each month to promote health[y] competition. You must have a minimum of 15 reviews to qualify for the prizes. 1st place winner gets first pick out of five potential prizes and 2nd place gets to choose from the left-over prizes."
Article continues below advertisement

The prizes on the notice were:
"2 Free Meals up to $22.
1 clothing item from the merch cage.
1 Blackout day of your choosing [day off].
$25 Visa, Amazon, or Starbucks Gift Card
Specialty Prize (Surprise)."
The post went viral, which lead to what has been referred to as a "cyber mob" raining down 1-star Google Reviews on all Triple T Hospitality restaurants.
Article continues below advertisement

It didn't take long for upper management to address the situation and fire the location's General Manager and Assistant Manager for reportedly posting the notice. Chief Marketing Officer for Triple T Hospitality, Andrea Bonfiglio said, "We did not institute this policy. It's an insane policy."
Article continues below advertisement

As for the negative Google reviews, Andrea said, "People are people and you can't watch them 24/7. This one bad egg caused such chaos. We love our employees and our employees are like family. The thought of us doing this is ridiculous."
She went on to say that the restaurant will often reward employees who are mentioned positively in Google reviews a sweatshirt or choice of a shift or section of the eatery they're working in, but it was never made company policy.
Article continues below advertisement

"We reward people who go above and beyond, but we would never be like, 'You better get these.'" app. reported.
Redditors who saw the story had plenty to say. Some were dubious of the firing, like @Sonofjersey who said, "Sounds like the GM and the Assistant GM were the people that took the fall for reaction."
Article continues below advertisement

Another user who claimed to work in the restaurant, @mexiricant, stated, "The owner lied in the [.app] article too. That notice was up for a week. 15 minutes my ass, I work there and they only did anything about it when the internet came through."