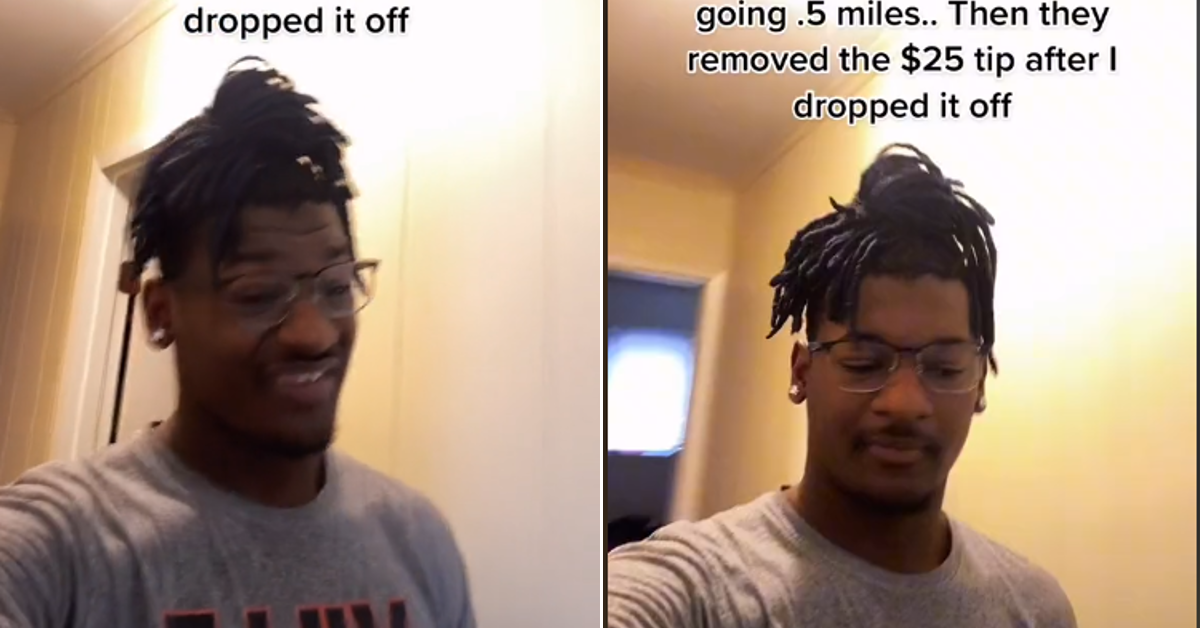 Customer Cancels $30 Tip After Uber Eats Driver Completes Delivery in Viral TikTok
A lot of foodservice industry workers have been airing out some of the grievances they have with their jobs. Especially folks who work for delivery applications like DoorDash and Uber Eats. One of the biggest points of conflict seems to be worker pay and just how that number is sussed out.
What is the "value" of getting a meal delivered to someone and how much should that cost?
Article continues below advertisement
Obviously, there are a lot of different factors that go into the generation of this value per order. There's the time of day that said order takes place, there's the number of available delivery people, as well as distance and driving length and the size of the order that's being delivered.
And while there's a default "cut" of the order sale that's going through DoorDash/Uber Eats to pay its drivers, it's generally understood that these delivery drivers rely on tips in order to really survive or make a semblance of a living.
This is probably why so many folks are resonating hard with this one driver's experience where he was tip-baited. @Tamariustalks posted about it on his TikTok account.
Article continues below advertisement
If you aren't familiar with the practice, there are some major meal delivery apps that allow users to offer a tip prior to delivery and then change it after the service has been rendered/meal(s) have been delivered.
So why would someone want to lie about giving a tip and then take the tip back the second they could?
Article continues below advertisement

One of the main reasons, if not the primary reason why tip-baiting is such a common occurrence is that from a customer perspective, there really isn't any reason for a food-purchaser not to do it. It's not like they have to commit to the amount.
Article continues below advertisement

So now what folks are doing is putting a large tip on the app with no intention of ever following through on it, in the hopes of getting it delivered more quickly than they normally would. Because who wouldn't be high-tailing a mini personal pizza or some wings to someone who was willing to pay you multiple times more than what the food items came out to be?
Article continues below advertisement

Unfortunately, there are more than enough people who've dealt with these tip-baiters. In @tamariustalks' original video, he appended a text overlay that reads: "When I accepted a $30 UberEats order for 1 item going .5 miles. They removed the $25 tip after I dropped it off."
Article continues below advertisement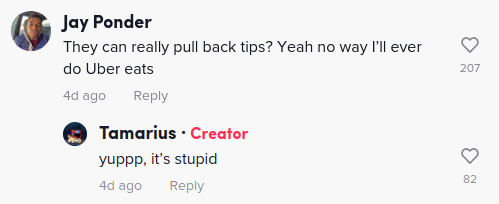 Search through enough social media accounts of folks who chronicle their lives as delivery drivers and you're sure to find a tip baiting story or two. Many TikTokers are shocked at the fact that users are even given the ability to pull tips after they've appended them to orders.
Article continues below advertisement

Even though companies like DoorDash and UberEats aren't really posting profits, it seems that investors are still intrigued by the fact that these services are attracting a large user base and aren't too concerned with immediately earning money.
Article continues below advertisement

And even though there were a lot of people upset for Tamarius, the TikToker who revealed he was tip-baited, he stated that he's "rarely" baited with tips and he was still given a $5 tip for a half-mile trip, which he said wasn't bad at all.
Article continues below advertisement

Several other users on the application have stated that there are a number of users who've been banned from ordering when they've been caught tip baiting too many times.
Have you ever encountered a "tip baiter?" Or have you tried the tactic out yourself in the hopes of getting your food faster? Or was the service so poor that you thought there's no way you would feel kosher giving your driver money?