Some People on TikTok Honestly Think McDonald's Cup Sizes Are All the Same
A gag involving McDonald's drink sizes is going viral again on TikTok, and it's all an optical illusion. Apparently, not everyone knows that.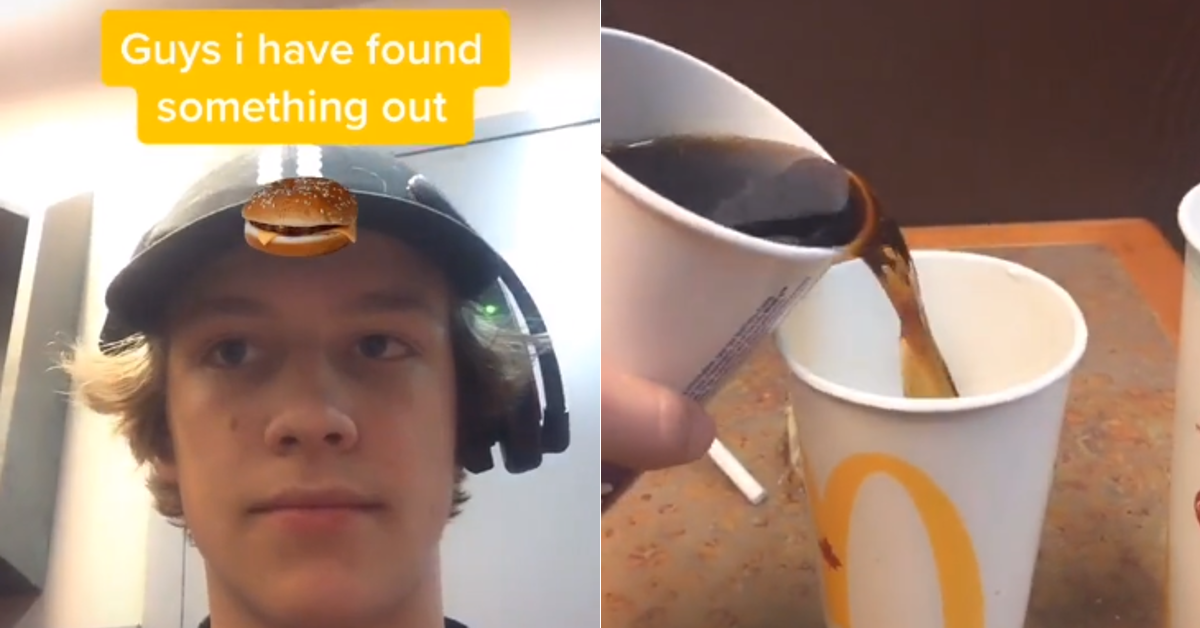 I don't know why people latch onto conspiracy theories, but the one thing I noticed is that there's a lot of energy that's being put into specific "scams" that are very, very low stakes. Like the suggested detergent amount for a full load of laundry being way too much, because Tide is trying to squeeze an extra 40 cents out of you. Or this McDonald's drink size finesse that's currently going viral on TikTok.
Article continues below advertisement
What is the McDonald's drink size gag that's trending on TikTok now?
A few years back, an employee at a Jack in the Box (or someone who just snuck into the food prep area of one) tried alarming folks who are suspicious of fast food beverage pricing structures to the "scam" that restaurants are playing on customers who decide to pay more for larger drink sizes. By employing an optical illusion, they literally had people convinced that all of the sizes were the same.
Article continues below advertisement
The trick is an easy one: You display the various cup beverage sizes all lined up, with the small one full and the other two presumably empty. Here's the thing though: You don't show the the inside bottom of the cup so it appears like it's empty, and you lead people to believe that they're all the same size, but they clearly, if you can look at them, are not.
That hasn't stopped this TikTok from going viral and shared a bunch of times, because every time a new social media platform debuts, people recycle the same meme trends over and over again. I wonder how long before "the dress" shows up on TikTok, or another variation of it, maybe with sneakers? Kicks manufacturers: Take note that if you want people to buy your product, rehash some old viral trend and apply it to whatever you're shilling.
Article continues below advertisement
Of course there are going to be people who claim that indeed, the drink "finesse" is real because, well, that's the hill that they want to die on, and invest all of their time and effort into proving when they're not advocating for Flat Earth Awareness. If you encounter friends of yours who swore that they will "only buy small" and go about their day thirsty after watching the video, I've disproved this little illusion below.
Article continues below advertisement
I guess I'm the moron though for leaving my house, going to a McDonald's drive through, and shelling out $3.20 for the drinks just to make a point. When my wife asked me where I was going, I just mumbled to myself, "Someone on the internet is wrong."
In all honesty, I just really wanted a crisp Diet Coke.
Article continues below advertisement

It's crazy because the McDonald's TikTok drink size video has actually sparked outrage online.
Seriously, there are tons of comments from people who are genuinely upset thinking that Mickey D's is robbing them of their hard-earned dollars. Please don't be outraged. Sure, there isn't that much of a size difference between medium and large, and the best way to judge it is by ordering your ice in a separate cup to get the most bang out of your fountain drink buck, but the sizes are indeed different.
Article continues below advertisement
Whether or not it's worth it to you or if drinking that much soda with a meal is good for you is another conversation entirely, however.
UPDATE: For everyone who doesn't understand volume and thinks that because the ice in the cup in my video played a factor, I did the same thing with plain old water and no ice. See the results for yourself.