Vending Machine Gets "Performance Anxiety" Starts Freaking Out in Hilarious TikTok
A TikToker's video of a vending machine wigging the heck out has got folks cracking up on the popular social media platform.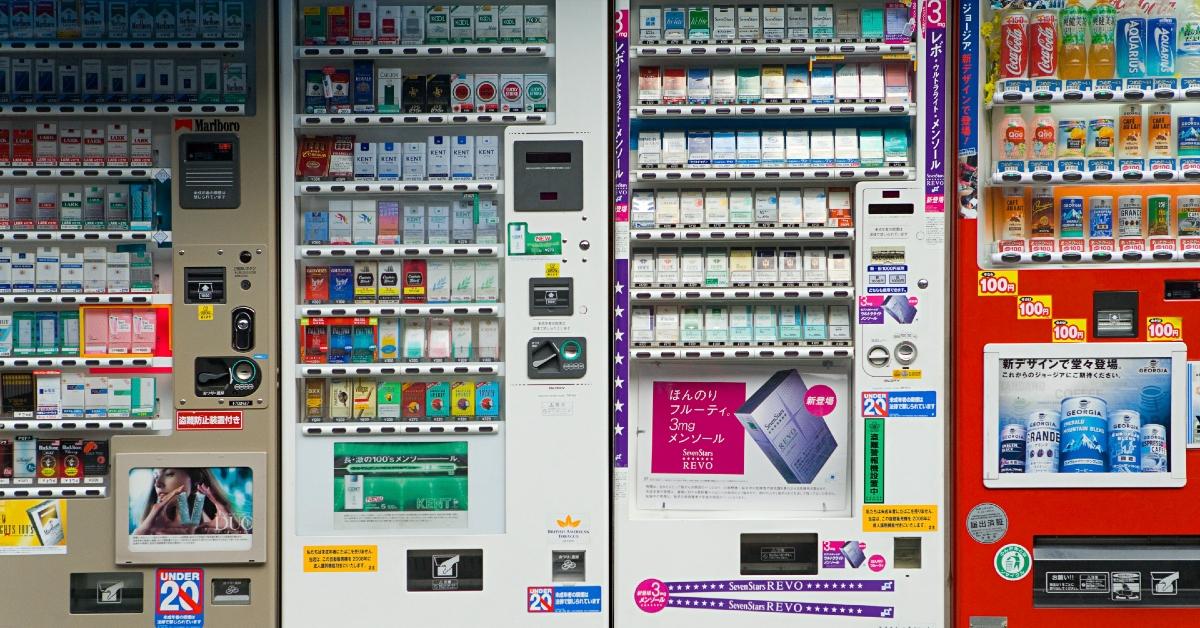 There's a difference between an actual technological advancement and re-inventing the wheel for the sake of capturing attention or just to say that you've created something new. That's not to say to push for certain inventions to be better is necessarily a bad thing. Heck, there are tire companies that are out there literally reinventing the wheel, like these puncture-less tires that are currently being tested that may change commuting for over a billion of the world's drivers.
Article continues below advertisement
Then you've got products like the Juicero juicer that asked folks to spend $400 on a machine to squeeze specially designed juice pods from the company that, well, could be squeezed out by hand. Sure, it looks cool, but there's no need to spend all that much or go through all that trouble just to get a cup of whatever fruit and vegetable concoction you're about to slurp down on.
The same could be said of trusty-old vending machines. They've been around in the United States since 1888, and yes, they have seen their fair share of technological advancements. There are some countries that take their vending machines very seriously, like Japan, which has some truly unique engineering marvels.
But the thing about over-engineering something is that the more moving parts there are, the higher the chance that something will go wrong with it. Which is perfectly captured in a now-viral TikTok.
Article continues below advertisement
User @joshnewsomee uploaded a clip on the popular social media platform that was uploaded with the caption: "now i know why my university fees are so expensive" in the clip, we see a complicated beverage vending machine with a clear glass door engaging its drink dispensing mechanism.
Article continues below advertisement

However, it's clear from the get-go that there's something amiss with the machine and it starts wigging out immediately, failing in a multitude of ways before it's finally able to grab a blue Powerade.
Article continues below advertisement

However, the mechanism isn't able to keep the bottle of the sports drink in its cup and it isn't long before it lands on another part of the machine, getting stuck between the release door and the cup holder.
Article continues below advertisement

The clip then cuts to the TikToker's second attempt at securing himself a Powerade, but unfortunately, it's just more of the same, with the vending machine struggling even more the second time around, now that there's an initial bottle at the bottom of the machine, gumming up the works.
Article continues below advertisement

TikTokers were cracking up at the vending machine fail, comparing the contraption to a drunk robot, or someone manually attempting to control the dispensing mechanism, but having no idea how to control the joystick to do so.
Article continues below advertisement

"i haven't laughed that hard in a long time"
"Never let 'em know you next move"
"you're making it nervous"
"It looks like someone is poorly controlling it with a joystick lmao"
"He's trying his best"
"that poor machine probably has no idea where the arm is and is just trying his best at guessing"
Article continues below advertisement

A lot of other TikTokers said that they commiserated with the vending machine's "performance anxiety" and actually felt a little bad for the contraption.
"its just indecisive because its under pressure from being recorded"
"it's trying so hard"
"me when someone watches me do something"
Article continues below advertisement

There are an estimated 15 million vending machines in the world, and a third of them are in the United States. According to Nerd Wallet, the average machine nets owners about $35 a week, but some folks earn over $400 a month depending on the location.