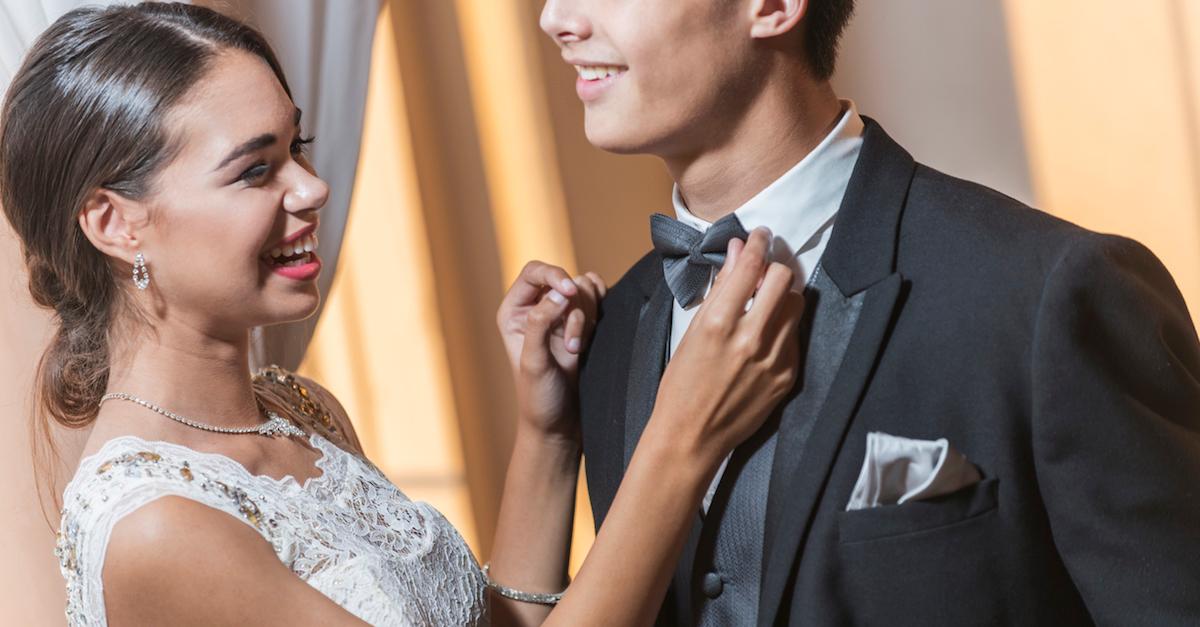 Ask Your Dream Date to Prom With These Adorable Promposal Ideas
With the rise of social media over the last 10 years, coming up with next-level promposal ideas (aka how you ask out a prom date) has become increasingly important. Posting a super cute pic with your prom date and an innovative promposal is absolutely mandatory nowadays, and if you haven't already planned how you're going to pop the big question this year, it's time to start brainstorming.
Article continues below advertisement
National Promposal Day falls on Wednesday, March 11 this year, so if you haven't already asked your boo, now is the perfect time. Stay tuned for promposal ideas for National Promposal Day if you're seeking out the perfect way to ask out that special someone.
Use your date's favorite TV show as a theme for your promposal idea
Twitter user @LettyLetterman posted his promposal idea, and it was seriously adorable. He popped the question by running with an Office theme — he wore a Dunder Mifflin tee, held up a Jim- and Pam-themed sign, came with flowers, and gave her a gift related to the popular series. Needless to say, this teen definitely nailed it.
Article continues below advertisement
A promposal pizza for National Promposal Day
OK, we don't mean to sound cheesy, but is a pizza not the greatest way of showing your love and affection for someone? If you ask your local pizza joint to do it for you, they'll most likely do so with a nice tip... or you can buy pepperoni and do it yourself! Either way, a pizza that reads "prom?" in pepperoni is truly the pinnacle of romance, and if you disagree, we probably wouldn't be friends.
Article continues below advertisement
Bring them a Build-a-Bear for your promposal
There's a good chance you haven't gone to Build-a-Bear in like, 10 years, but now it's your time to go back, and create the stuffed animal of your partner's wildest dreams. Whether it's a puppy, a bear, or even a Frozen character, there are so many ways to impress your boo, and it seems like they have a National Promposal outfit special for the occasion.
Article continues below advertisement
Pancake promposal
For something syrupy-sweet, definitely consider defaulting to a pancake promposal. Making pancakes that spell out P-R-O-M is seriously simple, and if that isn't something you can pull off, definitely opt for spelling it out in icing. There is truly nothing better than starting out the day with a complete breakfast AND a promposal, trust me.
Article continues below advertisement
LEGO-themed promposal idea
Whether your date is a diehard Lego fan, or if they would simply appreciate a little creativity, a Lego promposal is pretty darn cute. Spell it all out, or build something fantastic. There are so many options, and TBH, so little time.
Article continues below advertisement
Dog promposal
Everything's better with dogs... especially when you're asking someone out as your prom date. This lucky lady was presented with a group of adorable puppies who helped her ask her date, Zachary, to prom. Needless to say, it was a total success.
Article continues below advertisement
There are so many fantastic ways to ask your date to prom, so get creative and start brainstorming! I'd better see some fire promposals on Instagram tomorrow.